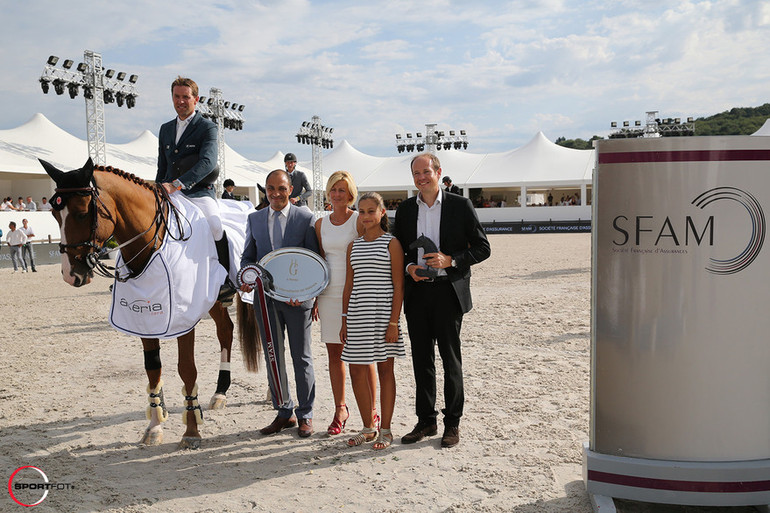 Simon Delestre and Chesall Zimequest won the CSI4* Grand Prix of Valence presented by Axeria/SFAM. Photo (c) Sportfot/CSI Jumping International of Valence.
It was a French trio that topped Sunday's CSI4* Grand Prix of Valence presented by Axeria/SFAM, with Simon Delestre, Kevin Staut and Roger Yves Bost taking the top honors.
The 1.60m competition was a good one for the home crowds, with eight French rider placed in the top thirteen. However, the jump-off counted only seven riders as the first round track turned out to be a tough one. No less than nine riders were eliminated or retired, and ten finished on twelve faults or more.
Only four riders managed to go clear again in the jump-off, and the fastest one of them was world no. two Simon Delestre on his win-machine Chesall Zimequest (Casall x Concerto II). Stopping the clock on 41.56 seconds, Delestre had more than one second down to runner-up and 2016 Olympic team gold medalist Kevin Staut on For Joy van't Zorgvliet HDC (For Pleasure x Heartbreaker), while Roger Yves Bost on Sangria du Coty (Quaprice Bois Margot x Muguet du Manoir) followed almost two seconds behind to take third.
The last double clear came from Edwina Top-Alexander on Caretina de Joter (Caretino x Contender), who took fourth while French rider Julien Gonin secured fifth on Soleil de Cornu CH (Qredo de Paulstra x Le Tot de Semilly) with one rail down against the clock.
Earlier in the day, Roger Yves Bost made sure there was plenty to celebrate for the home crowds as he won the CSI4* 1.50 Prix MMA/SFAM riding Pegase du Murier (Adelfos x Le Tot de Semilly).
---
Text © World of Showjumping // Picture © Sportfot/CSI Jumping International of Valence