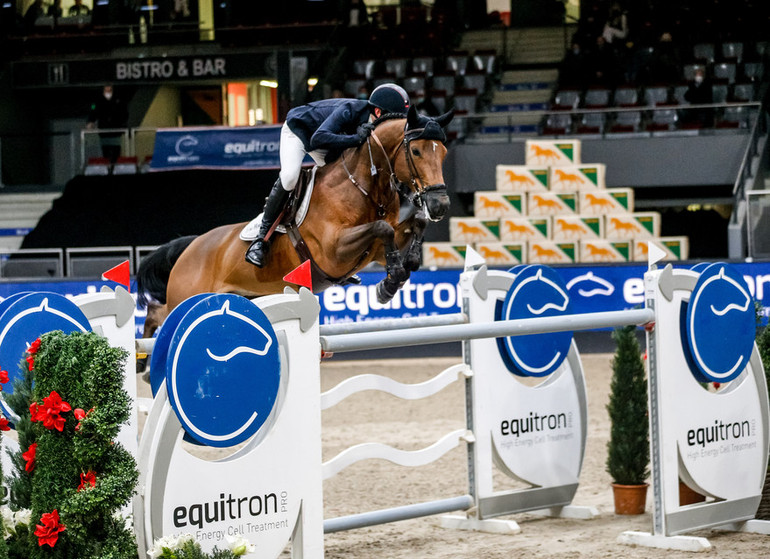 Jos Verlooy and Varoune won the CSI4* Equitron Pro Grand Prix of Salzburg presented by Healthfactories Biotech GmbH. Photo © EQWO.net.
Edited press release from EQWO.net
---
Jos Verlooy (BEL) and the 13-year-old gelding Varoune (Verdi x Cordalme Z) won Sunday's CSI4* Equitron Pro Grand Prix of Salzburg presented by Healthfactories Biotech GmbH at the 15th Neuro Socks Amadeus Horse Indoors. With 100.000 Euro in prize money, it was a tough 1.60m course waiting for the horses and riders which required full concentration from the first to the last jump. In the end, eleven of the 40 participants made it to the jump-off.
As the last rider in the jump-off, Verlooy put everything on one card in the saddle of Varoune and shaved off 0.37 seconds on Christian Ahlmann's leading time – snatching the win from the German rider. "Thank you very much for the invitation to Salzburg. I really wanted to win today and I'm all the more happy that it worked out, " said the 25-year-old Belgian with a smile.
Ahlmann had to settle for seconds place with Solid Gold Z (Stakkato Gold x Calvin Z), followed by Arnaud Doem (BEL) and Edgard de Prefontaine (Contact van de Heffinck x Orlando) that had the last double clear of the Grand Prix.
On behalf of equitron-pro, Karin Reichel congratulated the winner and those placed: "A few weeks ago, very few of us would have believed that we would be here this week, so I'm all the more pleased that we were allowed," she said. "Congratulations to the winner and lots of fun with the new equitron-pro device."
Organizer Josef Göllner was visibly relieved that the anniversary event was so successful: "Despite all the guidelines and requirements, our entire team was always behind the event. Nonetheless, the last few weeks have been difficult because we have always wondered if we are doing the right thing with two shows in a row. If something had happened at the first show, we would have had to cancel the second one. However, the riders followed all the requirements in an exemplary manner and played along well. This year we had an absolute world class field. A big thank you to everyone for coming and we hope to see you again in December! "