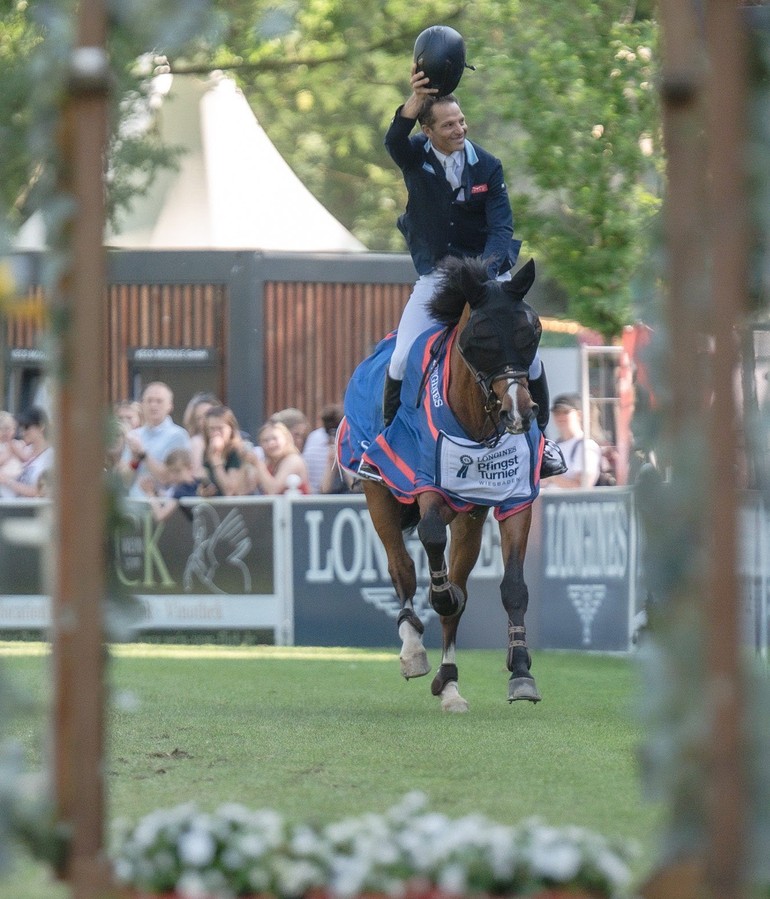 José Maria Larocca and Finn Lente, winners of the CSI4* 1.50m Preis des Hessischen Ministerpräsidenten in Wiesbaden. Photo © TomsPic.
José Maria Larocca (ARG) and the 13-year-old Finn Lente (Gaillard de la Pomme x Colandro) took Sunday's biggest win at the Longines Pfingst Turnier in Wiesbaden, Germany, when topping the second qualifier for Monday's Longines Grand Prix – the prestigious CSI4* 1.50m Preis des Hessischen Ministerpräsidenten, which also counted for the Longines Ranking.
With a time of 43.74 seconds, Larocca was the quickest in the jump-off between 13 horse-and-rider-combinations and took the win ahead of Manuel Fernandez Saro (ESP) and Jarlin de Torres (Jarnac x Calvaro F.C.) in second in 44.22. Stopping the clock on 44.51, Penelope Leprevost (FRA) and Bingo del Tondou (Vigo d'Arsouilles x Querlybet Hero) placed third, only fractions ahead of two Germans – Michael Viehweg (GER) and Contario (Contendro I x Caridor Z) who finished fourth in 44.52, and Michael Jung (GER) fifth in 44.68 aboard fischer DuoPower (Namelus R x Sydney).
"Finn Lente is the horse of my life," said the 54-year-old winner in a press release from the the Longines Pfingst Turnier Wiesbaden. "He is very experienced, in top form and simply a dream horse. He's fast, careful and flexible and we know each other very well."
Last year Larocca and Finn Lente were among the horse-and-rider combinations competing at the World Championships in Herning. In addition, he was on the team with his son Matias in Herning. Matias was also at start in the Preis des Hessischen Ministerpräsidenten today. "It is very emotional for me to be able to share this sport with someone who is so close to me. I am very grateful for that," Larocca said.
It was 13-year-old Finn Lente's first win at this level, and Larocca's explanation was simple: "The horse is really great, the rider is a bit amateurish. That's why he doesn't get as many good opportunities as he deserves," Larocca explained with a smile – referring to the fact that he is not a full professional, but the chairman of a consultancy company based in Buenos Aires, and only gets to ride on weekends.
Larocca competed in Wiesbaden almost 15 years ago. After his victory today he declared emphatically: "I have no idea why it took so long for me to find my way back to Wiesbaden. I wish it hadn't taken me so long. It's a great show and it's an honour for me to compete here. This show is steeped in tradition, the spectators know so much about our sport and I will definitely come back next year if I can."