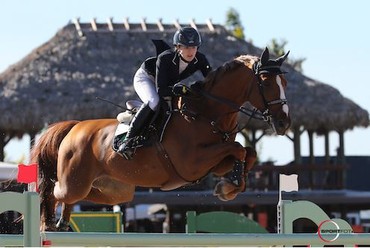 Lucy Davis and Barron. Photo © Sportfot.
The 2015 Winter Equestrian Festival (WEF) continued at the Palm Beach International Equestrian Center (PBIEC) on Thursday with a win for 22-year-old Lucy Davis (USA) and Old Oak Farm's Barron in the $127,000 Ruby et Violette WEF Challenge Cup Round 7. Davis and Barron topped two-time Olympic Gold Medalist McLain Ward (USA) and his ultra fast mount, Rothchild, in an exciting jump-off round to earn top prize. Wilton Porter (USA) and Diamonte Darco finished third.
Suncast® is the title sponsor of week seven at WEF. Competition runs February 18-22 featuring the $372,000 Suncast® CSI 5* Grand Prix on Saturday, February 21, which will be live streamed at http://bit.ly/1vLyjbV. The $85,000 Suncast® 1.50m Championship Jumper Classic will be the highlight on Sunday morning and livestreamed at http://bit.ly/181N0m0. The 12-week WEF circuit continues through March 29, 2015, awarding over $8.2 million in prize money.
Steve Stephens (USA) set the track for 69 entries in Thursday's WEF Challenge Cup, with 13 to advance to the jump-off and five double clear rounds. Davis and Barron raced through the course in 38.06 seconds for the win. They beat the leading time of Ward and Sagamore Farms' Rothchild in 39.29 seconds. Porter and Sleepy P Ranch LLC's Diamonte Darco stopped the clock in 40.48 seconds for third. Alise Oken (USA) and Hi Hopes Farm LLC's Teirra finished fourth in 40.92 seconds, and Lauren Tisbo (USA) clocked in at 41.56 seconds to take the fifth place prize aboard Tequestrian Farms LLC's Entre Nous.
"Anytime you beat McLain, you can be proud of yourself, no matter Rothchild or any horse," Davis declared following her victory. "The wind is high and Barron is totally wild, but as he showed, he jumps amazing when he is fresh so I can't really complain."
The 11-year-old Swedish Warmblood gelding (For Pleasure x Nabab de Reve) arrived in Wellington one week ago, flying in from California where he and Davis jumped to victory in the World Cup qualifier in Thermal less than two weeks ago.
"We did Thermal and then before that he had about a month and a half off, so he was fresh from the wind and he is also fresh from a break. I think it is really showing because he was flying today. He was unbelievable," Davis smiled.
"I was sort of on McLain's time throughout, but I think in the end, my horse has a huge stride," Davis said of her winning round in the jump-off. "As McLain has said, it is like a Sapphire stride, which is a huge compliment. I did one less stride to the last jump. The last two I did the leave outs and even an extra leave out almost to the last. I think that is probably where I made the most time because everybody in the beginning was pretty consistent."
A student at Stanford University in California, Davis travels back and forth to show in Florida throughout the winter. She flew in this morning for the week's CSI 5* competition and will return to school on Monday, coming back again during weeks 9, 11 and 12. While her horses stay in Florida with trainers Meredith Michaels-Beerbaum and Markus Beerbaum, Davis has a horse at school to keep in the saddle between shows. She is already qualified for the FEI World Cup Finals in Las Vegas this spring and will continue to gear Barron toward that goal.
"He is fresh; he is feeling good and I hope it keeps going," she acknowledged. "My goal for this year is World Cup Finals. We are qualified, so this may be one of our last big weekends because that has really been my focus. Since he is feeling so good I don't want to take too much out of him before that."
An added bonus to her win on Thursday was having Barron's previous rider, Francois Lamontagne, in the stands cheering them on.
"When I got him, he was with a young Canadian rider named Francois Lamontagne, who is actually here at the circuit and he is super excited. He always comes to watch," Davis detailed. "Our vet, Geoff Vernon, is also Canadian and saw Barron on the Canadian team and knew that I was looking for a really good horse. When he was coming nine we bought him. Now we really know each other, and we have been through a lot. He's young. He is only 11, so he is only going to get better I hope."
Also showing in the International Arena on Thursday, Tiffany Foster (CAN) and Artisan Farms LLC's Brighton won the $8,000 1.45m jump-off class.
Final Results: $127,000 Ruby et Violette WEF Challenge Cup Round 7
1. BARRON: 2004 Swedish Warmblood gelding by For Pleasure x Nabab de Reve
LUCY DAVIS (USA), Old Oak Farm: 0/0/38.06
2. ROTHCHILD: 2001 Belgian Sport Horse gelding by Artos x Elegant de l'Ile
MCLAIN WARD (USA), Sagamore Farms: 0/0/39.29
3. DIAMONTE DARCO: 2005 Great Britain Sport Horse mare by Unbelievable Darco x Unknown
WILTON PORTER (USA), Sleepy P Ranch LLC: 0/0/40.48
4. TEIRRA: 2000 KWPN mare by Tolano Van Het Riethof x Aldatus
ALISE OKEN (USA), Hi Hopes Farm, LLC: 0/0/40.92
5. ENTRE NOUS: 2004 Belgian Warmblood gelding by Conan Z x Ohio van de Padenborre
LAUREN TISBO (USA), Tequestrian Farms LLC: 0/0/41.56
6. OHLALA: 2003 Swedish Warmblood mare by Orlando x Cardento
LAUREN HOUGH (USA), The Ohlala Group: 0/4/38.18
7. QUENELLE DU PY: 2004 Anglo Arab mare by Tresor du Renom AC x Ryon d'Anzex
OLIVIER ROBERT (FRA), Olivier Robert/Pierre Fr. Buffandeau/Chantal Buffandeau: 0/4/41.13
8. TINKABELL 12: 2005 KWPN mare by Casco x Ekstein
RODRIGO PESSOA (BRA), Rodrigo Pessoa: 0/4/41.32
9. VERSUS: 2005 Belgian Sport Horse gelding by Moujik de Sohan x Jasper
RAMIRO QUINTANA (ARG), Michael Smith: 0/4/42.17
10. CADE: 2002 Belgian Warmblood gelding by Heartbreaker x Darco
ABIGAIL MCARDLE (USA), David McArdle: 0/4/42.81
11. QUALITY GIRL: 2003 Oldenburg mare by Quidam's Rubin x Dobrock
TODD MINIKUS (USA), Quality Group: 0/8/40.55
12. BIJZONDER: 2006 KWPN gelding by Acodetto x Quite Easy
SHANE SWEETNAM (IRL), Sweet Oak Farm & Paul Tracy: 0/8/42.78

Source: Press release from Jennifer Wood Media Inc.