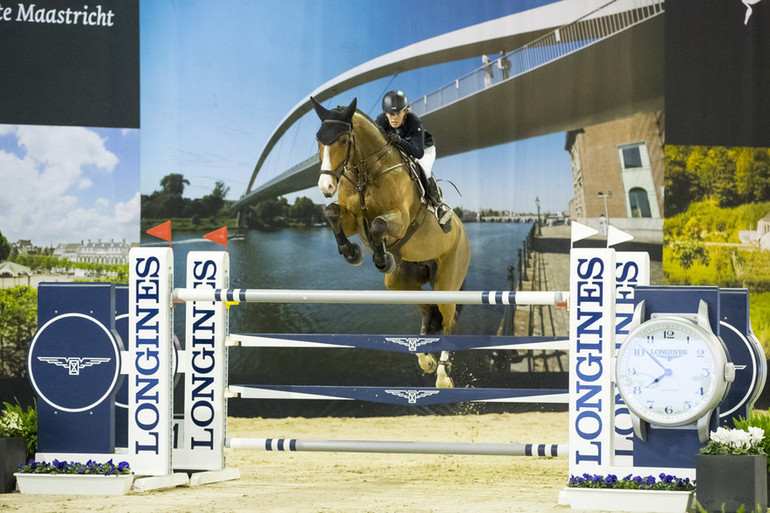 Meredith Michaels-Beerbaum and Calle won Friday's VDL Groep Prize at CSI4* Jumping Indoor Maastricht. Photo (c) Digishots.nl.
It was a close call in Friday's CSI4* 1.50m VDL Groep Prize at CSI4* Jumping Indoor Maastricht, but eventually it was Germany's Meredith Michaels-Beerbaum that was the best after a picture perfect jump-off on Calle (Carell x Capitalist).
Fourteen out of the 54 horse-and-rider combinations in this Grand Prix qualifier made it to the jump-off, where Belgium's Jos Verlooy took an early lead on his new ride Oaks Redwood (Asb Conquistador x Verdi) only to be overtaken by his Euro Horse colleague and world no. one Harrie Smolders and Zinius (Nabab de Reve x Kannan) by nearly a second.
It was however Michaels-Beerbaum and her 9-year-old gelding that would produce the winning time, as the two flew around the shortened track getting an incredible turn to the penultimate Longines oxer to take over the lead by 0.60 seconds. Ireland's Bertram Allen squeezed into second place with Gin Chin van het Lindenhof (Chin Chin x Calido I), 0.55 behind the winning time, pushing Smolders down to third and Verlooy to fourth. Doron Kuipers ended fifth, securing two home riders in the top five.
---
Text © World of Showjumping
Photo © Digishots