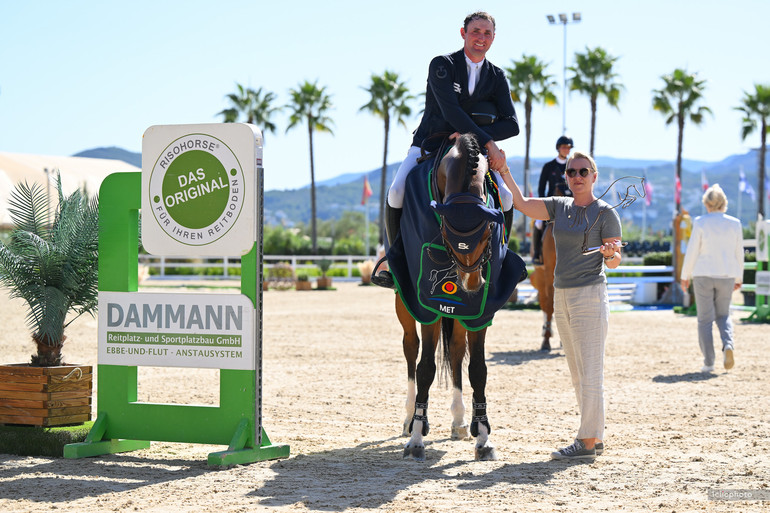 Michael Hughes and Calisto Blue kicked off Autumn MET 2022 with a win in the CSI2* 1.45m Grand Prix presented by Dammann Reitplatz- u. Sportplatzbau GmbH. Photo © Hervé Bonnaud/1clicphoto.com.
Press release from the Mediterranean Equestrian Tour
---
The autumn edition of the 2022 Mediterranean Equestrian Tour kicked off this week at Centro Ecuestre Oliva Nova in Spain. The week concluded with an American victory in Sunday's CSI2* 1.45m Grand Prix presented by Dammann Reitplatz- u. Sportplatzbau GmbH, with Michael Hughes (USA) and Calisto Blue (Chacco-Blue x Con Air) taking the top honours.

A total of 32 horse-and-rider-combinations were at start in Sunday's 1.45m Grand Prix, where the course set by Gerard Lachat (SUI) counted 13 obstacles and 15 jumping efforts. Twelve pairs cleared the first-round track and joined the deciding jump-off, where two rollbacks rewarded the tightest turns, followed by a long canter to the last. First out in the jump-off, Switzerland's Evelyne Bussmann on Virtuoso Semilly (Diamant de Semilly x Hym d'Isigny) took advantage of her horse's huge canter and nailed the rollback to the penultimate fence, stopping the clock on 37.75 – which in the end was good enough to finish third.

Until Hughes and Calisto Blue entered the ring as third last to go in the jump-off, it was Hughes' Stephex Stables-colleague Kendra Claricia Brinkop (GER) and Takotak Z (Telstar de La Pomme x Darco) that held the lead though, after crossing the finish line in 36.86 seconds. However, with the tightest of turns, Hughes' round proved extremely effective and with a time of 36.02 seconds he was unbeatable. "I went late enough in the jump-off, and actually watching it, I did not think it was a great jump-off for us, as Calisto Blue does not have the biggest step – so I thought it was going to be a little bit difficult," Hughes told. "I watched Kendra go and there wasn't really much else to do, so I just tried to copy her track and hoped that my horse would be a bit quicker – and he was."

"For the two of us, we really get along and the horses that don't work for one, might work for the other, so it is great actually," Hughes continued to speak about the friendship and rivalry between him and his Stephex Stables-teammate Kendra Claricia Brinkop.
"He is amazing," Hughes said about his horse Calisto Blue, that previously has been hugely successful with Stephex rider Daniel Deusser in the saddle. "It took a little while to figure him out, but now that I have, it feels like he can't have a pole down; he is so careful and he is so fast. It is such a nice feeling riding a horse like him. Today is probably the fastest I have ever gone on him!" the happy winner smiled.

"I love coming to Oliva," Hughes said about the MET-venue. "I think it is great for the horses, both in the beginning of the year and at the end of the year. Right now, it is great, as I have a lot of eight- and nine-year-old horses, so it is perfect for them to step up here. We love coming to Oliva every year."

Melanie Cloarec (FRA) on Fais Toi Belle du Seigneur Pleville (Baltik Sitte x Ferme du Seigneur) took the fourth place and Ben Maher (GBR) on Ici (Douglas x Lux Z) placed fifth in today's Grand Prix.

The Autumn MET 2022 continues next week and the first part consisting of three consecutive weeks of competition runs all the way until October 16th, followed by MET II that starts on October 25th and MET III that runs from November 22nd to December 12th. For more information, visit metoliva.com.