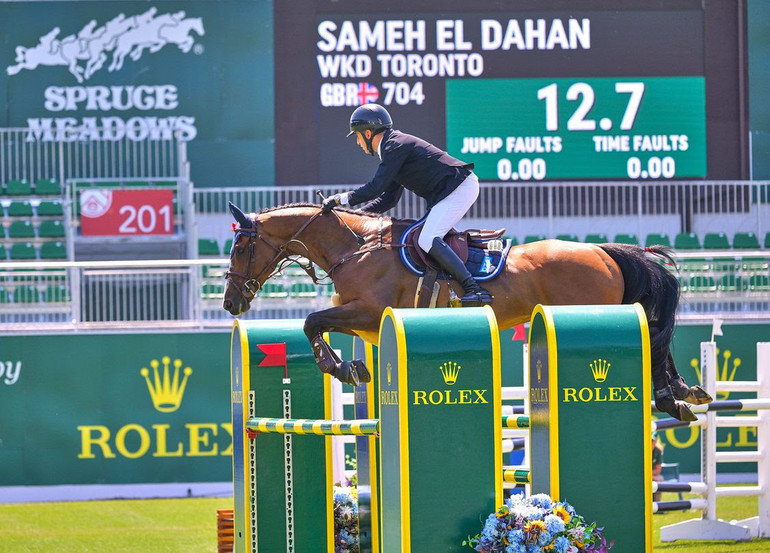 Sameh El Dahan and WKD Toronto, winners of the CSI5* 1.50m The Herd at Spruce Meadows 'Pan American'. Photo © Spruce Meadows Media/Mike Sturk.
Edited press release from Spruce Meadows
---
Sameh El Dahan (GBR) and WKD Toronto (Tornesch x Carnaval Drum) won Wednesday's CSI5* 1.50m The Herd at the Spruce Meadows 'Pan American', presented by Rolex.
Over 40 horse-and-rider combinations tackled the one-round competition over the track designed by FEI course designer Gregory Bodo (FRA). The 12-obstacle track had to be completed in a time of 75 seconds or less and while a number of riders did not keep on the pace, the top eight proved it could be done. Leading Wednesday's victory gallop was Sameh el Dahan and WKD Toronto who posted the fastest clear round of the day in a time of 68.16 seconds.
"This is my favorite ring (Meadows on the Green), my first Spruce Meadows Grand Prix win was here so it is always a very emotional ring for me. Obviously after three years not jumping (on Meadows on the Green), I think it jumped very good today and all the horses enjoyed it, my two horses jumped great on it. Great footing, flat, great set of jumps so its always very exciting to jump at Spruce Meadows," Sameh El Dahan said.
With a time of 70.88 seconds, John Perez (COL) followed as runner-up with his 'Continental' Grand Prix winner Gigi-Carmen (Bacardi VDL x Oklund), while the third place went to Kent Farrington (USA) and the ultra-consistent Landon ( (Comilfo Plus Z x Quadrillo) who clocked a time of 71.93. Juan Jose Zendejas Salgado (MEX) finished fourth with Tino La Chapelle (Mylord Carthago x Verdi) in 72.62 seconds, while Andrew Welles took fifth aboard Idol H&H (Action-Breaker x Glennridge) in 72.98.