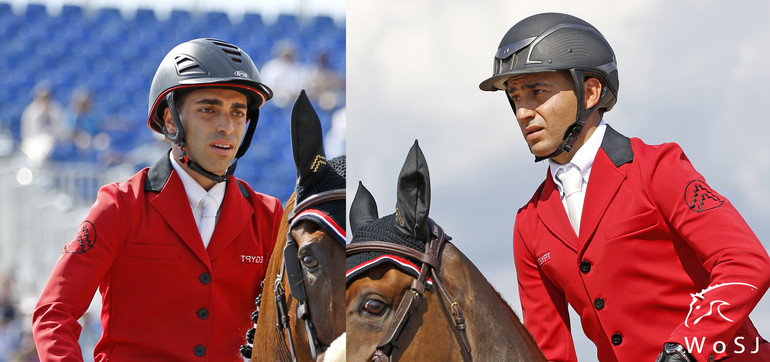 Abdel Said and Sameh El Dahan have changed their sports nationalities to compete for Belgium and Great Britain respectively. Photo © Jenny Abrahamsson for World of Showjumping.
Text © World of Showjumping
---
The Egyptian jumping team has suffered a big blow as Abdel Said and Sameh El Dahan – two of their best riders – have changed their sports nationalities to compete for Belgium and Great Britain respectively. Said (32) has been based in Belgium and the Netherlands for over twenty years, and today runs his business AS Sport Horses from his yard in Herentals outside Antwerp. El Dahan (36) has been based with Sycamore Stables in County Antrim, Northern Ireland, for the last ten years.
Said and El Dahan have been two of Egypt's most successful riders, and both are familiar faces at the top level of the sport: El Dahan is perhaps most known for winning the prestigious CN International presented by Rolex at Spruce Meadows in 2018, while Said has several big Grand Prix victories under his belt. Both of them represented Egypt at the World Equestrian Games in 2014 as well as in 2018, and Said was also part of the Egyptian team at the Olympic Games in Tokyo.
Earlier this summer, the Egyptian Equestrian Federation's decision to leave El Dahan off the team for Olympic Games caused controversy. It was the first time Egypt had qualified with a team for the Olympics, and surprisingly one of their strongest riders was not included in the squad – even though he had just finished second in the CSI5* LGCT of Paris is June with the 11-year-old mare WKD Aimez Moi.
"There is a perception that I have changed to compete for Great Britain because I was not selected for the Egyptian team for the Olympics, but that's only one piece of the puzzle," El Dahan tells World of Showjumping. "My decision is a consequence of how the whole situation was handled by the Egyptian Federation in the aftermath of their Olympic team selection. This includes how the federation conducted itself towards me – for example by blocking me from competing on the last day of the Global Champions Tour in Berlin – and also how they defended and presented their Olympic selection towards the general public, with a lot of incorrect communication and publications on their own website and in social media about my horse and our results."
"What has happened over the last months, was just the last straw though. It's been a lot of different factors that over time have added up and eventually I decided that I had no choice but to leave," El Dahan says.
"I spoke to Britain's Chef d'Equipe Di Lampard about the situation, and she was very supportive and welcoming. That made my decision – that I either way had to make – very easy," El Dahan says.
Said shares El Dahan's points of view. "The conduct of the Egyptian Equestrian Federation is the main reason I have decided to change to compete for Belgium," Said says. "This has to do with several aspects: How they manage entries on behalf of their riders, team selections, as well as how they use their authority and power. It's about how the whole organisation runs. On top, I have been shocked by how Sameh has been treated. I have all along stated my opinion on this year's Olympic team selection, and for this I have also had to pay the price. It was just not an alternative to keep on going under these conditions. For me the choice was obvious – I live in Belgium, where I also have my stable, and it was the first option that came to my mind. The Belgian Equestrian Federation, their director Wendy Laeremans and Chef d'Equipe Peter Weinberg, have been very welcoming and helpful throughout the whole process, which of course made the decision even easier to make," Said closes off.
According to the FEI regulations, both riders will have to sit through a two-year waiting period calculated from their last FEI championship or CSIO team participation for Egypt to their first participation in these same categories under their new sport nationalities.
No reproduction without written permission, copyright © World of Showjumping.com