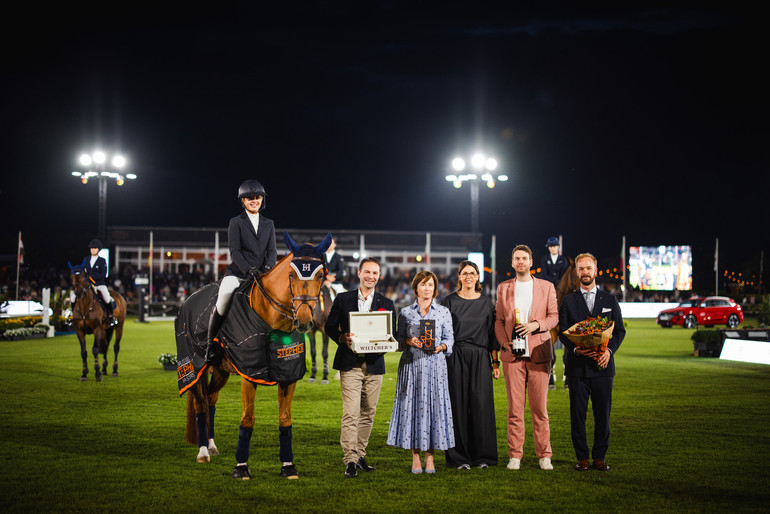 Great Britain's 21-year-old Sienna Charles and Valkiry de Zance took Thursday's biggest win at the 2023-edition of Brussels Stephex Masters. Photo © Brussels Stephex Masters.
Great Britain's Sienna Charles and Valkiry de Zance (Diamant de Semilly x Double Espoir) won Thursday's CSIO5* 1.50m at the 2023-edition of Brussels Stephex Masters. With a time of 67.89 seconds, Charles and Valkiry de Zance were the quickest pair in the first Grand Prix qualifier of the weekend which was judged as a Table A against the clock.
"I clinched a win with Valkiry in Dublin, and this is his first time back in the ring. Winning back-to-back just proves to how amazing a horse he is," the 21-year-old said in a press release from Brussels Stephex Masters after the second five-star win of her career.
"During the course walk, I thought the course looked quite challenging," Charles said. "In the first half, I tried to keep it as tight as I could, taking as few strides as possible. In the second half, I rode more cautiously, adding an extra stride. After finishing without faults, I kept checking the starting list to see who was left to compete. And they were all outstanding riders! I'm so grateful for this opportunity. Earlier, I found myself walking the course alongside my idols, the riders I've admired since childhood. Competing against them is just surreal. After winning tonight, warming up with them might feel slightly less intimidating."
Laura Kraut (USA) and Confu (Contact Me x Cambridge 8) took the runner-up spot behind Charles when the clock stopped on 69.45 for the American Olympian. France's Jeanne Sadran and Dexter de Kerglenn (Mylord Carthago x Diamant de Semilly) placed third in 70.47, while Marlon Modolo Zanotelli (BRA) and Grand Slam VDL (Cardento 933 x Heartbreaker) finished fourth in 70.64, followed by Evelina Tovek (SWE) in fifth in 70.96 aboard Moeboetoe V/D Roshoeve (Der Senaat 111 x Poleander).