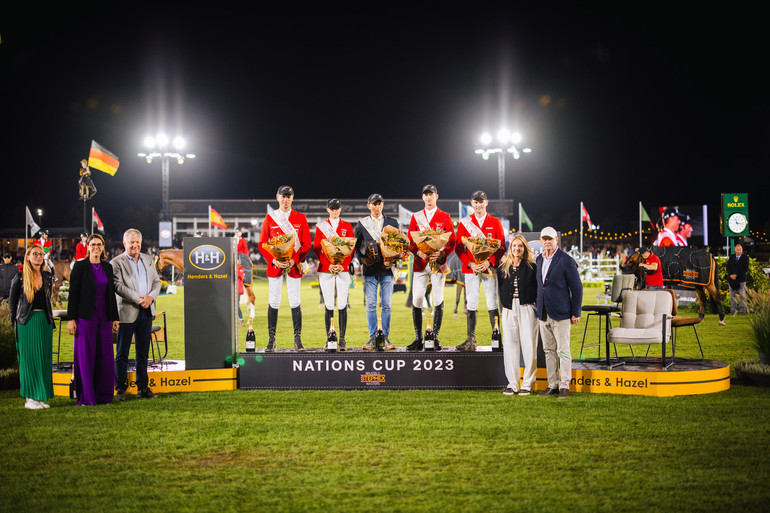 Team Germany won the Henders & Hazel Nations Cup at Brussels Stephex Masters 2023. Photo © Mats Palinckx for Brussels Stephex Masters.
Edited press release from Brussels Stephex Masters
---
Germany won the CSIO5* 1.60m Henders & Hazel Nations Cup at the 2023-edition of Brussels Stephex Masters after a tight-fought battle in the rain. Led by Marcus Döring, the German team consisting of Jana Wargers and Dorette (Dollar du Murier x Fighting Alpha 3), Maurice Tebbel and Chacco's Light (Chaccos' Son x Light On), Christian Ahlmann and Mandato van de Neerheide (Emerald x Pommeau du Heup) as well as Daniel Deusser aboard Killer Queen VDM (Eldorado Vd Zeshoek x For Pleasure) recorded a total of 12 penalties, taking the win ahead of Mexico in second with 14 penalties and Great Britain in third on 15 penalties.
Mexico's Nicolas Pizarro and Atlantica du Soleil Z (Atlantus van de Roshoeve x Felin Pierreville), Fernando Martinez Sommer and High Five (Glasgow vh Merelsnest x Corland) and Jose Antonio Chedraui Eguia aboard H-Lucky Retto (Bernini x Germus R) accumulated just one penalty point in round one, able to leave out the 20 collected by Manuel Gonzalez Dufrane and Hortensia van de Leeuwerk (Corland x Argentinus). Their outstanding performances drew roaring applause, especially from their fervent Mexican fans in the stands. The British – Ben Maher and Exit Remo (San Remo x Ferro), Harry Charles and Aralyn Blue (Chacco-Blue x Ludwig AS) and Scott Brash aboard Hello Valentino (Diamantino x Careful 28) – matched the Mexicans, dropping out the six penalties picked up by John Whitaker and Equine America Unick du Francport (Zandor x Helios de La Cour II).
Mexico and Great Britain entered the second round as leaders, but while all eyes were on these two teams, the Germans – who had not managed a single clear in the first round and started the second round with a total of 12 penalty points – snuck up with three flawless performances in round two, leaving their total on their score from round one. With the stakes high, Manuel Gonzalez Dufrane ran into trouble in the triple combination as well as at the end of the course and a total of 14 penalty points for the Mexican team was two too many to take home the Nations Cup. Last to go for the Brits, a clear from Scott Brash and Hello Valentino would seure the win for Team GBR. However, the last fence fell to the grass, the British score rose to 14, and Germany snatched the victory.
"It feels great to be part of this team and to deliver two good rounds like I did today," Jana Wargers said the German victory. "My horse jumped wonderfully. I didn't think we'd win due to some bad luck in the first round, but it ended well for us."
"Christian told me earlier that he had a good feeling about tonight, and he was right," Daniel Deusser filled in. "We were a bit down after the first round. We all did okay, but it felt like winning might be out of reach. However, we did win, and I enjoyed riding here."
"I wasn't at my best in the first round," Christian Ahlmann said. "I tried to do better in the second round, and even though it wasn't a clear round, I'm pretty pleased with how I did."
"I'm very pleased with Chacco's Light," Maurice Tebbel continued. "We bred the horse ourselves and built him up very gradually. This is only his second 5* show, and I'm also counting on him for the Grand Prix on Sunday."
"The Nations Cup is crucial for our sport," Stephex Stable's Stephan Conter said. "Fans love watching teams work together. Today showed again that the 'old' scoring system adds extra excitement to the competition right until the end. The finale was fantastic. I think we need to keep this scoring system. It's essential. I can't stress enough how important our big partners, like Rolex, Audi, and Henders & Hazel, are for the Nations Cup. We couldn't do it without them. Their support not only means a lot to us, but also to the people who love watching the sport."