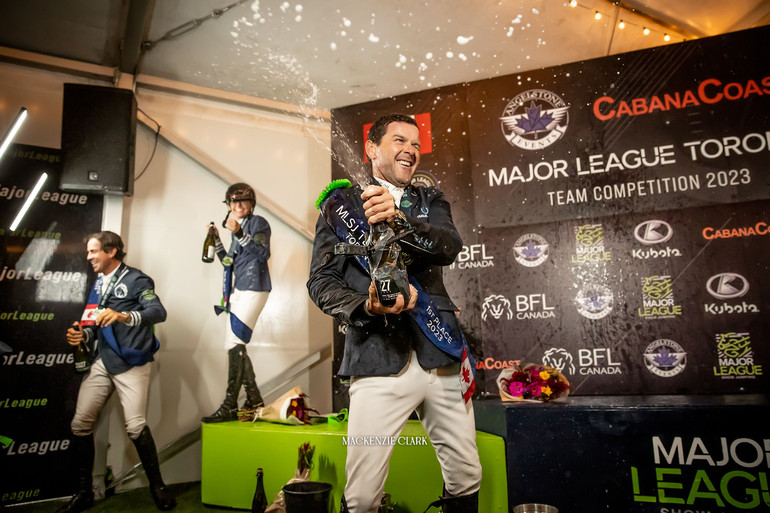 Conor Swail celebrating the Trelawny Trailblazers' win in the MLSJ Toronto. Photo © Mackenzie Clark.
Edited press release from Major League Show Jumping
---
The sun went down and Angelstone came alive Friday evening with a commanding victory from the Trelawny Trailblazers in the $485,500 Cabana Coast 5* Team competition. Daniel Bluman (ISR), Conor Swail (IRL) and Nayel Nassar (EGY)—all ranked within the top-50 in the world—stormed to a faultless night under the lights at the fourth leg of Major League Show Jumping's third season.
Coming off a leg two win in Traverse City a week earlier, Swail led a team of fresh legs in Canada. Riding Casturano (Castelan x Canturo), Swail combined his mount's speed with the experience of Bluman's ride, Gemma W (Luidam x Unaniem). The mare has a winning record at Angelstone that includes last year's MLSJ Grand Prix. Swail and Bluman secured an appearance in the gold-medal match-up. They sent in Nassar riding El Conde (Filou de Muze x Final Shot) in for the deciding round and delivered.
The head-to-head medal round featured reigning series champions Helios and the Trailblazers. Roberto Teran Tafur (COL) was clear, but not fast enough by less than a second margin. Nassar came through under pressure for team owner Cara Raether-Carey.
Erynn Ballard (CAN), Ashlee Bond (ISR) and Tafur claimed the silver medal for the second week in a row, and the Northern Lights stepped onto the podium on home soil for a repeat of the top three results from the previous week in Michigan. Canadian pride was strong with the bronze medal team led by Sean Jobin, Vanessa Mannix and Ali Ramsay.