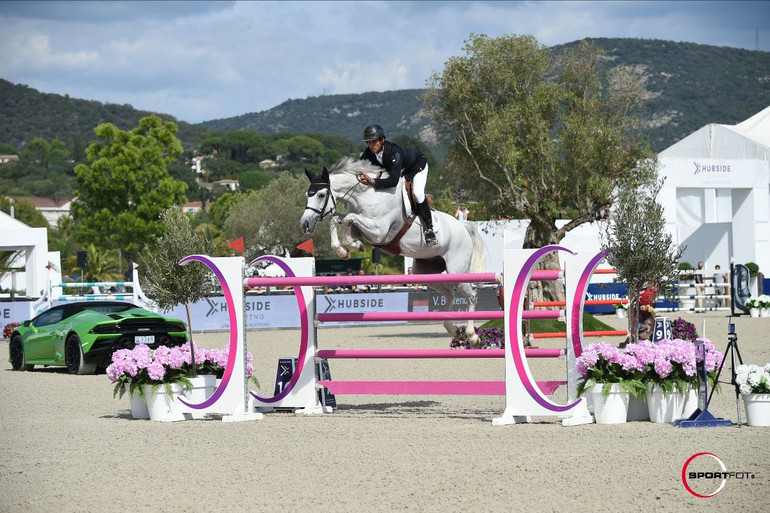 Victor Bettendorf and Simolo de La Roque Z won the CSI5* 1.55m Grand Prix qualifier at Hubside Jumping Grimaud. Photo © Sportfot / Hubside Jumping.
Victor Bettendorf (LUX), last week's winner of the CSI4* Grand Prix at Hubside Jumping Grimaud-Golfe de Saint-Tropez, was again unbeatable in Friday's CSI5* 1.55m Grand Prix qualifier presented by Hubside Store at the same venue. Riding the 10-year-old gelding Simolo de La Roque Z (Spartacus TN x Casal), Bettendorf was one of four riders in the jump-off, and left Julien Gonin (FRA) on Valou du Lys (Calvaro F.C. x Galoubet A), Cédric Hurel (FRA) on Fantasio Floreval Z (Florian de La Vie x Clinton), and Trevor Breen (IRL) on Highland President (Clinton x Kannan) behind him after clocking a time of 38.33 seconds – 0.64 seconds quicker than runner-up Gonin.
"Today, we were only four in the jump-off so we had to try, especially since I had the green light from Adeline (Hecart) who confirmed to me that we had to try to win. It is what I tried to do and at the moment it's working well, so I'm taking advantage of it!" said the happy winner in a press release from Hubside Jumping. "Simolo comes from Haras de La Roque, like many of the horses I ride. He's super careful: He is cat-like and jumps 2mm from the rails, but without giving me the impression of ever being in danger of risking a fault. He gives me a lot of confidence, which helps me to take risks since I don't have to worry about knocking down a pole. Simolo, who does not yet have a lot of experience, is still in the process of being developed with the aim being bigger shows next year," Bettendorf explained.
The 1.50m presented by Celside, the other CSI5* class of the day, was won by Roger-Yves Bost and Urane (Miami de Semilly x Drakkar des Hutins), ahead of Pénélope Leprevost on Vérité Une Prince (Number One d'Iso x Rosire) with 0.62 seconds separating the two French riders. David Will (GER) and Zaccorado Blue (VDL Zirocco Blue x Acorado) finished third.