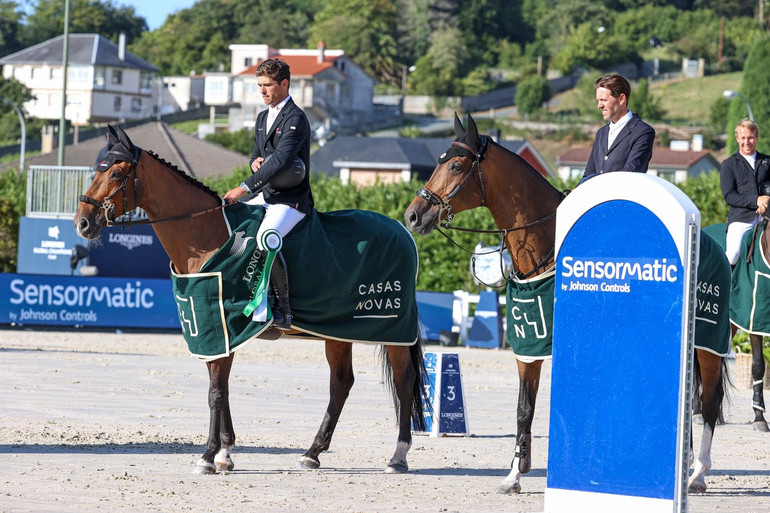 "It really is something rare, and we both win, so we can both be happy," Simon Delestre said after matching Victor Bettendorf's time on the final day of the inaugural LGCT A Coruña. Photo © LGCT.
Edited press release from Longines Global Champions Tour
---
Victor Bettendorf (LUX) and Simon Delestre (FRA) tied for first in the CSI5* €100,000 1.50m presented by Sensormatic to conclude the Longines Global Champions Tour of A Coruña 2023.
With some of the best riders in the world fronting up to the final class of the very first LGCT of A Coruña, 22 of the 43 starters ultimately went clear, promising a quicker-than-lightning jump-off.
From their eleventh place start in the jump-off, Victor Bettendorf and Big Star des Forets (Untouchable M x Voltaire Pref) stopped the clock on 35.90, as did last to go Simon Delestre and Iniesta V (Zambesi TN x No Limit).
"It really is something rare, and we both win, so we can both be happy," Delestre said. "Especially with so many riders in the jump-off, where it is always half-half on whether to take the risk and finish with one down and not in the placings, or take the risk and it works and it's fantastic. The crowd is amazing, so enthusiastic – at first I think we didn't really know what happened until we could check, but the crowd was really pushing for the speed all around my jump-off."
"I am really happy as it is a mare that I have been riding for six months and now I think that she will be ready for bigger classes in the near future," Bettendorf said. "She's a really careful mare, I need to get her temperament right so she is working for me, but when the mindset is right, she is fighting for me and she can win lots of classes."
Third place on the podium went to David Will (GER) aboard his flashy Zaccorado Blue (VDL Zirocco Blue x Acorado), who entered the arena with a single goal – the win. Holding the lead until Bettendorf stole the show and smashed his time of 36.78, a clearly thrilled David redeemed a weekend after disappointment in Friday's GCL. Henrik von Eckermann (SWE) and Dzara Dorchival (Qlassic Bois Margot x Raphael) finished fourth in 38.65 and Philipp Weishaupt (GER) fifth in 36.91 aboard Krokant (Kannan x Loran).