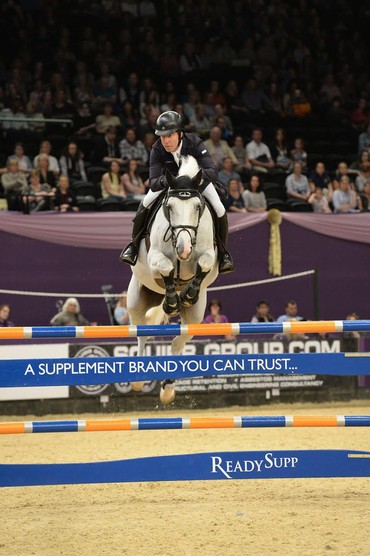 Michael Whitaker won the 1.55 class at HOYS on Saturday. Photo (c) E.S. Photography.
The Whitaker brothers dominated Saturday's 1.55 class at Horse of the Year Show. Michael Whitaker took the win from brother John Whitaker in spectacular fashion in the international showjumping competition sponsored by Irish Horse Gateway.
The atmosphere in the Andrews Bowen International Arena was electric in the jump off as less than one second separated the final scores. Michael won the class riding his grey mare Elie Van De Kolmen (President x Darco) in a time of 35.04 seconds just ahead of John's 35.72 seconds.
This trip to HOYS has been particularly special for Michael as it is his first time back to HOYS in over 5 years. "The crowd there today is fantastic, looks pretty much sold out to me. The people are very enthusiastic," said Michael.
Geir Gulliksen ended third riding Be Gentle (Ticallux Verte x Gentleman).
The 1.60 Accumulator class presented by Naylors Equestrian went to Ireland's Billy Twomey on Tin Tin (Cavalier x Animo). Belgium's Francois Mathy Jr. ended second and Great Britain's Jessica Mendoza third.
Source: Press release from HOYS