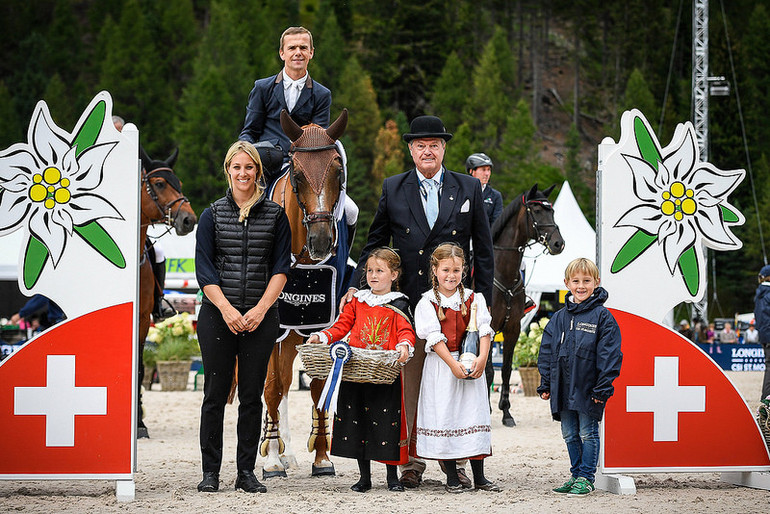 Wilm Vermeir and Gentiane de la Pomme won Saturday's biggest class in St. Moritz. Photo (c) Longines CSI5* St. Moritz.
Saturday's biggest class at CSI5* St.Moritz, the Piz Bernina Prize, went to Wilm Vermeir (BEL). Riding the 11-year-old mare Gentiane de la Pomme (Shindler de Muze x Diamant de Semilly), Vermeir was the fastest of the 18 horse-and-rider combinations that joined the jump-off in this 1.50m class with his time of 35.71 seconds.
Laura Kraut (USA) on the 10-year-old stallion Viper Vrombautshoeve Z (Verdi) was a second behind Vermeir to take care of the runner-up position, while Wout-Jan van der Schans (NED) on the 14-year-old gelding Capetown (Oklund x Carlino) placed third with a time of 37.16 seconds. Alain Jufer (SUI) on the 9-year-old mare Cytise de la Fontaine (Calvaro x Baryard d'Elle) was the best of the home riders in fourth place, followed by his compatriot Edwin Smits (SUI) on the 9-year-old stallion Pikelot von Hof CH (Hrh Pik Ayolo x Cernunnus von Hof) in fifth.
The second five-star class of the day, a 1.45m speed competition presented by Gönnerclub CSI St. Moritz, saw Romain Duguet (SUI) on top for the hosts. Riding the 10-year-old mare Tipsy Girl Loisel (Diamant de Semilly x Palestro II), the Swiss rider clocked the winning time of 58.10 seconds.
Felix Hassmann (GER) on the 12-year-old gelding SL Brazonado (SI Baluarte x Silvestre) placed second with a time of 60.87, while Wilm Vermeir on the 10-year-old mare Hacienda d'Eversem (Contact van de Heffinck x Sheynne de Baugy) took the third spot with a time of 63.11 seconds. Niklaus Rutschi (SUI) on the 10-year-old mare Pipilotta (Orlando x Gonzo I) and Werner Muff (SUI) on the 8-year-old gelding Escottier (Lord Z x Numero Uno) rounded off the top five.
---
Text © World of Showjumping by Nanna Nieminen // Picture © Longines CSI5* St. Moritz