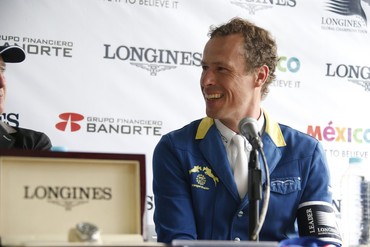 Christian Ahlmann. Photo (c) Stefano Grasso / LGCT.
After the third leg of the 2016 Longines Global Champions Tour has concluded, Christian Ahlmann (GER) maintains his lead and now currently sits on 97 points. John Whitaker (GBR) remains in second place on 85 points, with Emanuele Gaudiano (ITA) has shot up the ranking to take to rank three with 65 points.
Rank four is Rolf-Göran Bengtsson (SWE) on 64 points, and rank five Kevin Staut (FRA) on 60 points.
"I'm very happy to be the leader, but it's only three shows down and we have another twelve to go. As everyone could see, every class is very good sport - it's hard to win so it's a long way to go but I want to try keep it! I'm in the lucky position that I have four or five horses at this level. Codex did his first show after a longer break following Doha, so he's really fresh. Then I have Taloubet who's having a break now and will come back in four to six weeks. It's a strong group, but it's what you need for this kind of show and season. We'll hope to keep it like it is, and then we're competitive every week," Ahlmann said in Antwerp last night.
The full 2016 LGCT ranking can be found here.
---
Source: Press release from LGCT // Picture © Stefano Grasso/LGCT