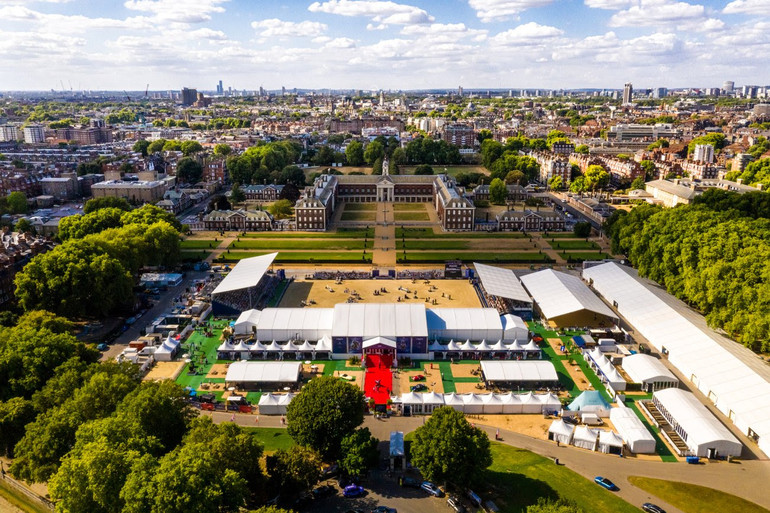 The 13th leg of the 2023 Longines Global Champions Tour takes place in London this weekend. Photo © Longines Global Champions Tour.
The stage is set for this weekend's highly anticipated Longines Global Champions Tour of London, which takes place from August 10th to 13th. Set in the grounds of the Royal Hospital Chelsea – home of the Chelsea Pensioners and the location for the famous Chelsea Flower Show – the battle for the 2023 LGCT title continues, as the tour reaches its 13th round of action.
The top four contenders in the LGCT championship race are all present in London this weekend: Current overall ranking leader Maikel van der Vleuten, Christian Kukuk who sits in a close second place, as well as Harrie Smolders who is ranked third and world number one Henrik von Eckermann who sits fourth. They will be fending off the likes of Daniel Deusser, Christian Ahlmann, Simon Delestre, Edwina Tops-Alexander, Angelica Augustsson Zanotelli, Gregory Wathelet, Jessica Springsteen, Philipp Weishaupt, Niels Bruynseels and Olivier Philippaerts. The British riders will be out in force, of course: John Whitaker, Jack Whitaker, Scott Brash, Ben Maher, Joseph Stockdale, Lily Attwood, Jodie Hall McAteer, Matthew Sampson, Oliver Fletcher, William Funnell and James Smith are all on the entry list.