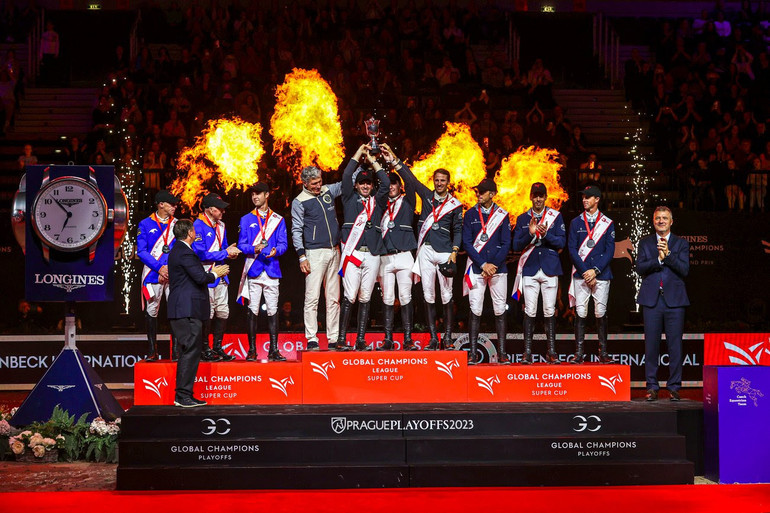 Riesenbeck International powered by Kingsland Equestrian won the €6.5 million GCL Super Cup in Prague. Photo © GCL.
Edited press release from GCL
---
In a heart-stopping display of raw emotion, unyielding tension and unparalleled skill, Riesenbeck International powered by Kingsland Equestrian emerged victorious, claiming the coveted 2023 €6.5 million GCL Super Cup iat the O2 Arena in Prague (CZE) on Sunday.
Eoin McMahon (IRL) and Mila (Monte Bellini x Linton, bred by Gestüt Lewitz/Paul Schockemöhle), Christian Kukuk (GER) on Checker 47 (Comme Il Faut x Come On, bred by Wolfgang Kipp), and Philipp Weishaput (GER) with Zineday (Zinedine x Polydor, bred by Franz-Georg Ottmann) did the double; claiming the season championship title and the GCL Super Cup win, leaving Valkenswaard United's Marcus Ehning (GER) with Stargold (Stakkato Gold x Lord Weingard, bred by Gestüt Sprehe GmbH), Gilles Thomas (BEL) on Luna van het Dennehof (Prince van de Wolfsakker x Quidam de Revel, bred by Marc En Patrick Van Dyck - De Muynck) and John Whitaker with Equine America Unick Du Francport (Zandor x Helios de la Cour II, bred by Laurent and Veronique Baillet) in second place – for a second year running.
"We have made history," Christian Kukuk said. "The sport today was incredible. This is such a special event here, a special crowd, I have no words."
The tension reached its pinnacle as Riesenbeck International faced off against Valkenswaard United down to the last fence. The crowd, with record numbers in attendance of over 39,000 people this week at Prague's O2 arena, were on the edge of their seats, collectively holding their breath with each jump, a symphony of gasps and cheers echoing through the arena as Philipp Weishaupt and Zineday brought it home for the team.
Weishaupt, the final rider into the arena to contest the GC Super Cup Final, who jumped an immaculate clear round on the ultra-consistent Zineday, threw his helmet into the sell-out O2 arena crowd in Prague as he crossed the finish line in pure elation.
Speaking to a full press conference, he explained the feeling he had as he galloped around the arena for the final time: "This is the best show in the world. It is such an emotional moment. What a show and what an environment here. The whole season, the fifteen events on tour with LGCT and GCL this year is one thing, but this one event stands above absolutely anything in our sport – they are all great shows and events, but this specific show here makes both the Tour and League very, very special. It is the reason why we are working and getting up every morning; to be here in Prague and deliver – it's definitely the best indoor show in the world."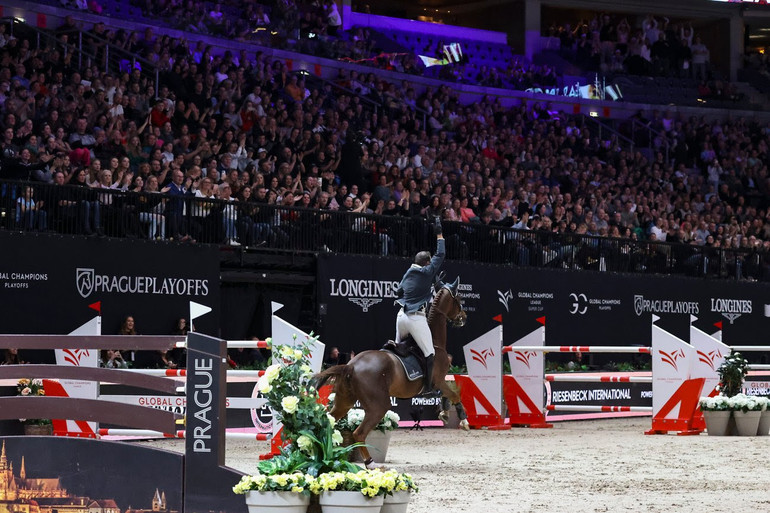 Philipp Weishaupt threw his helmet into the sell-out O2 arena crowd in Prague as he crossed the finish line in pure elation. Photo © GCL.
Supported by team manager Ludger Beerbaum, Riesenbeck International was powered for success. Speaking to GCTV, Beerbaum spoke of his team's mental strength and raw talent. "You couldn't have asked for anything better," Beerbaum said. "I think it is without a question, shows the skills they have. Of course, the pressure is one major factor – especially when you see today the final round, it's not only mental strength and dealing with pressure. It's of course skills and how you ride, how you perform, how you ride your horse… how you prepare yourself and your horse for each and every event throughout the whole season."
Paris Panthers – Gregory Wathelet (BEL) and Bond Jamesbond de Hay (Diamant de Semilly x Kannan, bred by Jean-Luc L'Helgouarc'h), Harrie Smolders (NED) and Uricas vd Kattevennen (Uriko x San Patrignano Cassini, bred by Otto Boje Schoof) and Ben Maher (GBR) with Faltic HB (Baltic VDL x Concorde, bred by H.A. Brinkman) – the ultimate third-place getters in the 2023 GCL Super Cup Final, and not forgetting their second place in the 2023 GCL season championship, had an outstanding year of top-class performances.
Speaking at the press conference, Ben Maher said: "We came here with the strongest team this week that we possibly could, to this type of finals, that Jan and the whole GCL team has put together for the riders, it has changed the whole dynamic of our sport. We really came here trying to win, but Riesenbeck were just too good the whole year. With three unbelievable riders, we struggled to beat them the whole year, not just this year."