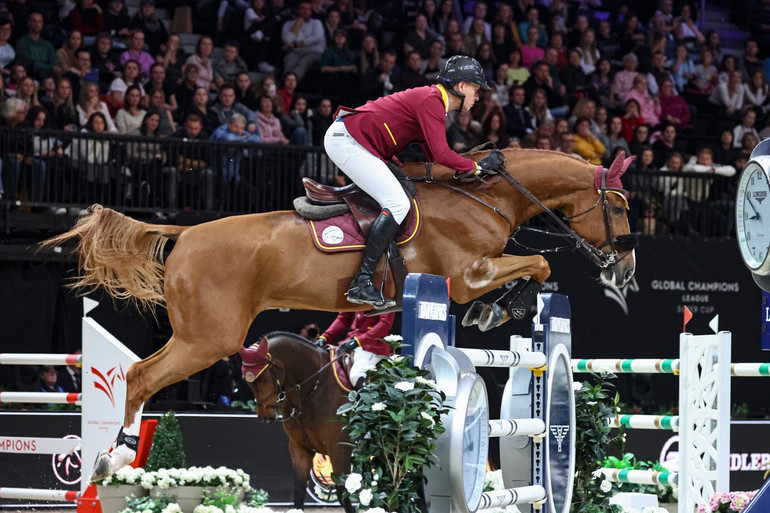 Christian Ahlmann and Mandato van de Neerheide produced the single clear round for Shanghai Swans, that topped Thursday's GCL Super Cup quarter final. Photo © GCL.
Edited extract from GCL press release
---
As night one of the GC Prague Playoffs unfolded, it was an evening full of surprises in the nail-biting GCL Super Cup quarter final that saw Shanghai Swans storm into the top spot. It was Martin Fuchs riding Leone Jei (Baltic VDL x Corland), Christian Ahlmann on Mandato van de Neerheide (Emerald x Pommeau de Heup), and Max Kühner with Up Too Jacco Blue (Chacco-Blue x ARD VDL Douglas) that secured the team prime position for Friday after finishing as one of two teams on eight faults – but with the fastest time. Riyadh Blue powered by Al Hihal finished second on eight faults, but with a slower total time than Shanghai Swans, with David Will aboard My Prins Van Dorperheide (Zilverstar T x Winningmood), Abdulrahman Alrajhi with Babalou (Balou's Bellini x Newcastle), and Abdullah Al-Shabartly with Kriskras DV (Cooper van de Heffinck x Kashmir van Schuttershof) on the team. Monaco Aces followed in third on 16 faults, which was also the score of Prague Lions in fourth and Istanbul Warriors in fifth.
Eight teams survived the dramatic knockout competition to take their place in Friday's semi-final as New York Empire powered by Lugano Diamonds and Rome Gladiators powered by CLIPMYHORSE.TV left the GCL Super Cup battle at this stage. It was also over and out for Mexico Amigos and Cannes Stars who had their dreams dashed on the very first day of the 2023 GC Prague Playoffs.
Martin Fuchs of the top team Shanghai Swans told GCTV: "We all brought our Championship horses here, which are used to jumping the biggest fences out there, they have good stamina and all have had good preparation coming in here, we are going to make some changes to the team tomorrow, and then hopefully for the Final on Sunday, we are going to bring the freshest and the best horses with the best riders."
Milena Pappas, co-owner of the Shanghai Swans, spoke of how proud she was of the team: "You have superstars on this team, you have super horses, you have team spirit, and we just want them to have fun… and if they have fun, they have all our support. What these guys do for us, they give their everything. When it is time to show up, they show up 110%... what else can you ask?"