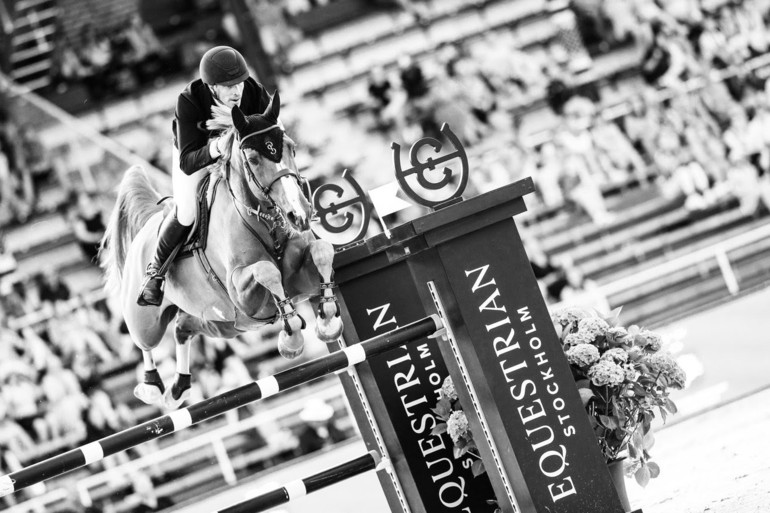 Henrik von Eckermann and Dzara Dorchival took a popular home win on the first day of LGCT Stockholm. Photo © LGCT.
Edited press release from Longines Global Champions Tour
---
The first day of the Longines Global Champions Tour of Stockholm saw world number one Henrik von Eckermann (SWE) set the stage for an electrifying weekend of world-class equestrian sport. Making it a home win, von Eckermann and Dzara Dorchival (Qlassic Bois Margot x Raphael) cut over a second off Abdullah Alsharbatly (KSA) and Ambrosio d'Alcy's (Cabdula du Tillard x Calvaro F.C.) time to take the win. Victor Bettendorf (LUX) was on flying form after having secured a win earlier in the day, but had to settle for third place on Big Star des Forets (Untouchable M x Voltaire Pref) in the 1.45m speed class presented by Equestrian Stockholm.
To GCTV, von Eckermann said: "Dzara is in great form, she won a couple of weeks ago on the last day at LGCT St. Tropez and today she was perfect. I am delighted to win the first class at my home event, it's always great to come home with this amazing crowd! I had a great show here last year and I want to do the same so we see how it goes tomorrow."
Just 0.02 seconds between them, Evelina Tovek on Moeboetoe v/d Roshoeve (Der Senaat x Poleander) and Kevin Staut on Beau de Laubry Z (Bisquet Balou vd Mispelaere x Nabab de Reve) put the pedal to the metal clearing all the fences with ease, ultimately collecting fourth and fifth respectively setting them perfectly up for the €480,000 Longines Global Champions Tour Grand Prix of Stockholm presented by Fabege on Sunday.