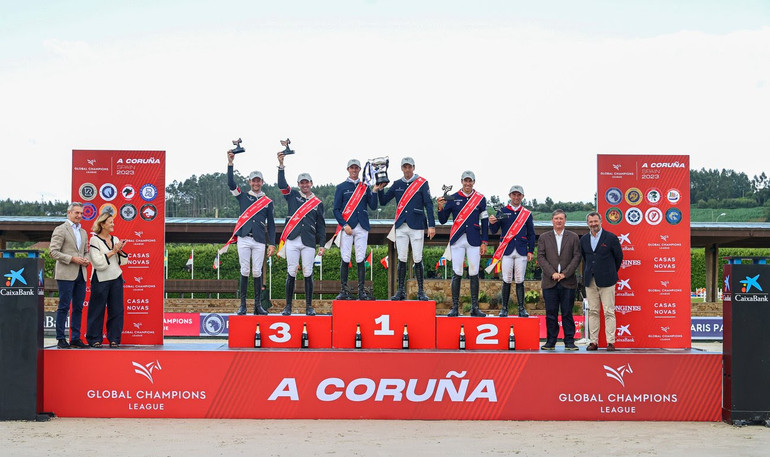 Team Paris Panthers won the 10th leg of the GCL 2023-season, with Scandinavian Vikings in second and Riesenbeck International powered by Kingsland in third. Photo © GCL.
Edited press release from GCL
---
A Coruña played host to the thrilling tenth stage of the 2023 Global Champions League-series, and It was team Paris Panthers – Ben Maher with Ginger Blue (Plot Blue x Royal Bravour) and Harrie Smolders on the consistent Monaco N.O.P. (Cassini II x Contender) – who took the win in the GCL A Coruña presented by CaixaBank, as the only double clear of the day.
Scandinavian Vikings – current world number one Henrik von Eckermann on King Edward (Edward x Feo) and Richard Howley with Consulent de Prelet Z (Consulent Z x Fuego du Prelet) – picked up another second place finish as the fastest team on four faults. Championship leaders Riesenbeck International powered by Kingsland Equestrian – Patrick Stühlmeyer (GER) and Drako de Maugre) and Philipp Weishaupt (GER) aboard Coby (Contagio x Escudo) – once again picked up valuable ranking points, taking another podium as they finished in third ahead of their home event next weekend.
Speaking of the team looking to bounce on a higher championship standing, Ben Maher alluded to the move they're looking to make in the next stages of the GCL. "We have the horses and we have the riders, just we need everything to go right at the right time – that's the sport, and sometimes you have a tough week which has been pretty damaging for us once or twice. We are on the way back, there's a few legs left and we have a lot of horses, and riders with a lot of horses to choose from, so hopefully we can come strong at the end," he said.
Team Riesenbeck International leads the 2023 GCL championship standings after stage ten with 234 points, followed by Paris Panthers with 204 points in second, Madrid In Motion with 188 points in third and St Tropez Pirates with 166 points in fourth.