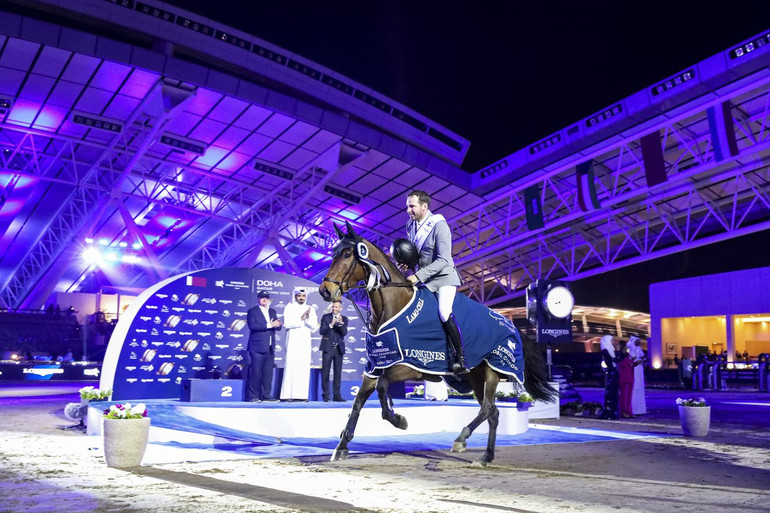 Philipp Weishaupt and the 9-year-old mare Just Be Gentle won the Longines Global Champions Tour Grand Prix of Doha. Photo © Longines Global Champions Tour.
Edited press release from Longines Global Champions Tour
---
Philipp Weishaupt and the 9-year-old mare Just Be Gentle (Tyson x Ticallux Verte) took an impressive victory in the Longines Global Champions Tour Grand Prix of Doha after the German rider stole the show with Riesenbeck International in yesterday's GCL. With his Grand Prix win, Weishaupt secured the first Golden Ticket of the season to the Longines Global Champions Tour Super Grand Prix at the GC Prague Playoffs 2023.
In a fairytale ending to a week rocked with emotion, it all came together for Weishaupt on a mare that had never even jumped a 2* Grand Prix in her life. "This is a very very special moment. Winning a Longines Global Champions Tour Grand Prix is special but even more so with this young mare. We always put our best horses in the league and we won that which was already incredible so to put this one in the Grand Prix I was never expecting to jump clear let alone win. These unexpected wins are the nicest ones so I am over the moon right now."
Weishaupt went on to add: "It is a very special moment, the nicest story in this whole situation is when we have one down like what happened with Ludger's accident it could not have happened in a better place. We felt like the whole country of Qatar was helping us, the hospital was amazing and he almost felt like he was at home."
Out of the 39 horse-and-rider combinations at start, twelve returned for round two. A fast and exhilarating jump-off resulted in seven double clear rounds over the challenging, but jumpable, track built by Uliano Vezzani, with Weishaupt and Just Be Gentle being the fastest with their time of 34.37 seconds.
Philipp Weishaupt, Christian Kukuk and Simon Delestre on the podium in Doha. Photo © Longines Global Champions Tour.
Malin Baryard-Johnsson (SWE) and H&M Indiana (Kashmir van Schuttershof x Animo's Hallo) finished just 0.28 seconds behind Weishaupt, to slot into temporary second – but were overtaken by Delestre (FRA) and Kukuk (GER) at the very end of round two. Aboard Dexter Fontenis Z (Diarado x Voltaire), Delestre delivered a speedy clear – putting him just 0.09 behind Weishaupt, but it was short-lived as Kukuk and Nice Van't Zorgvliet (Emerald x Heartbreaker) gave it their best shot as last to go. Finishing only 0.05 seconds behind Weishaupt, Kukuk took the runner-up position ahead of Delestre in third, Baryard-Johnsson in fourth and Ioli Mytilineou (GRE) in fifth aboard Levis de Muze (Elvis ter Putte x Tinka's Boy).
A delighted Christian Kukuk explained in the post-event press conference: "It is quite an emotional second place today. I am definitely more smiling than crying today about coming second. I was last to go and I had to give everything. I am so happy for our team."
Third placed Simon Delestre praised the show: "This is always one of my favourite shows of the season. Thank you to everyone for making this possible as all the facilities here, especially for the horses, are fantastic."
The Longines Global Champions Tour now moves on to Miami Beach for the second stop of the tour.