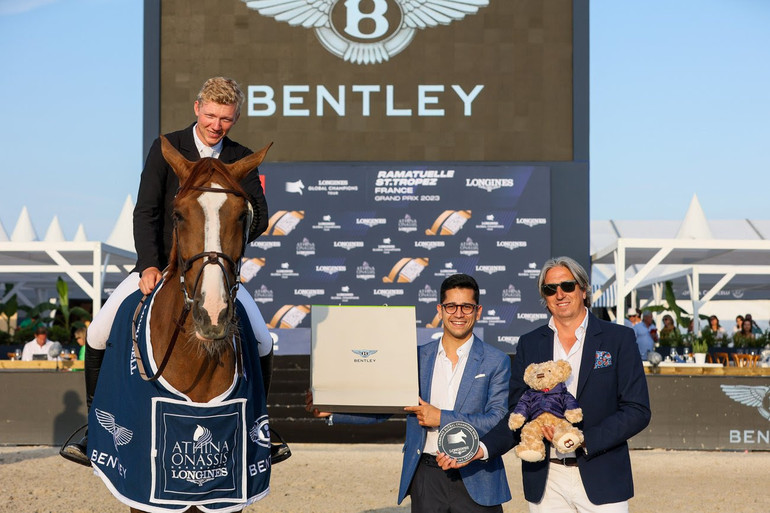 Philipp Schulze Topphoff and Carla, winners of the 1.45m Prix Bentley in St. Tropez. Photo © Longines Global Champions Tour.
Edited press release from Longines Global Champions Tour
---
It was an U25 one-two in today's 1.45m Prix Bentley at the Longines Athina Onassis Horse Show in St. Tropez as Philipp Schulze Topphoff (GER) pipped Lily Attwood (GBR) to the post. In an unforgettable opening day of the Longines Global Champions Tour of St Tropez, Ramatuelle, high-level sport paired with the vibrant atmosphere of the French Riviera set the stage for a perfect weekend of showjumping.
Riding his 10-year-old mare Carla (Comme Il Faut 5 x Potsdam NRW), Schulze Topphoff stopped the clock at 62.40 seconds – less than half a second faster than Lily Attwood and Karibou Horta (Landor S x For Pleasure). Kevin Staut (FRA) collected third place on Cornet's Velvet RS (Cornet Obolensky x Acobat II) after being second to start.
A delighted Philipp told GCTV: "Carla is a super horse, she fights when the bell rings and the course starts, and with other horses maybe we use the first round to show the corners and to show the arena, I think with her it is easy with things like that and we can use the first round to go fast and to try something. I am really looking forward and happy to compete for our team tomorrow."
Lily Attwood said: "Of course, I would have liked to have won but I'm super pleased with how Horta is feeling. This is a spectacular show and to be placed on the first day sets me up perfectly for the big classes to come."