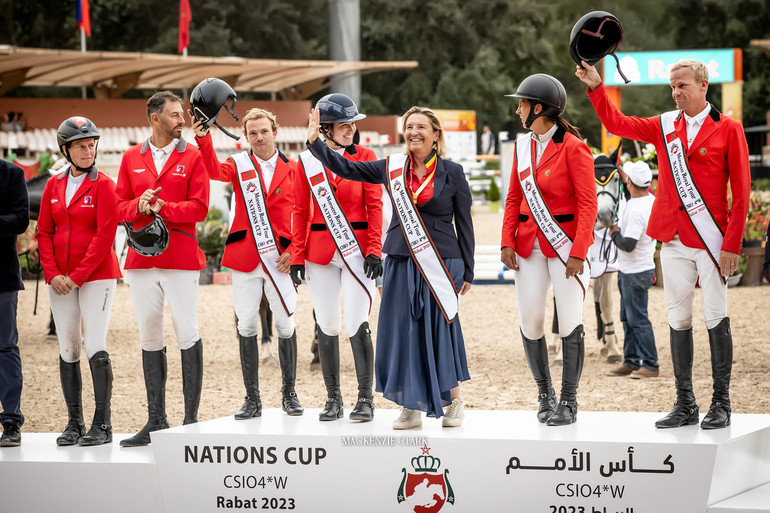 Team Belgium – Cyril Cools, Marine Scauflaire, Virginie Thonon and Jerome Guery, led by Chef d'Equipe Fabienne Daigneux-Lange – won the Nations Cup in Rabat. Photo © Mackenzie Clark.
Text © World of Showjumping
---
The highlight of the second stage of the Morocco Royal Tour 2023 in Rabat was the concluding CSIO4*-W 1.55m Nations Cup presented by Ministere de l'education Nationale, Pre-Scolaire et des Sports on Sunday. Taking their second victory since the Nations Cup was first staged in Rabat in 2016, it was the Belgian team that came out on top ahead of the Swiss in second and the French in third.
After a strong start, the Swiss team moved on to the second round in the lead with three clear rounds – from Elian Baumann and Little Lumpi E (Lordanos x Polydor), Mehdi Roessli-Dobjanschi and Valderama Tame (Panama Tame x Quick Star) as well as Alexandra Amar aboard Vincy du Gue (Adelfos x Quaprice Bois Margot). But, the Belgians fought back in round two: Virginie Thonon and Edgard de Prefontaine (Contact vd Heffinck x Orlando), Cyril Cools and Milton Z (Mylord Carthago x Sandro Boy) and Marine Scaflaire aboard Hortus d'Hoogpoort (Diamant de Semilly x Acorado) all delivered a clear under pressure. With a team total of four penalties, Belgium's anchor pair Jerome Guery and Enjoy d'Elle (Kannan x Carthago Z) did not need to jump the second round as the win was already secured ahead of the Swiss team with a team total of five penalties.
"I was actually very confident for this second round, as I know my horse well," Belgium's Marine Scaflaire said in a press release from Morocco Royal Tour. "It was my first Nations Cup, and I missed my first round, but I didn't ask myself any questions and went into the second round with full confidence."
With a team total of 16 penalties, the French team – consisting of Nicolas Deseuzes and Eldorado Sunheup Z (Eldorado vd Zeshoek x Quartz du Chanu), Jeanne Sadran and Unforgettable Damvil (San Patrignano Corrado x Papillon Rouge), Emeric George and Calisco de Terlong (Mylord Carthago x Jalisco B) and Olivier Robert aboard Careca Ls Elite (Carusso Ls La Silla x Rebozo La Silla) – completed the podium in third.
The Morocco Royal Tour 2023 continues next week in El Jadida, moving indoors for the Salon du Cheval.