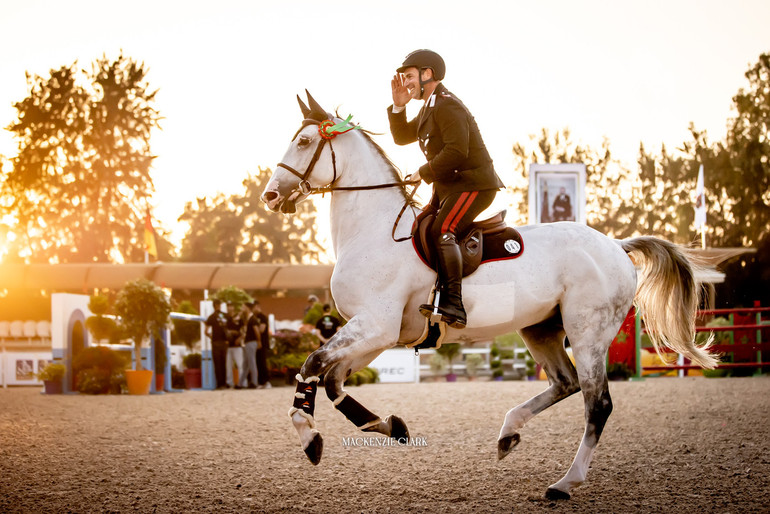 Emanuele Gaudiano and Jaja, winners of the CSIO4*-W 1.50m Prix Wilaya Rabat Sale Kenitra in Rabat. Photo © Mackenzie Clark.
The second leg of the Morocco Royal Tour 2023 kicked off in Rabat on Thursday with an Italian top three, as Emanuele Gaudiano and Jaja (Zirocco Blue VDL x Baloubet du Rouet, bred by P.G. Olthof and owned by the VDL Stud) won the CSIO4*-W 1.50m Prix Wilaya Rabat Sale Kenitra – a qualifier for the Grand Prix World Cup, which takes place on Friday.
Counting for the Longines Ranking, the 1.50m class had 46 horse-and-rider-combinations at start. With a time of 62.58, Gaudiano and Jaja took the win ahead of two of their compatriots as Giulia Martinengo Marquet (ITA) and Scuderia 1918 Quick And Easy 3 (Quick Orion D Elle x Colman, bred by Raimund Eichert and owned by Remolino 546 and Sgh Srl) placed second in 62.64 and Roberto Previtali (ITA) third in 62.83 aboard Come On Semilly (Diamant de Semilly x Come ON, bred by M. Richard Levallois and owned by Portfolio Horses).
The host's Abdelkebir Ouaddar (MAR) and Ceika Malouine (Quickly de Kreisker x Lord Calando, bred by Katell Mainier and owned by FRMSE) finished fourth, followed by Nicolas Deseuzes (FRA) aboard Eldorado Sunheup Z (Eldorado van de Zeshoek x Quartz du Chanu, bred by Carine Groualle Elevage Sunheup and owned by Nicolas Deseuzes) in fifth.