Edited press release from FEI written by Louise Parkes
---
Team Belgium enjoyed a perfect day today when not only winning the prestigious Longines FEI Jumping Nations Cup™ 2022 Final but also earning a qualifying spot for the Paris 2024 Olympic Games.
It was their third victory since the Longines Final was first established at the Real Club de Polo in Barcelona, Spain back in 2013. They came out on top in 2015, and then did it again three years later, but today's success was particularly sweet.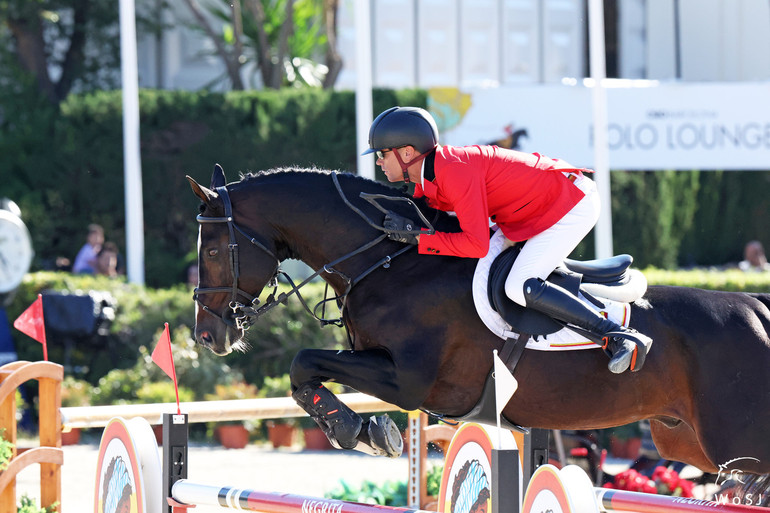 "We were a little disappointed after Herning (World Championship) because we were good all season. When we came here we were determined to try to pick up the Olympic qualifying spot and the pressure was on us to the end, because to get that we had to win," Jerome Guery said after jumping double clear. Photo © Jenny Abrahamsson for World of Showjumping.
It was sealed by three classic clear rounds that left them as the only side on a zero scoreline at the end of the day. As anchorman Jérôme Guery pointed out: "We were a little disappointed after Herning (World Championship) because we were good all season. When we came here we were determined to try to pick up the Olympic qualifying spot and the pressure was on us to the end, because to get that we had to win!"
They were locked in battle with a strong Swiss side who were also chasing that place in Paris in two years time, and after the first two rider rotations were completed there was a three-way tie between Belgium, Switzerland and France with each side carrying one four-fault result.
But only the Belgians kept a clean sheet in the final analysis, with Guery wrapping it up after brilliant runs from pathfinder Koen Vereecke and the 12-year-old stallion Kasanova de La Pomme (Bamako de Muze x Malito de Reve) and relative newcomer Gilles Thomas with his lovely 12-year-old mare Calleryama (Casall x Contender), while veteran team member Gregory Wathelet and his 14-year-old stallion Iron Man van de Padenborre (Darco x Chin Chin) dropped just a single pole for the discard score.
The French and Swiss both finished on a four-fault scoreline, France getting the nod for second place when less than three seconds quicker, while The Netherlands lined up fourth on a total of eight. Great Britain, Spain and Germany all finished with 16 on the board and slotted in behind each other in that order, while Ireland finished eighth and last on a total of 20.
Tough and testing
The eight best nations from Thursday's opening round faced a tough and testing 14-fence track set by Spanish course designer Santiago Varela. "It was not over-built, you could build bigger but the last line was difficult. I designed three combinations today - it was not for free - and there were faults in them all and also around the track", said the man who also set the courses for the Tokyo 2020 Olympic Games last summer.
There were 18 jumping efforts including a double at fence four, an open water at fence six, a triple combination that began with a wide triple bar at fence eight and a water-tray vertical at fence eleven that was quickly followed by another double at fence 12. The snaking line from eleven to the vertical at fence 13 certainly took its toll and every one of the last four fences hit the floor throughout the afternoon. But as Varela said this evening, "there is a reason that Belgium won and qualified for the Paris 2024 Olympic Games, and that is because they did a great job today!"
Vereecke's clear led the way and Wathelet faulted only at the second element of the double at fence four before Gilles Thomas set off on a beautiful round with his mare who never looked like touching a pole. Meanwhile the Swiss began to slip when both Pius Schwizer on Vancouver de Lanlore (Toulon x Le Tot De Semilly) and Martin Fuchs on Conner Jei (Connor 48 x Cosimo) had a pole down. So even though pathfinder and Dublin Grand Prix winner Edouard Schmitz was foot-perfect with Quno (Quo Vados I x Cashandcarry) and Steve Guerdat produced a lovely anchor clear from Venard de Cerisy (Open Up Semilly x Djalisco Du Guet) they had to carry four faults. As did the French.
Going last of the eight nations after finishing best in Thursday's first round they also had a great start with more spectacular jumping from Simon Delestre and the aptly-named Cayman Jolly Jumper (Hickstead x Quaprice Bois Margot) before both Gregory Cottard on Bibici (Norman Pre Noir x Nelfo Du Mesnil) and Julien Epaillard on Caracole de La Roque (Zandor Z x Kannan) each had a single rail down. Kevin Staut on Scuderia 1918 Viking d'La Rousserie (Quaprice Bois Margot x Apache d'Adriers) returned a brilliant clear but the score-board would show four faults while the Belgians remained securely in pole position.
Really delivered
Winning Chef d'Equipe, Belgium's Peter Weinberg, said his side really delivered today, and he was particularly thrilled with the performance of Thomas. "For us there was pressure because we still had to qualify for Paris, but my riders can live with pressure and they delivered very well and the horses were jumping absolutely fantastic. As you all saw the course was as usual in that Final, difficult and tricky enough and it asked a lot of questions of the riders and the horses. Some of these riders are more experienced but for Gilles it was the first time to compete at this level and he did a brilliant job!"
Vereecke earned a share of the €100,000 bonus on offer to riders jumping clear over both rounds of the Final. "This year has been unbelievable for me", the 53-year-old rider said. "It started in St Gallen, then Falsterbo double-clear, Hickstead double-clear and now double-clear here. I have an amazing horse who has done an amazing job this year!"
Thomas has also sparkled this summer, winning the Grand Prix at Hickstead (GBR) and enjoying great results at Spruce Meadows in Canada in early September. He had a great career at Junior and Young Rider level and, still only 24 years of age, looks set for a big future in the sport.
Amazing year
"I only knew I was coming here two weeks ago and I couldn't believe it but I've had an amazing year with three really good horses. I didn't expect any of this, but even if next year isn't quite so good I will look back and know 2022 was a really good year! Now everything that comes I take!", Gilles Thomas said.
Guery has nothing to prove. Together with the superb Quel Homme de Hus (Quidam de Revel x Candillo 3), the 42-year-old double-Olympian took European team gold in Rotterdam (NED) in 2019, team bronze in Tokyo last summer and individual silver at the ECCO FEI World Championships in Herning (DEN) this summer. They are an amazing partnership.
"I'm three years together with Quel Homme now and he's a super horse and when I ride good he's always good. It's great for us to be qualified for the Olympics, it is always my dream, but I like the feeling of a Championship too and I love to come here in Barcelona for the final of the season", he said.
Next year the Final will be a little different, because 90 years after the stadium was originally built at Real Club de Polo, a rebuilding project is about to start next week, expanding the spectator viewing area for the 2023 edition. The sport can be expected to be as competitive as ever in twelve months' time, and the Belgians intend to be back to chase Longines victory number four…..