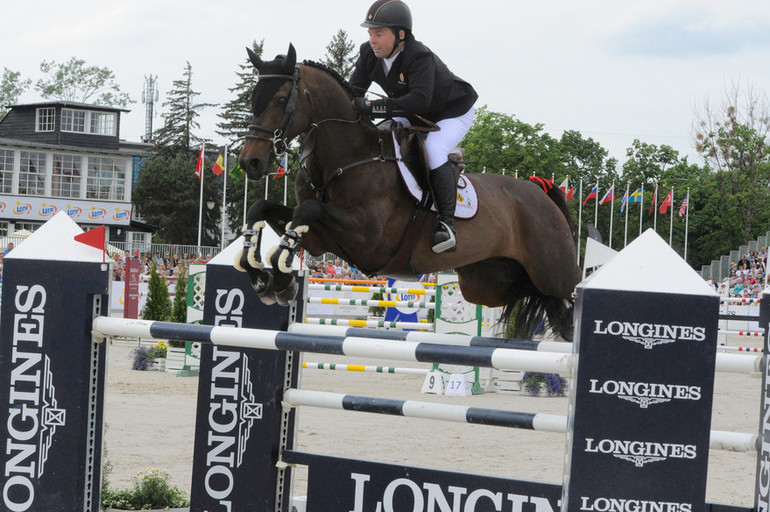 Cian O'Connor and Good Luck won the CSIO5* Grand Prix in Sopot. Photo (c) Małgorzata Frysztak / KadraSkoki.pl.
As last to go, Cian O'Connor (IRL) and Good Luck (Canturo x Furioso II) snatched the win in the CSIO5* Grand Prix of Sopot.
O'Connor, who only recently returned to the ring after being forced to take a break from riding due to a groin injury, was understandably very happy after the victory. "I am really thrilled with this big win," Cian said to World of Showjumping. "Good Luck has been outstanding, he has always been such a good horse but it's taken time for him to develop to this level and to learn how to come fast and turn easy to the fences. He really deserves this big five-star win, and hopefully there are many more to come."
The pair was one of thirteen moving on to the second round in this 1.60m Grand Prix that offered a total of 620 000 PLN in prize money. However, out of these thirteen only four had managed to produce clears over the first round 1.60m track set by Olaf Petersen Jr: Luciana Diniz (POR) on Fit For Fun (For Pleasure x Fabriano), Cian O'Connor on Good Luck, Marc Houtzager (NED) on Sterrehof's Calimero (Quidam de Revel x Libero H) and Mario Wilson Fernandes (POR) on Stroudwood Eldarado (Navardo x Carousel). The four clear riders got company from a total of six pairs with a single time penalty collected during round one, as well as three on four faults.
The shortened track counted a total of nine fences, and asked horses and riders to both stretch and come back with the penultimate challenge being the a- and b-element of the former triple combination before a run to the last tall and wide oxer waited.
The first clear against the clock came from Lauren Hough (USA) on Waterford (Coolcorron Cool Diamond x Julio Mariner XX), who settled on her four faults from the first round and a time of 48.44 seconds. But, with another eleven to go the lead was not to last and one rider later the American rider was overtaken by Ondrej Zvara (CZE) on Cento Lano (Cento Lano x Eoghan Du Mervaux) who went clear in 49.26 seconds taking over the lead with his single time penalty from the first round. Next to go, Alexander Zettermann (SWE) slotted in behind – with his one time fault from the first round and a clear in the second stopping the clock at 51.72 seconds. Two more riders with a time fault from the first round were clear in their second attempt: Fabienne Daigneux-Lange (BEL) on Venue d'Fees des Hazalles (President x Alcatraz) who slotted in between Hough and Zettermann while Doron Kuipers' (NED) clear on Charley (Calido I x Askari) would earn him the 5th place in the end.
Marc Houtzager was the first rider on a clean sheet to enter the ring, and rode a magnificent round on the scopey Sterrehof's Calimero to slot into pole position with a time of 48.96 seconds. Mario Wilson Fernandes followed, but saw a rail fall towards the end and propelled down the result list to finish 9th. Luciana Diniz had a bit of an un-rhythmical start on her wonderful Fit For Fun, but caught up on the pace half-way shaving down the leading time to 48.77 seconds after a few lucky moments.
However, as last to go it would be Cian O'Connor and the incredible 11-year-old stallion Good Luck that stole the show with fluent and beautiful round where everything came together. When the two crossed the finish line, they had cut the time down to 47.59 seconds to snatch the win from Diniz and Fit For Fun.
"I'm very happy obviously, because winning a Grand Prix like this pre-qualifies us for further CSIO five-star Grand Prix classes later in the season and that is certainly a nice addition to have," Cian said.
"Every day I ride Good Luck I realize how lucky I am, because he is just such an extraordinary athlete and it gives great pleasure. He is a fresh horse and a fun horse: I have to work him in a particular way that he is calm enough but still works with me. Like with all stallions you have to find a partnership, and after two years I think ours is really coming together and hopefully we will have many more big days," Cian finished off.
---
Text © World of Showjumping // Picture © Małgorzata Frysztak / KadraSkoki.pl