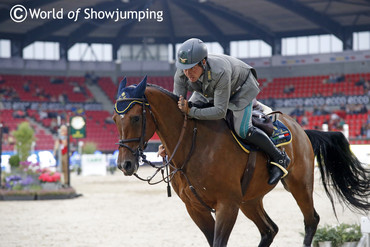 Emanuele Gaudiano and Cocoshynsky. Archive photo (c) World of Showjumping.
Emanuele Gaudiano (ITA) won the Serpentine Speed Stakes - a 1.60 speed class - in Dublin on Thursday. Riding Cocoshynsky (Cornet Obolensky x Popcorn), Gaudiano was more than four seconds faster than runners-up Bertram Allen (IRL) and Quiet Easy 4 (Quidams Rubin x Zapateado). Cian O'Connor came third with Coco II (La Poco x Calato) to make it a very good day for the host country.
Home rider Paul O'Shea and Skara Glen's Machu Picchu (Silverstone VDL x Matterhorn) were the winners of the Anglesea Stakes – a 1.50 class with a winning round. O'Shea and runner-up Patrick Stühlmeyer (GER) were the only riders to clear the second round, while number three Denis Lynch (IRL) was the fastest rider on four faults.