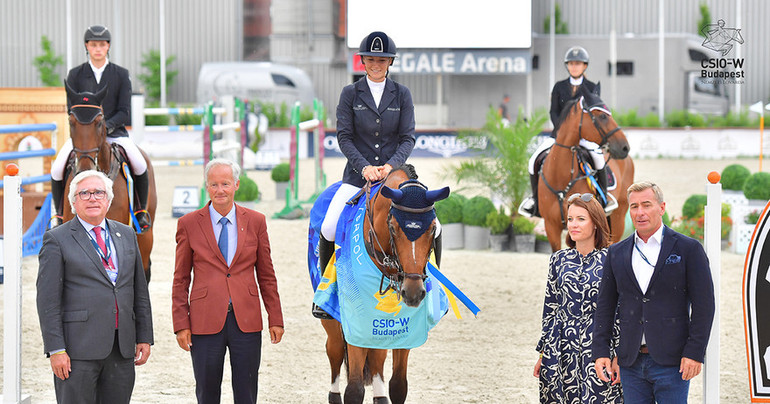 Jana Wargers and Limbridge won the CSIO3* 1.50m Grand Prix World Cup qualifier presented by the Hungarian Equestrian Association. Photo © CSIO Budapest / Krisztina Hajdu.
Edited press release from National Riding Hall - Hungary
---
The last and most anticipated class of the CSIO3*-W Longines EEF Series Semi Final in Budapest was the 1.50m Grand Prix World Cup qualifier presented by the Hungarian Equestrian Association.
Despite the changing weather, plenty of spectators visited the National Riding Hall, so the competitors could ride in front of an almost crowded grandstand and in a fantastic atmosphere, which has rarely been given to them since the outbreak of the Covid epidemic.
The track consisted of 13 obstacles and 16 efforts, including two 1.60m verticals. It was not the height that was a problem for the horses though, as there were only few faults on these two fences, but rather the closing triple combination continued with five long strides and a wide oxer and the very tight time allowed. To avoid the unpleasant time-penalties riders tried to take turns as narrowly as possible, some even turned inside before the water.
Only four of the 48 horse-and-rider combinations in the Grand Prix were able to stay clear, with an addition of two who had time-penalties only. The dominance of the winning German Nations Cup team continued, with three of their four riders in the jump-off alongside Switzerland's Romain Duguet.
The 24 years old Sophie Hinners was the first one to go on Vittorio (Valentino Ddh x Ramiro's Bube), and she cleared the jump-off with a safe ride and a quick time in 47.81 seconds. Hinners was followed by Romain Duguet, who took the lead with a brilliant ride on Bel Canto de Boguin (Grenat de Grez HN x Arpege Pierreville) – crossing the finish line in 46.91 seconds. The 23-year-old Cedric Wolf came next and did a lightning-fast ride that beat the lead time by two seconds, but perhaps due to too much risk, his horse DSP Chicitito (Crossfire x Balou du Rouet) touched the last pole and it resulted in four penalties for the pair.
The last one to go was Jana Wargers, who rode the course cold-blooded and just fast enough to take the win with Limbridge (Limbus x Cambridge) in 46.42 seconds – ending her great weekend in Budapest in the very best way.