Press release from Thunderbird Show Park
---
Alison Robitaille's (USA) familiarization with new mount Ester de Maugre (Vigo Cece x Ogano Sitte) has been one of experimentation.
A tack adjustment and the identification of a preferred grass surface proved to be the winning formula Friday at Thunderbird Show Park's Odlum Brown BC Open. Robitaille and the quick-footed 9-year-old mare recorded the first international victory of their young partnership in the CSI2* Friends of tbird 1.45m.
The pair bested an 11-horse jump-off over Peter Holmes' (CAN) shortened track. The winning time was 40.23 seconds. James Chawke (IRL) and Howard du Seigneur (Curby du Seigneur x Ogano Sitte) finished second in 40.51 seconds, with Grant Seger (USA) and Yoghi FLP (FRH Quaid x Stakkato) third in 41.80 seconds.
"My horse is a very quick horse naturally," Robitaille said. "I was surprised I took the lead when I landed from the last jump. I thought that I had pulled in too many places."
At the recommendation of her coach Kent Farrington (USA), Robitaille acquired Ester de Maugre in December from Mark Bluman (COL), also the former rider of her top mount, Oakingham Lira. The forward-thinking mare prefers to do things her way, and at first, that proved to be a give-and-take situation with her new rider.
"We slowly got to know each other over the jumps. We tried some different bridles, and I wasn't sure what to use," Robitaille explained. "I asked Kent to ride her a bit for me when I was in Virginia with my kids, and when I came back, he made the suggestion for me with this blue pelham, which she really likes.
"She really likes to feel like she's pulling me and in control," she added, "and I like to feel like I have some sort of say of when we leave the ground. It's been a little bit of a work in progress, but this seems to be working great."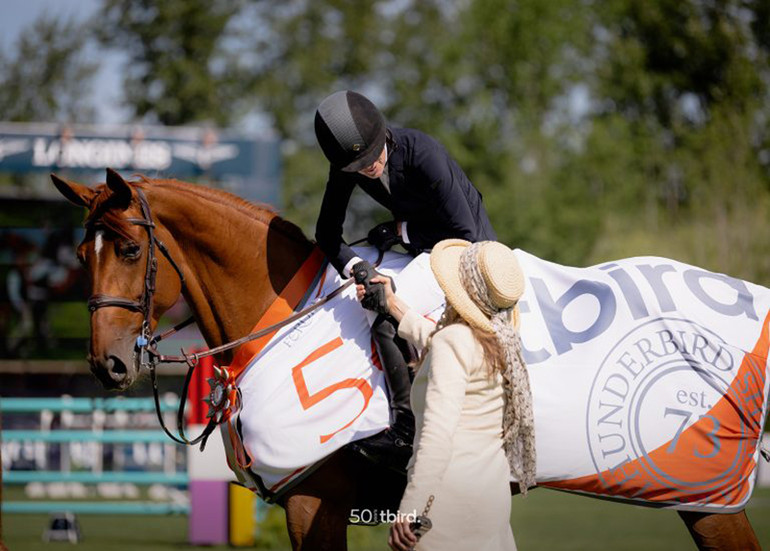 Alison Robitaille and Ester de Maugre stand for the winner's presentation with tbird CEO Jane Tidball. Photo ©tbird/Quinn Saunders.
Holmes' jump-off course included a vertical-oxer combination, set downhill, that plagued many pairs in the first round. In the jump-off, it again played a role and proved not to be an area where risk should be taken. Robitaille took a check to set up the element and let the mare carry her pace the rest of the way. According to Jumpr App, Ester de Maugre finishes on the podium 38% of the time at 1.45m.
"My plan was to line up [the first two fences], but not angle too much with the water jump in the background, and then open her up," Robitaille detailed. "I wanted to slow down a little bit to the double, and then she was great."
For Robitaille, competing at the top levels of the sport has been a balancing act, as she has built up a new string and determined to be a present mother for her two daughters, Ava and Zoe. She'll leave Thunderbird at week's end to attend Zoe's middle school graduation and will take time away from the saddle in July to accompany her daughters on a family trip, complete with homework assignments and presentations relating to European artwork.
"I have a small string of three horses, so [the schedule] actually seems to take shape on its own," Robitaille said. "I keep the thing that's most important to me—my kids—at the very top of the list, and the horses and the rest sort of just fall into place."