Press release from Traverse City Horse Shows
---
In a nail-biting jump-off, Team KPF earned their first team win of the 2023 Major League Show Jumping season on Saturday evening at Traverse City Horse Shows. The all-American trio of Natalie Dean, Kent Farrington and Alison Robitaille made up the winning team in the Premiere Equestrian CSI5* Team Competition. It was Robitaille and Ester de Maugre (Vigo Cece x Ogano Sitte) who sealed the deal for the formerly unlucky team in the gold-medal jump-off by topping the Trailblazers' Darragh Kenny (IRL) aboard Eddy Blue (Eldorado van de Zeshoek x Chacco-Blue) by six one-hundredths of a second.
Team KPF was the first to take to the Turtle Creek Casino & Hotel International Ring and sat at the bottom of the returning order heading into round two having produced a total of eight faults between Dean and Farrington. Speed and strategy was on the team's side heading into the second round and the efficient efforts of Farrington on Creedance (Lord Z x Notaris) and Dean riding Dotcom D'Authuit (Diamant de Semilly x Quidam de Revel) bumped them into the running for the pinnacle position. The Trelawny Trailblazers team of Daniel Bluman (ISR), Conor Swail (IRL) and Kenny were a mere seconds behind Team KPF after two double-clears from Bluman with Gemma W (Luidam x Unaniem) and Swail on Casturano (Castelan I x Canturo) sent Kenny to the medal round.
"My initial plan was to do seven strides [down the final line], but Kent told me just to sit chilly if the oxer into the line didn't come up the way I wanted," Robitaille detailed of her final-round strategy. "After Darragh did eight strides, I knew I had a little bit of wiggle room, but I honestly can't tell you exactly where I made up those fractions of a second."
For team captain Kent Farrington, the win was a long time coming and a hopeful sign of a new trajectory for the team. "Hopefully it means a change in momentum for us," Farrington expressed. "There are some very good riders on the team and we've just had some bad luck; I hate to say that things are lucky or unlucky, but in show jumping you always need a little luck to win.
"Everyone on our team is using a horse that's capable of winning and I think in the end that's what it's going to take at these events now," he continued. "These classes have gotten very competitive as the league has grown. You can see the teams are stacked strongly with hyper-competitive riders and some of the best horses in the world, so it's a difficult competition no matter what."
As the youngest athlete on Team KPF, the win was icing on the cake for Dean, who is taking full advantage of The League's team-class format to advance her strategy. "I'm still quite new to this, and I'm really grateful to Major League for giving us these opportunities as young riders," she expressed. "I think it's been a fun day and this is just the beginning for our team. This hasn't been our best this year, but I think when we make it to the second round we are all very fast riders and have fast horses, and the results today show we can be up there."
Ending the night as Bronze team medalists, the Roadrunners originally took the early top position as the first round came to a close. Only a single fault was accumulated over the course of three rounds produced by U.S. Olympian McLain Ward, Ireland's Daniel Coyle and Adrienne Sternlicht (USA). Ward and Coyle went two-for-two in faultless finishes on First Lady (Don Diarado x Lordanos) and Ivory TCS, (Falaise de Muze x Ukato) respectively, while Sternlicht picked up a time fault in the first round and three seconds added in the second round to settle for the bronze against team Eye Candy.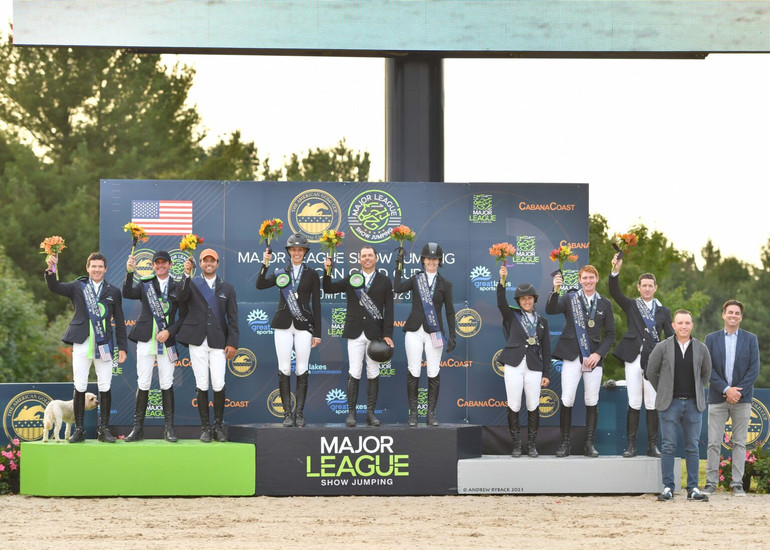 Gold team Team KPF, silver team Trelawny Trailblazers, and bronze team Roadrunners stand with Major League Show Jumping co-founders Keean White and Matt Morrissey. Photo © Andrew Ryback Photography.
For Major League co-founder Keeann White, the night held special sentimental value and a bright outlook for the future of League competition. "This venue is where we kicked off Major League Show Jumping in 2021; The American Gold Cup is a very special event and we are very lucky to be a part of it. It's something special for the League to be able to come and help make some of these historic shows bigger and better – it's super rewarding. I'm looking forward to great sport tomorrow, and the second half of our season looks wicked."
Earlier in the day in the Turtle Creek Casino & Hotel International Ring, Daniel Bluman (ISR) and the Over The Top Stables LLC entry Cachemire de Braize could not be caught in the $76,000 CSI2* Grand Prix. His winning time of 35.16 seconds was set early in the 11-horse jump-off as only the second pair to jump off. Cathleen Driscoll (USA) and Magnolia, claimed second place in a time of 35.54 seconds, while Samantha Schaefer (USA) and Frasier, owned by Bonne Vie LLC, were third in 35.65 seconds.