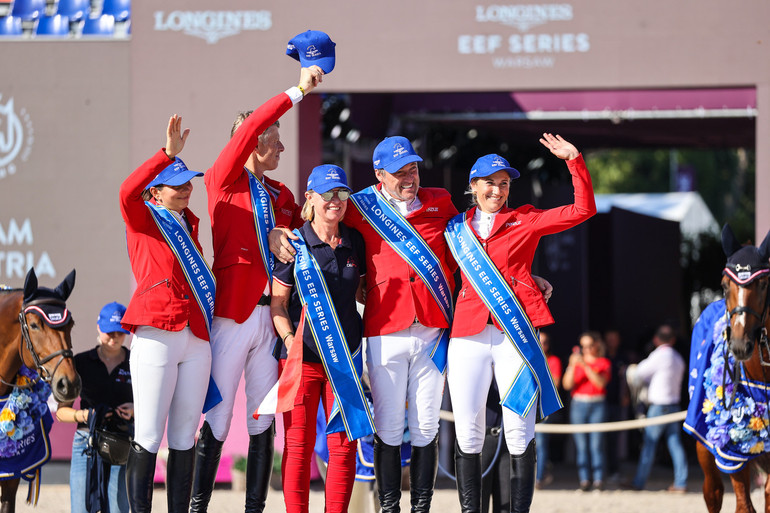 Team Austria – Alessandra Reich, Max Kühner, Chef d'Equipe Angelika May, Gerfried Puck and Katharina Rhomberg – won the CSIO4* Longines EEF Series Final in Warsaw. Photo © Dave Palej.
Fresh from their bronze medal at the FEI Jumping European Championship 2023 in Milan, Italy, the Austrian team won Sunday's CSIO4* Longines EEF Series Final at Warsaw Jumping 2023 with a total score of zero, ahead of Belgium in second and Ukraine in third.
Austria's Katharina Rhomberg and Cuma 5 (Comme Il Faut x Ars Vivendi, bred by Sportpferde Merschformann GmbH and owned by Gerhard Rauch), Gerfried Puck and Equitron Naxcel V (Balou du Rouet x Landetto, bred by Leo Vermeiren and owned by Syndikat Naxcel V.) and Max Kühner aboard Electric Blue P (Eldorado vd Zeshoek x For Pleasure, bred by Landwirtschaftsbetrieb Pfitzmann GbR and owned by Mk Sportpferde Max Kühner) all jumped double clear, leaving the Austrian team with a total score of zero, as Alessandra Reich and Oeli R's (Denzel van'T Meulenhof x Andiamo, bred by Harrie Reijnen and owned by Alessandra Reich) score of four and 25 could be disregarded as the drop-score.
"Positive vibes was my only contribution to the team," the Austrian Chef d'Equipe Angelika May said in a press release from Warsaw Jumping. "It is they who ride, it is they who train hard, they clearly deserved it."
"We are happy to be here," Max Kühner said in the press release. "The horses did some great jumping today, and the whole event is tremendous. It is a very beautiful arena and both riders and horses feel wonderful here."
Team Belgium – Rik Hemeryck and Navarro van het Eelshof (Jappelloup vh Dauwhof x Poleander, bred by Wim & Tom Mertens and owned by Thierry Ravel), Gilles Thomas and Luna van het Dennehof (Prince van de Wolfsakker x Quidam de Revel, bred by Marc En Patrick Van Dyck - De Muynck and owned by Marc van Dyck and Patrick De Muynck), Virginie Thonon and Just the Way (Zirocco Blue VDL x Hemmingway, bred by L. van Vegchel and owned by Ecurie Fabien Schreiber) and Wilm Vermeir aboard Joyride S (Toulon x Pachat II, bred by Jan Van Ginderdeuren and owned by Wilm Vermeir) – took the second place after collecting a total of 12 penalties over the two rounds.
With a total of 21 penalties after two rounds of jumping, Ukraine – Alisa Danilova and Cossinelle (Cascadello x Quebec, bred by Jan Carstens and owned by Sergiy Demchenko), Mykola Pylypeiko and Karat (Kannan x Copperphild, bred and owned by Volodymyr Pylypeiko), Anastasia Bondarieva and Calder (Casall x Coriano, bred by Jürgen Böge and owned by Romain Duguet) and Oleksander Prodan aboard Moneymaker van'T Meulenhof (Elvis ter Putte x Vigo d'Arsouilles, bred Mariette Van Lombergen by and owned by Ludwig and Yasmine Criel) – completed the podium in third.