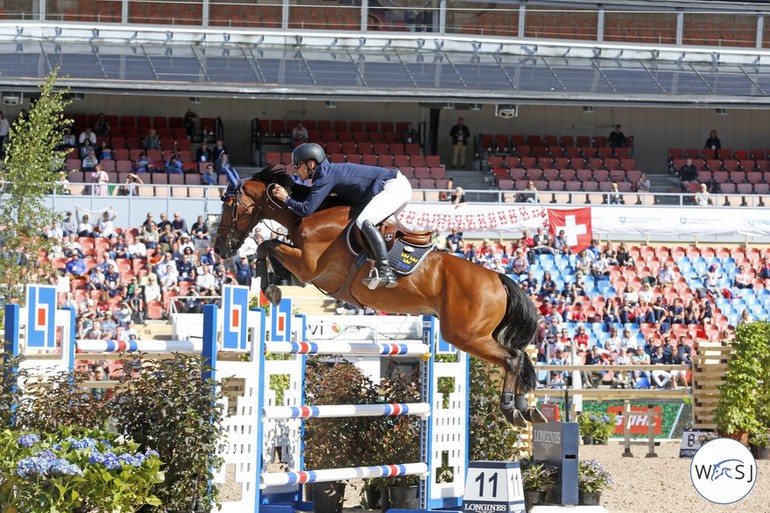 Peder Fredricson and H&M All In is in the lead at the European Championships. Photo (c) Jenny Abrahamsson.
The top three riders after day one of competition at the European Championships in Gothenburg met the press on Wednesday afternoon, and although Peder Fredricson had just won with his little super-star H&M All In – on home soil – he was very composed and sober in regard to his achievement.
"My plan was to be in the Top 10," said Peder. "The main thing is, that this is the beginning of a long week. It is important to have the horses jumping well for the rest of the week, and not to be too far in the back today. H&M All In is a horse that has a huge stride, so it is not difficult to take out strides and still have him jumping in a good way so the course suited him today."
On the tricky track that caused trouble for many, also additionally influenced by Mother Nature, course designer Louis Konickx said:
"As a competition starts, the course always takes its own direction – like today it turned out really exciting and everybody was finding their own way through the course. At the end, the red double was the special part of the day – some did it very easy and others made mistakes there. I am also myself surprised about that!" said Konickx.
Runner-up Marcus Ehning was nothing but pleased with his second place with Pret A Tout.
"First of all, I am really happy with my horse. We had a super round today. I did what I wanted to do and I am lucky to have such a fast horse, so my time was not bad. After not having the best start for the team, I could just do my own thing – this way the pressure is easier. I hope we are not too far away!" said the German maestro.
Third place Luciana Diniz always rides with a smile, and today was no different.
"I just rode for fun today. My objective was to be in the top five and I think I achieved that objective. When I saw Marcus' ride, it looked like he did it in such a good flow – it was the perfect round for me to watch. I can only be grateful for having a great day today," Diniz closed off.
---
Text and picture © World of Showjumping
No reproduction without permission