Daniel Deusser and Killer Queen VDM win the CP 'International', presented by Rolex at Spruce Meadows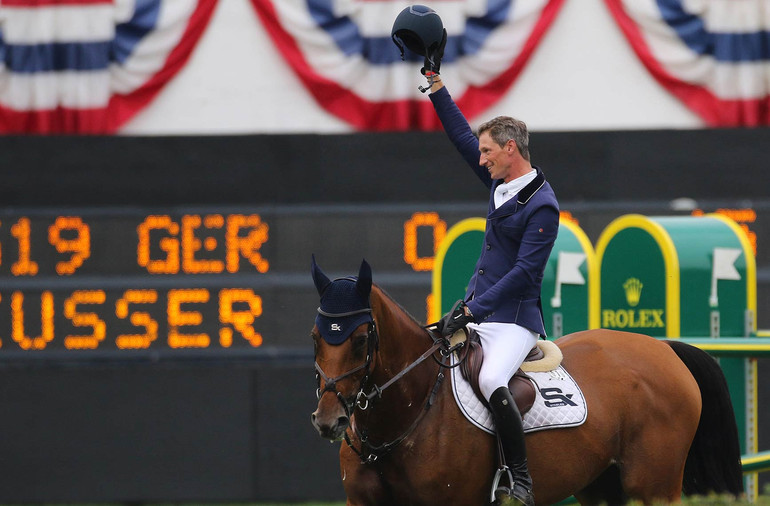 Daniel Deusser and Killer Queen VDM won the CP 'International', presented by Rolex. Photo © Spruce Meadows Media / Dave Chidley.
Edited press release from Rolex Grand Slam of Show Jumping
---
A typically enormous and challenging Leopoldo Palacios-designed course awaited 40 of some of the world's finest horse and rider combinations, as they contested the pinnacle class of 'Masters' week, the CP 'International', presented by Rolex, part of the Rolex Grand Slam series, in Spruce Meadows' iconic International Ring.
In the opening round, no clears after the first 20 starters and a string of DNFs was testament to the gravity of the test that the partnerships faced, with the triple combination after the water jump just one of the obstacles catching lots out. However, 24-year-old Gilles Thomas from Belgium and his 14-year-old gelding Aretino 13 (Artani 2 x Caretino) soon proved that Venezuelan Palacios' course was rideable, after confidently clearing the 14 obstacles fault-free in a time of 84.72. Despite accruing four faults, Rolex Grand Slam of Show Jumping Live Contender, Gerrit Nieberg and his partner in the Rolex Grand Prix at CHIO Aachen in July, Ben 431 (Sylvain x Quincy Jones), jumped fluently and remained very much in contention. Shortly afterwards, McLain Ward demonstrated his and his superstar mare HH Azur's (Thunder vd Zuuthoeve x Sir Lui vd Zuuthoeve) class and harmony, notching up the second clear in 83.73 seconds.
Swiss Steve Guerdat and his 13-year-old gelding Venard De Cerisy (Open Up Semilly x Djalisco du Guet) looked inspired, recording the day's third clear in a time of 85.53 seconds. After exceeding the 86-second limit, a time fault for Dutchman Harrie Smolders and the 2019 CP 'International', presented by Rolex-winner Darry Lou (Tangelo vd Zuuthoeve x Nabab de Reve), blemished what was an otherwise flawless round. 2021 CHIO Aachen Major-winning duo, Germany's Daniel Deusser and Killer Queen VDM (Eldorado vd Zeshoek x For Pleasure) recorded the fourth clear of the day and the final one of the first round. Six further combinations progressed to the second round, including Mexicans Eugenio Garza Perez and Manuel Gonzalez Dufrane, Swede Peder Fredricson, Rolex Testimonee Martin Fuchs of Switzerland, Irishman Paul O'Shea, and Brazil's Francisco Jose Mesquita Musa.
The top 12-placed horses and riders from the first round faced a second round comprising even taller fences over a slightly shortened course, with a time limit of 72 seconds. Fifth to go, Martin Fuchs and his 10-year-old grey gelding Leone Jei (Baltic VDL x Corland) looked pure class, breezing the course without fault in 69.80 seconds, the first of three consecutive clears with bringing four faults from the first round, which also included Rolex Grand Slam of Show Jumping Live Contender, Gerrit Nieberg and Brazilian Eugenio Garza Perez and his 11-year-old stallion Contago (Cornet Obolensky x Cassini II). However, their hopes were short-lived after 2021's winning duo of the CP 'International', presented by Rolex, Steve Guerdat and Venard De Cerisy, were the first pair to go double clear. Current world number 39-ranked rider Gilles Thomas went next and, much to the delight of the Calgarian crowd, also went clear, meaning a jump-off was triggered. Rolex Testimonee Daniel "Double D" Deusser and his 12-year-old mare Killer Queen VDM made it three in jump-off. And it appeared that Friday's winner of the Tourmaline Oil Cup, McLain Ward, would make it four, but agonisingly rolled the first of the double Liverpool. A wide-open third round jump-off was set and the knowledgeable crowd waited on in anticipation.
First up, Steve Guerdat put down the first of the double, crossing the finish line with four faults in 41.70 seconds. Next to go, Gilles Thomas nudged and rolled the CP fence and put the final fence down, crossing the line with eight faults in 42.31 seconds. Daniel Deusser calmly entered the International Ring and meticulously navigated the eight-fence jump-off, crossing the finish line within the time limit, thereby winning the 2022 CP 'International', presented by Rolex and becoming the Rolex Grand Slam of Show Jumping Live Contender.
On winning the CP 'International', presented by Rolex, Deusser, said: "It is an historic Grand Prix here, it's a class that I've followed since I was very, very small. I watched it on television, and I still have VHS cassettes at home that have the Grand Prix here. I've watched it over and over again, and I could never imagine to be here, so to win the CP 'International', presented by Rolex here in Spruce Meadows is a fantastic feeling."
Thrilled with his mare Killer Queen VDM, Deusser, commented: "She had a fantastic week, to be honest. I started the first day with a small class and I was doubting to jump her in a big competition, but in the end I jumped her in the big class on Friday, just because she has never been here in the International Ring. I think it was a good decision today, she jumped three fantastic clear rounds and she will definitely have a big, big dinner tonight and some carrots and sweets!"
What are your plans between now and the end of the year?

As of right now, the older horses that I have here at Spruce Meadows will get a bit of time off and then we'll be back here in October for Oktoberfest with some of the younger horses. After that, we will have some time off before we head down to Thermal for the winter circuit for the first four months of next year.

What makes Spruce Meadows such a special place to compete at?

I've grown up around here, and as a kid you come here and you always dream of competing in the International Ring with the best in the world. The history here, it's just iconic, and it's really a dream come true to be able to compete here.

What's the proudest moment of your career so far?

The proudest moment of my career so far would probably be earning the right to compete in the International Ring once during the Summer Series. I had just stepped up to 1.40m during the Summer Series, so to qualify to compete out there was awesome.

Who's inspired you the most throughout your career so far?

Most recently, I'd have to say both of my coaches, Kelly Koss-Brix and Ben Asselin. I've really enjoyed them taking me under their wings and really showing me the ropes of show jumping and giving me the opportunity to ride some incredible horses.
Word from the organiser: Linda Southern-Heathcott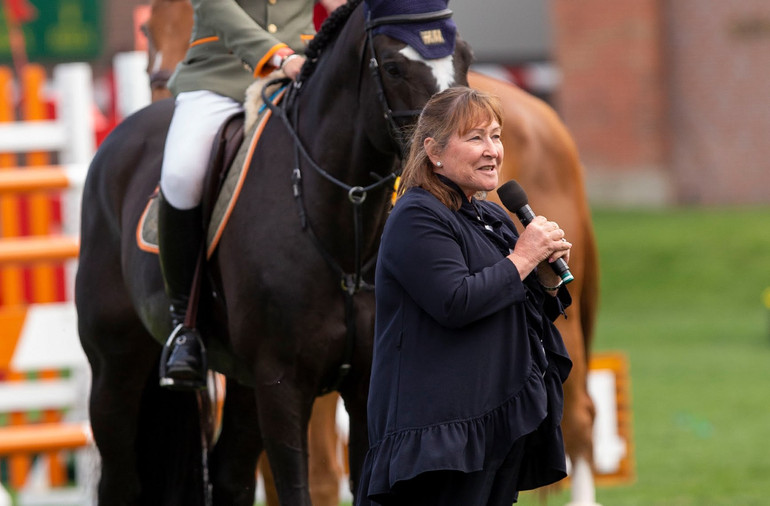 Linda Southern-Heathcott. Photo © Spruce Meadows Media / Mike Sturk.
You must be delighted that this year's edition of the CSIO Spruce Meadows 'Masters' is going ahead with full capacity?

Absolutely, it's so great to be back. Someone must be looking down on us because we've got beautiful sunshine, we've had amazing sport, and it's just wonderful to have all the elements come together.

Is there anything new this year that CSIO Spruce Meadows 'Masters' has introduced?

The biggest thing that we've introduced this year has been the demonstrations and we really wanted to highlight dressage. I think that in Canada there's been a need to really promote dressage. It's a very fast growing sport, it's very elegant and it seems to me that the fans have really enjoyed it. We've had two wonderful performers, who are Canadians and are CDI winners. One has just recently returned from the World Championships, while the other is an up and coming athlete. It was kind of fun, but the horses were well matched and they did a wonderful performance on Friday night and they will next kick off the CP 'International', presented by Rolex.

What qualities do you look for in team members? And what makes a successful team?

The biggest quality is that the team works together, both in good times and bad. They have to hunker down and really try and find solutions to the issues that are presented, and they should turn those challenges into opportunities. For me, that's the biggest thing.
About the Rolex Grand Slam of Show Jumping
The Rolex Grand Slam is considered by the sport to be the ultimate equestrian challenge, primarily due to the sporting prowess required to achieve this feat. It is a quest taken on by the world's top riders, vying to secure the legendary status associated with winning the Rolex Grand Slam of Show Jumping.

The format of the Rolex Grand Slam of Show Jumping is simple: anyone who wins three Majors in a row receives the Rolex Grand Slam trophy and a €1 million bonus on top of the class's prize-money. If that same rider then continues their success by winning a fourth Major in succession, they will be rewarded with an additional €1million bonus. If two shows are won in succession, the bonus is €500,000 or if an athlete wins only 2 majors in a period of four successive shows, the bonus is €250,000.