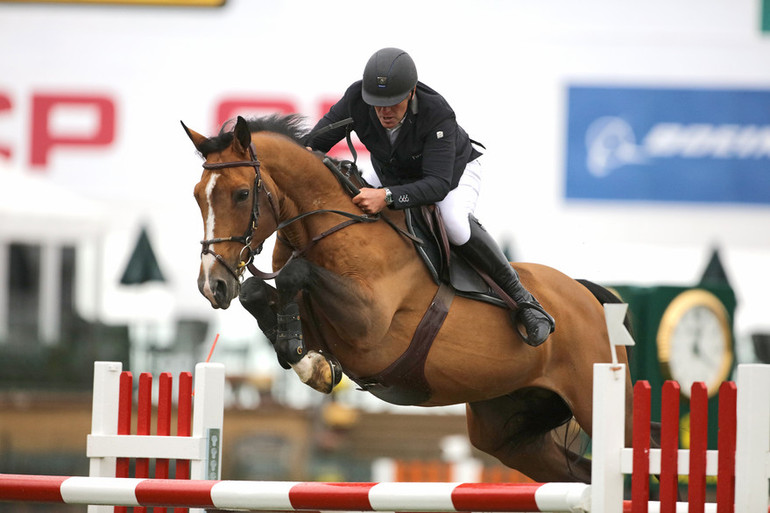 Roger-Yves Bost (FRA) aboard Quod'Coeur de la Loge in the CANA Cup. Photo (c) Spruce Meadows Media Services.
Day two of the 2016 'Masters' Tournament CSIO5* got underway on Thursday with two feature competitions in the International Ring at Spruce Meadows. The ATCO Founders Classic 1.50m was the first competition of the day with a win for Pedro Veniss (BRA) and For Felicia. The CANA Cup 1.60m wrapped up the afternoon with victory for Roger-Yves Bost (FRA) and Quod'Coeur de la Loge.

The 'Masters' Tournament runs September 7-11, 2016, featuring the best horses and riders in the world competing at Spruce Meadows. Highlights include Friday's Mercedes-Benz Evening of the Horse, which hosts the exciting ATCO Six Bar competition; the BMO Nations' Cup on Saturday, with teams from around the world competing for top honors; and Sunday's CP International Grand Prix, presented by Rolex, with a staggering $2 million in prize money up for grabs in this year's competition.

The course designer in the International Ring for 'Masters' competition this week is Venezuela's Leopoldo Palacios. In Thursday's feature CANA Cup 1.60m, Palacios saw 58 entries over his first round course, with eight moving on to the jump-off. Rio Olympic Team Gold Medalist Roger-Yves Bost jumped to victory with a naturally fast jump-off round in 41.24 seconds riding Quod'Coeur de la Loge.

For the second day in a row, The Netherland's Frank Schuttert took second place honors with Handelshuis Schuttert's Winchester HS. The pair finished close behind in 41.54 seconds. Spain's Sergio Alvarez Moya guided AM Horses SL's Arrayan to third place honors with his time of 42.02 seconds.

Speaking of Quod'Coeur de la Loge, a 12-year-old Selle Francais stallion (Ideal de la Loge x Tenor de la Cour), Bost stated, "I think this is the third time this horse has come to Calgary. He knows the place and he likes the grass arena. I rode his father here – Ideal de la Loge - I went to Nations' Cup with the father and I hope he does the same. He jumped very good today for the two rounds and I am very happy."

Commenting on his jump-off, Bost detailed, "I needed to start good because the double was not so easy and after that I could just gallop. He has a big stride. I started with him when he was five years old. When I go to the jump-off I know right away that he is going to be good. "He jumped really well in the first round," Bost added. "It was not so easy; the time allowed was really
short today. You needed to gallop a little bit, but it was good. When you win it is always good."
Bost plans to jump Quod'Coeur de la Loge again in Saturday's BMO Nations' Cup, as well as in Sunday's $2 Million CP International Grand Prix, presented by Rolex.

Schuttert, after two top placings in a row with his mount Winchester HS, plans to give his horse two days off now before jumping Sunday's Grand Prix. Speaking of Thursday's round and how it compared to his finish on Wednesday, Schuttert noted, "My plan was a little bit the same as yesterday. I wanted to be fast for sure to end up in the front of the class. He is a naturally fast horse and he turns quick, so I rode the same jump-off as I did yesterday, and I am very happy that I was second again."

Commenting on Winchester, Schuttert added, "He has a little bit his own style. He has a lot of character. As soon as he comes into the ring he always fights for me and wants to do a good job. He has all the scope you could want and I think the most important thing is that he always wants to go for the clear round."

Third place finisher Sergio Alvarez Moya has only had his mount Arrayan for six months and was very happy with his finish on Thursday. "He has improved a lot in the last few months," Moya stated. "He was a bit difficult to ride and not too easy to control in the first few shows. Definitely this ring suits him very well - he likes big fields and big jumps. Once I get into the jump-off, he is naturally fast. I probably lost the jump-off from one to two – I could have done one less stride – but the left side he does not turn as well as the right. Everything was tight, but Bost and Frank are very fast riders and they have naturally fast horses, so I am happy. It was a positive result."

While Bost's strategy for the weekend is to jump the Nations' Cup with his horse prior to Sunday's Grand Prix, and Schuttert will rest his mount until Sunday, Moya has different plans. He will jump Arrayan in Friday night's ATCO Six Bar competition with hopes that it will be good training for Sunday's major event. "On Sunday that is going to be the biggest class I have ever jumped with him, and I am thinking the six bar could be a good exercise for him before the grand prix," Moya explained. "It makes the horses think, and it is good when they understand that they have to stay quiet between jumps, and use their bodies. Normally he always thinks forward and it is hard for him to sit, so I think the six-bar could be good for him and we could maybe get a good result. Then I will give him a day off on Saturday and try our best on Sunday. I am very happy with how he jumped today. He always tries his best. I think the better the control gets for sure he is going to get faster and he will be able to jump everything."

Moya is competing at Spruce Meadows for the first time and shared his impression of the competition, stating, "I don't think any rider that comes to Spruce Meadows doesn't say that it is unbelievable. The facilities are well organized and everything is just amazing. It is for sure one of the best shows in the world."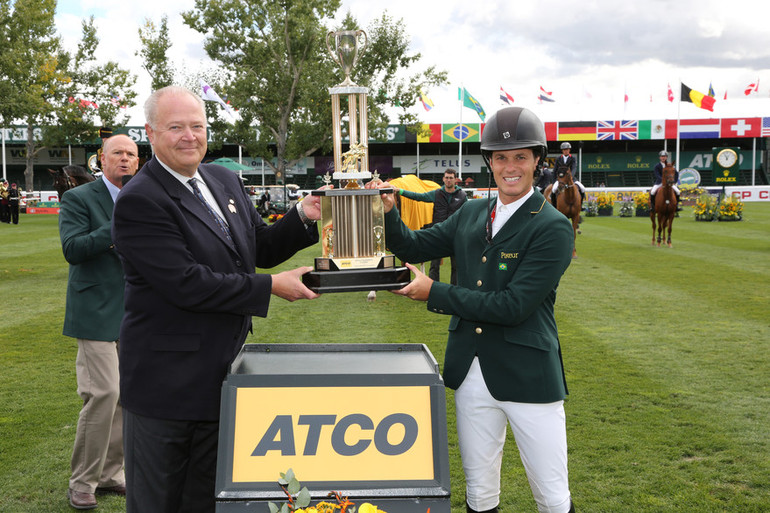 Pedro Veniss (BRA) hoists the championship trophy with Siegfried Kiefer President & Chief Operating Officer, Canadian Utilities. Photo (c) Spruce Meadows Media Services.
Pedro Veniss wins ATCO Founders Classic
The ATCO Founders Classic 1.50m was the first competition held in the International Ring on Thursday with a win for Brazil's Pedro Veniss aboard Hermann Theiss's For Felicila. Leopoldo Palacios (VEN) set the track for 52 first-round starters, with 11 advancing to the jump-off, and six double clear rounds. Veniss and the 11-year-old Hanoverian mare (For Pleasure x Espri) clocked the winning time of 42.53 seconds. USA's Andrew Ramsay took second and fourth place honors, finishing in the runner up position with The Doodle Group's Cocq a Doodle in a time of 43.05 seconds, and placing fourth aboard The Stranger Group's Stranger 30 in 43.70 seconds. Germany's Philipp Weishaupt jumped into third place with his time of 43.57 seconds riding Catokia 2. Olivier Robert took the fifth place prize for France riding Quenelle du Py through the timers in 43.80 seconds. Nigel Coupe jumped the final double clear round in 44.22secon ds to place sixth aboard John O'Halloran's Jubilee III for Great Britain.

Veniss began riding For Felicila in January this year and described his winning mount as a lovely horse, adding, "She is really fast in the jump-off and she was very good today." He continued, "The first round was good. The time was a bit tight, but she jumped great. Then in the jump-off, I tried to go as fast as I could, and she was amazing. She has a really big canter, so I think I did less strides than the others to the last jump for sure, and maybe from one to two also."

Veniss traveled to Spruce Meadows for the first time in 2015 when he was a part of the winning team for Brazil in the BMO Nations' Cup and also placed third in the $1.5 Million CP International Grand Prix, presented by Rolex, aboard his top mount Quabri de l'Isle. The pair also recently jumped for Brazil at the Olympic Games on home soil in Rio.

"The grand prix is the goal. The prize money is really high, so we have the best riders in the world, but I think I have a really good horse that loves that ring," Veniss noted. "He jumped beautiful here last year and was very good in the Olympic Games, and he jumped very good today, so he feels ready."

While Quabri de l'Isle takes on the major tracks in Saturday's BMO Nations' Cup and Sunday's $2 Million CP International Grand Prix, presented by Rolex, this weekend, Veniss will jump For Felicila again in Saturday's Suncor Winning Round competition. His win with the mare on Thursday not only secured his qualification for the grand prix, but was also his
first individual win ever at Spruce Meadows.

"This is my first win here, so I am very happy," Veniss acknowledged. "This is a top show. I came here for the first time last year and we won the Nations' Cup and I was third in the Grand Prix, and every week I have been thinking about coming back to Spruce Meadows."

The 'Masters' Tournament continues on Friday with competition in the International Ring featured during the Mercedes-Benz Evening of the Horse beginning at 5 p.m. Competition highlights the Friends of the Meadows Cup 1.60m followed by the exciting ATCO Six Bar competition. The night will be capped off by a performance by the Lord Strathcona's Horse (Royal Canadians) and a Symphony of Fireworks. For a complete tournament schedule and full results, please visit www.sprucemeadows.com.
---


Source: Press release and photos from Spruce Meadows Media Services.
Final Results: CANA Cup 1.60m
1 QUOD'COEUR DE LA LOGE Selle Francais / S / 12 / Ideal de la Loge x Tenor de la Cour ROGER-YVES BOST (FRA) Equiblue et Bosty Jump: 0/0/41.24
2 WINCHESTER HS Dutch Warmblood / G / 13 / Numero Uno x Nimmerdor FRANK SCHUTTERT (NED) Handelshuis Schuttert: 0/0/41.54
3 ARRAYAN Dutch Warmblood / G / 11 / Baloubet Du Rouet x Grannus SERGIO ALVAREZ MOYA (ESP) AM Horses SL: 0/0/42.02
4 MHS GOING GLOBAL Irish Sport Horse / G / 10 / Quidan Junior x Cavalier Royale GREG PATRICK BRODERICK (IRL) Lee Kruger: 0/0/43.65
5 AUDIS TEAVANTA II C Z Zangersheide / M / 11 / Treasure x Ahorn RUBEN ROMP (NED) Eric Berkhof Paarden BV: 0/0/44.27
6 CHECK PICOBELLO Z Zangersheide / G / 10 / Cardento x Orlando ERIC LAMAZE (CAN) Artisan Farms, LLC & Torrey Pines Stable: 0/0/44.67
7 POLLENDR Rheinlander / G / 11 / Polytraum x Corrado WERNER MUFF (SUI) Muhlebach Marlis: 0/0/44.73
8 EUROHILLS AFRICA Dutch Warmblood / M / 11 / Guidam x Voltaire MICHAEL GREEVE (NED) C Hendriksen: 0/12/47.99
9 VOYEUR Dutch Warmblood / G / 14 / Tolaro Vant Riethof x Goodwill KENT FARRINGTON (USA) Amalaya Investments: 1/73.36
10 GAZELLE Belgian Warmblood / M / 10 / Kashmir van Shuttershof x Indoctro KENT FARRINGTON (USA) Robin Parsky and Kent Farrington: 1/73.37
11 BAVI Oldenburg / M / 11 / Balou du Rouet x Caretino ROBERT SMITH (GBR) Robert Smith: 1/73.64
12 EPLEASER VAN T HEIKE Belgian Warmblood / S / 12 / For Pleasure x Nabab de Reve CHRISTIAN AHLMANN (GER) Christian Ahlmann: 1/73.85
Final Results: ATCO Founders Classic 1.50m
1 FOR FELICILA Hanoverian / M / 11 / For Pleasure x Espri PEDRO VENISS (BRA) Hermann Theiss: 0/0/42.53
2 COCQ A DOODLE Dutch Warmblood / M / 9 / Nolan R x Niagara ANDREW RAMSAY (USA) The Doodle Group: 0/0/43.05
3 CATOKIA 2 Westphalian / M / 9 / Cambridge x Silvester PHILIPP WEISHAUPT (GER) Philipp Weishaupt: 0/0/43.57
4 STRANGER 30 Hanoverian / G / 10 / Stakkato x Cheenook ANDREW RAMSAY (USA) The Stanger Group: 0/0/43.70
5 QUENELLE DU PY Anglo Arab / M / 12 / Tresor du Remon x Ryon d'Anzex OLIVIER ROBERT (FRA) Olivier Robert: 0/0/43.80
6 JUBILEE III / M / 12 / Wolken Tanz II x Wanduss NIGEL COUPE (GBR) John O Halloran: 0/0/44.22
7 DAIMLER Dutch Warmblood / G / 8 / Canturano x Lupicor WERNER MUFF (SUI) Muhlebach Marlis: 0/4/44.65
8 QUIWI DREAM Holstein / S / 11 / Quidam de Revel x Contender HANS DIETER DREHER (GER) Holgur Blum: 0/4/45.16
9 HANNAH Belgian Warmblood / M / 9 / Dulf van den Bisschop x Kashmir van Schuttershof MARIANO MAGGI (SWE) Jose Pablo Salgado: 0/4/45.45
10 CELESTE 26 Holstein / M / 12 / Casall x Landgraf I NADJA PETER STEINER (SUI) Katharina Peter: 0/4/45.47
11 BABEL Warmblood / G / 9 / Billy du Lys x High Flyer PATRICIO PASQUEL (MEX) Patricio Pasquel: 0/8/44.65
12 HELLO GUV NOR Belgian Warmblood / G / 11 / Diamant De Semilly x Papillion Rouge SCOTT BRASH (GBR) Lady P Harris & Lady P Kirkham: 1/74.37