Text © World of Showjumping
---
With the Netherland's Harrie Smolders in the saddle, Monaco (Cassini II x Contender) has over the last year recorded an impressive list of results. The 13-year-old gelding placed second in the Longines FEI World Cup Final in Leipzig, second in the Rolex Grand Prix at The Dutch Masters, second in the Longines FEI World Cup in London, second in the Rolex Grand Prix in Geneva, third in the LGCT Grand Prix in Rome, fourth in the LGCT Grand Prix in St. Tropez and fifth in the LGCT Grand Prix in Samorin – as well as being part of the winning Dutch team at the Longines FEI Nations Cup Final in Barcelona last year.
To learn more about this exceptional horse, World of Showjumping spoke to his rider Harrie Smolders, Dimme D'Haese who helped Smolders producing Monaco, as well as Alessandro Mingoli who discovered Monaco as a three-year-old and convinced Smolders to try the horse – without even sending him a video beforehand.
Totally different to any other horse
"I am very proud of Monaco and Harrie," Alessandro Mingoli begins. "Harrie was very important for me when I was thinking about Monaco's future. He was open to come and try him without knowing anything about the horse, and trusted me. I told Harrie that I believed Monaco would become great for him, because I knew Harrie would be the one who could figure out how to produce him."
Mingoli – who represents Holsteiner Verband in Italy – first saw Monaco as a three-year-old in Germany. "He was in my friend Roland Mezler's stable, and was for sale as he had not been selected for the stallion approvals," Mingoli explains. "When I saw Monaco, he was special to me right from the start. He was totally different from any other horse I ever saw in my life; from his eyes, to his way of moving. When we free jumped him, he was looking at me after each jump as if to say 'And then?'. I felt like I was communicating with him, like I understood what he was thinking. When we built a bigger fence, Monaco was flying like an angel and I asked my friend Roland why he did not sell this horse already! But he told me no one was interested; Monaco was by Cassini II, not I; he did not look scopey; people want to have everything in one horse. However, if you want to choose a champion – a really good horse – you have to be able to see inside the horse. What I saw in Monaco was unbelievable capacity, athleticism and elasticity as well as a super mind: He was able to be cool until the end. Also, if you look further in his pedigree, you find Heraldik xx, and I believe it is probably thanks to him that Monaco has all his energy."
"I sold Monaco to a good friend of mine, Maurizio Cinti Piredda – he is a great horseman," Mingoli continues. "He bought Monaco without seeing him, but said I would be left responsible. I managed the horse when he arrived in Italy, and in the beginning he was not so lucky. Monaco was special, and at first he went to a rider who was not able to ride him. Riders with a big name are not interested in complicated horses, so we changed the stable and this time Maurizio did a lot of work to make sure Monaco felt relaxed and at home. It was important to do a little bit of training mixed with a lot of fun. Step by step, Monaco improved and when he was ready, he was sent to Brian Machenti in Rome – a good rider, able to ride young horses – who built him up as a six- and seven-year-old."
"In September when Monaco was seven, Harrie came to Rome for the Longines Global Champions Tour," Mingoli tells about the trial with Smolders. "Even though he was busy with the show, he agreed to try Monaco. I picked him up from his hotel and there he was, with Axel Verlooy. They said: 'You offer us a horse, but you don't send any videos' – and I answered, 'I am not selling you a video, I am selling you a horse, please come'. Harrie and Axel are good people, and they trusted me. They jumped about eight jumps, and after that Harrie got down from Monaco, and asked me what I thought – and I said I believed the horse would need time. So, they bought 50%, Axel brought him to Belgium and they started working on him."
With Smolders, Monaco took a step back. "He had already jumped quite big classes as a young horse, but Harrie went back to very small classes," Mingoli explains. "This way, Monaco grew a lot and in the end of his eight-year-old season, they took their first win in Valkenswaard. In that jump-off, I saw a different canter in the horse, a bit more open, more active. They won the class so easily; this was the first time Harrie went into a class to win, and he did. However, Harrie still felt Monaco needed more time. They jumped the youngster classes in Aachen, where he had one down in the final. I was sorry about the last fence down, but Harrie told me that he thought Monaco learned so much during that show; he thought it was the last step he had been waiting for. And he was right."
"Now, Monaco is the best horse Harrie has," Mingoli says. "Harrie trusted Monaco, he gave the horse time to grow up. For me, it was my dream, to have a horse of this quality that I can offer for someone to produce further. Last year, when Harrie placed third in the Longines Global Champions Tour Grand Prix of Rome, he came out of the prize giving and gave me the medal and the ribbon as a thank you for Monaco. For me, this was a great honour. Monaco is an old friend and every time I can, I visit him."
Clever and intelligent
Dimme D'Haese worked with Smolders and Monaco at Axel Verlooy's Euro Horse. "Monaco was turning eight when he arrived, but he could not go straight to the big shows with Harrie," D'Haese tells about his time with the gelding. "Therefore, I took him with me to the Sunshine Tour, just to produce him. In the middle of that summer, Harrie also started to compete him but we kept switching between us depending on Harrie's show plans: When Monaco needed to do one more round before a bigger show, I took him out a week or two before, so that he was in the rhythm."
"His personality is really special," D'Haese continues. "He is a really smart horse, really kind, never in a bad mood. If he was a person, he would be friendly to everyone, he is super sweet. He is careful, also at home: He would never make the same mistake twice. He is clever and intelligent in his way of jumping. Now, it is nice to follow him with Harrie, I still watch all his rounds. It is nice to see the results, and that it still goes well. I really respect Harrie and the way he works with his horses: He sees each horse individually and gives them the time they need. He never pushes to win before they are ready for it."
Something special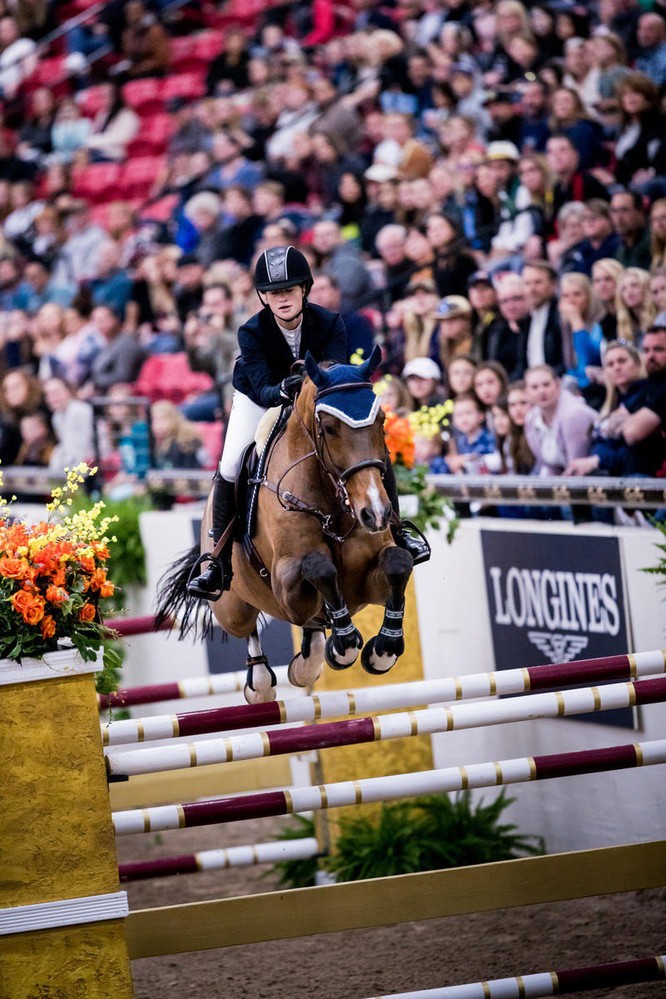 Jennifer Gates and Monaco competing at the Longines FEI Jumping World Cup Final in Las Vegas in 2018. Photo © Ashley Neuhof.
When Monaco was nine, he was acquired by Evergate Stables, and Jennifer Gates took over the ride. "Monaco is undoubtably the most special horse I have ever had the privilege of riding or owning," said Gates, founder of Evergate Stables.
"I first sat on him in the spring of 2018, when I was about to graduate from Stanford University and spend some time focusing on my equestrian career before heading to medical school. From that very first ride, I knew Monaco was something special: He was super light off the ground, easy energy, and had a beautiful canter. Partnered with the fact that Harrie had ridden him before, we thought it would be a great match," Gates says.

Throughout 2018 and into the fall of 2019, Gates competed Monaco at 1.45m level and quickly moved up. She piloted Monaco in his first World Cup qualifier in Las Vegas in 2018, where they went first in the order and produced an incredible clear round. "It was so exciting," Gates recalls. "Every moment in the ring with Monaco was pure joy."

Gates always admired Monaco's energy level and enthusiasm. "When he's on, and feels calm in his mind and body, you feel like you could jump anything in the world," she says. "He is also incredibly cheeky and has such a big personality in the barn, which makes him even more lovable."

When Gates began medical school in the fall of 2019, she handed the reins back over to Harrie. "The amazing thing about working with Harrie is that he always brings out the best in every horse he rides. What he has accomplished with Monaco is a testament to his patience and horsemanship," Gates says. "While Monaco has always been talented, never in our wildest dreams did we think he would be where he is now: A true championship horse and competitive 5* Grand Prix horse. Monaco's future looks extremely bright and I am so proud to be a small part of his journey."
Knocking on the door to join the club of the very best horses in the world
When Monaco was nine, Jennifer Gates' Evergate Stables bought him, but while Gates is busy with her medical studies, Smolders rides the gelding. "He felt very athletic," Smolders recalls about the first time he sat on Monaco. "He had jumped a decent height for his age, but I did not think he would turn out as good as he has. I think it has been beneficial for him that he has been kept in the shadow of my top horses and that he gathered a lot of mileage as a second horse. The last ten months, he got the chance to be my number one horse, and he has truly stepped up. He is so mature now, and that is probably in his advantage."
"I rode him competitive, but always as a second horse," Smolders continues. "I never put him in the major classes because I felt he was not ready for that – until about ten months ago. He has really stepped up since last summer. At the moment, I think he is knocking on the door to join the club of the very best horses in the world. He is athletic, careful, fast… He feels like a sports car, when you ride him. He has so much energy, he always wants to move, and wants to work. Everything is coming together for him at the moment."
"You always hope that they make it to what he is today, but you never know," Smolders concludes. "So many promising horses between the age of seven and eleven drop out for one or another reason. Monaco is one of the very few horses who made it to the top and I think it is because he has so much energy. He wants to do a good job and he always wants to be better."
No reproduction without written permission, copyright © World of Showjumping.com