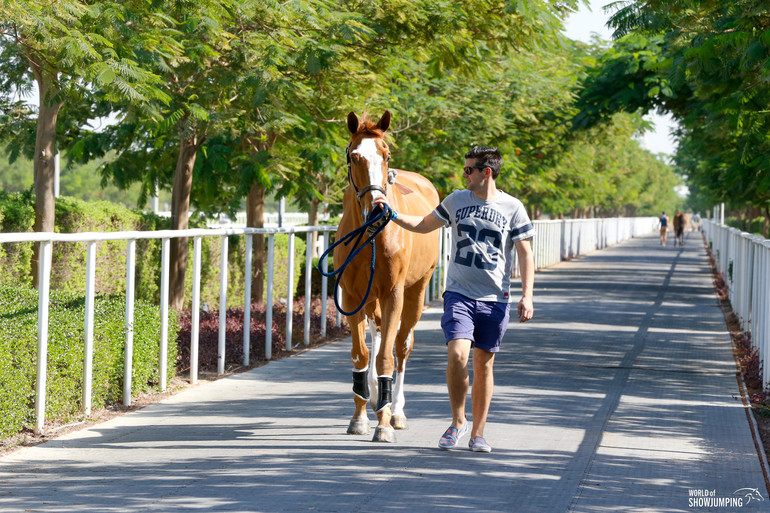 "There is nothing I regret; this is the most rewarding job," Sean Lynch tells WoSJ as he leaves Daniel Deusser after nine years by the German rider's side. All photos © Jenny Abrahamsson for World of Showjumping.
Text © World of Showjumping
---
After nearly a decade travelling the world as Daniel Deusser's show groom, Sean Lynch is ready for a new chapter – with this week's GC Prague Playoffs being the last show alongside Germany's former world number one.
What began as a freelancing gig for Lynch back in 2014 turned into nine years working by Deusser's side. "I was supposed to just freelance in Verona. Two days into the show I asked Daniel if he needed a second person, and he said yes. In the end, it suited everyone very well and here we are," he smiles.
"It was a difficult decision to stop after having been in Daniel's system for nine years; I have been going back and forth with it," 33-year-old Lynch tells. "Daniel is like my comfort blanket. I know him so well and he has let me do my job to the fullest and has never questioned me. As it is actually over soon, I still question in the back of my mind if it is the right thing to do. However, if I stay for another year, it will be ten years, and then before you know it, it will be twenty."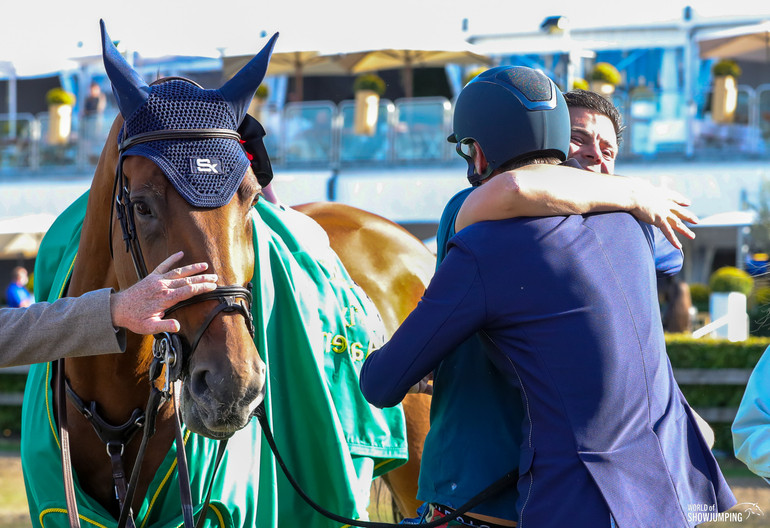 "He has let me do my job to the fullest and has never questioned me," Sean Lynch says about Daniel Deusser.
"I have always been the type of person that thinks about life after grooming," Lynch continues. "I know not many of us can do this job forever – not all of us can be Marie Johnson [Ludger Beerbaum's long-time groom], and I have the utmost respect for her. I have always wanted to do other things as well. I dream about having a family and my own house. Already before Tokyo I told Daniel that I wanted to slow down after the Games, but three years later, I was still going everywhere back-to-back – flying from the World Cup Final in Omaha to Miami and Mexico and meeting horses in the middle."
"As grooms, we do everything behind the scenes for our riders – it is for their careers, for them to go into the ring for 60 seconds and have their name on the trophies – but you have to be selfish at one point and think about yourself," Lynch continues. "A couple of months ago my mother had a health scare and I thought to myself, how could I be able to look after her? Something like that puts everything into perspective."
"Thinking about it now, there have been so many great moments, like the World Cup Final in Gothenburg in 2016 with Cornet d'Amour and obviously the 2016 Olympics in Rio with First Class," Lynch tells. "For me, the horses I have had the most special connection with are Tobago, Killer Queen and First Class and everything that they did in their sport careers has been amazing to witness. I could choose to tell you about five special moments, but I could also choose 55."
Next to the beautiful memories, there have also been challenging times. "The most difficult moment was for sure losing First Class," Lynch tells. "I didn't realize that as a groom, something like that would affect me so deeply. Even now, talking about it, I have tears in my eyes. Having been First Class' person and going to the stable the day after we lost him was the most difficult part of my job."
Despite now moving on, Lynch has no regrets and looks back at nine incredible years filled with unforgettable moments. "I have been to the most amazing places, from Rio to Tokyo to Hong Kong," he says. "I have travelled all over the world, with the best horses and the best people – because in this job, you create a family from the people around you. On a regular basis when I drive home from a show, I say to myself 'why did I ever do my truck license, I regret it', but in reality, I have zero regrets – I only say that when I am tired. There is nothing I regret; this is the most rewarding job."
With nearly a decade going from one show to another, Lynch has seen a shift in the sport when it comes to grooms and their attitude towards the job. With more and more shows, the pressure piles on to the travelling grooms and Lynch believes that in order to keep the job sustainable something has to change. "When you look at the grooms five years ago, we would always be in a group and we would go out from the showgrounds together and do normal things," Lynch explains about the change he has seen. "But now, there are so many shows back-to-back that you chase week after week; you swap horses, do your laundry and go again, plus the schedules are so busy with classes late at night – there is no time or space for doing normal things anymore. I think it has to change to keep the grooms around."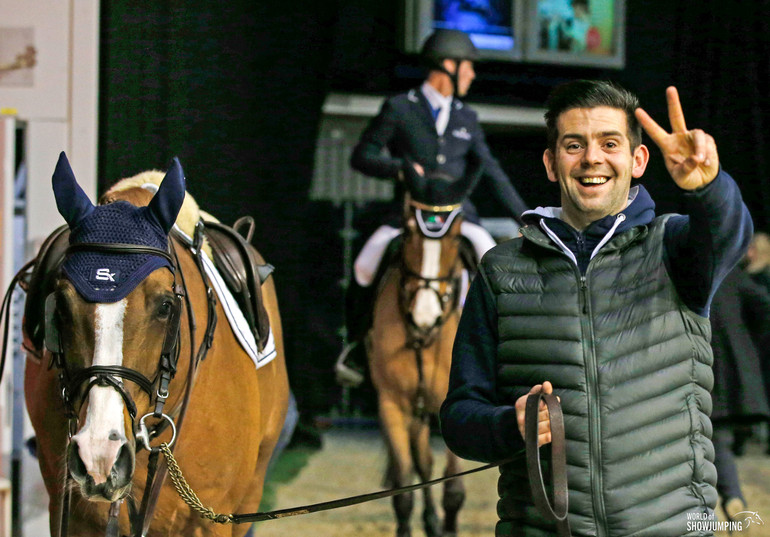 "I will still be in the sport, only in a different way," Sean Lynch says about his future – here pictured with Scuderia 1918 Tobago Z.
"There is also a shift in the attitude among many young grooms, who only want to do the five-star shows – they don't want to do anything else. However, in the end, you have to take the good with the bad in order to succeed. When we lost First Class, we dropped down to two- and three-stars and that was what we did to bring up the other horses. I find that the younger generation does not want to do that, because it is hard."
While Lynch now takes the next step in his career, he is not leaving the sport completely – but will continue in a new role. "The good thing about being a groom is that when you look at our sport it is like a tree trunk, and there are so many branches growing out of it – there are so many jobs you can do. As a groom you have also built extensive contacts and met so many people, so there are many possibilities. I will still be in the sport, only in a different way."
15.11.2023 No reproduction of any of the content in this article will be accepted without a written permission, all rights reserved © World of Showjumping.com. If copyright violations occur, a penalty fee will apply.