With her eyes set on the Olympic Games in Tokyo in 2020, 21-year-old Chloe Reid has high goals for herself. We catch up with the American talent that has been training with German legend Markus Beerbaum for the past three years. Always on the go, the international show jumping circuit is where Chloe feels most at home.
"I actually started riding because of my uncle Chester Weber and grandmother Charlotte Weber," Chloe smiles when asked about how it all began. Chester, who is a highly successful four-in-hand driver, was the one who lifted Chloe on a pony for the very first time. "Our grandmother has a leading thoroughbred farm in Ocala Florida, Live Oak Plantation, and we were all there for Thanksgiving in 2000," Chloe recalls. "At the time, Chester was dating Lauren Hough, and the two asked my mom if they could put me on a pony. She said yes – and I loved it! Lauren took me to compete in the Devon lead line in 2001 where she wore her red American jacket from the Sydney Games, and led me on a little white pony – and that was the beginning of the end. I never got off after that!"
"Lauren and I were both on the American Nations Cup team in Sopot Poland last summer, where together we won gold for the USA and it was a lot of fun to be able to do that with her," Chloe goes on to tell about how she later represented her country alongside Lauren. "We replicated a picture I have of her leading me on the pony in Devon 16 years before. Jumping alongside the person who first put me on a horse, was so great."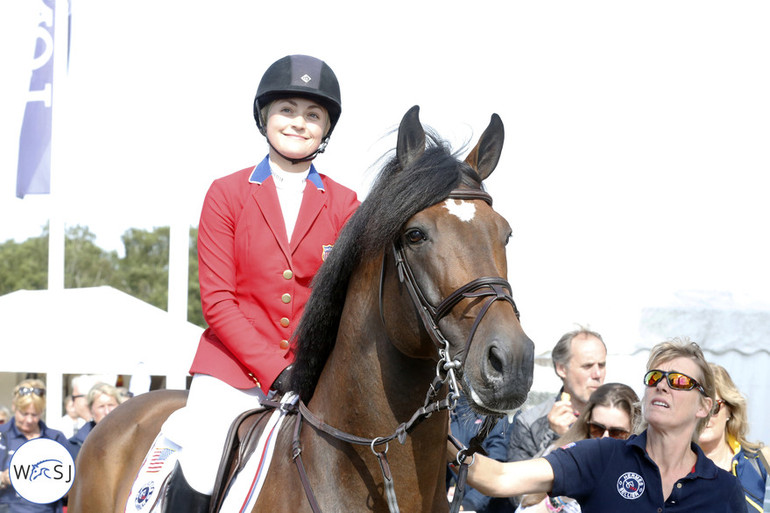 "I just enjoy horses. I think the partnership you create with them is like nothing else," Chloe says.
The road from ponies to wearing her own red jacket has taken Chloe from her native Washington DC home all the way to Germany. "I have trained with Markus Beerbaum for the past three years. I wanted to take another step in my career," Chloe explains about the big move. "I knew that in order to become better, you need to compete against the best riders and so I wanted to come to Europe. We talked to a lot of trainers and Markus passed all our check marks and I really wanted to learn from him," she says. "I love riding with Markus and his way of teaching – since he is riding himself, he can explain everything from a rider's perspective, but he also has a lot of experience with training so he can tell what he sees from the ground, too. It is really useful."
"I spend most of the time in Germany at Markus' yard. I still go to school, so I go to the States for the winter. Last year I did a study-abroad program in London, and some online courses. I study political science and English at the University of Miami", Chloe tells about balancing riding with studying, something she finds beneficial. "I have done it my whole life, and I think the times in my riding when I have actually done the best are when I have also school going on," she explains. "To have my mind busy and keep in the groove and going fits me. I always do better when I have a lot of things on my plate."
Chloe has two years left in school, and after that? "My parents have said that after finishing school I can take a full year in Europe and I would like to see that aspect," she smiles. "My goal is to continue to represent my country. I was selected for five Nations Cup teams last year and it is my favourite thing – to jump on a team for my country and produce clear rounds. I was fifth rider on the US team for the Nations Cup Final in Barcelona and it was an amazing experience to be there with that group of elite riders."
"In America we mostly have women showing. In Europe mostly men are competing at the highest level. Maybe in our country, that is just the culture," Chloe answers when we ask her about the difference between the European and American system. "For training, I think they do a great job in America in disciplining us in equitation. I started with a lot of time on hunters, and it really teaches you to look good on a horse, your conformation on a horse, and your eye gets experience."
"It is my favourite thing – to jump on a team for my country and produce clear rounds," Chloe says – here with team mate Laura Kraut in Barcelona.
"The basics of that are really good, but I think coming to Germany I have learned a lot more about how to meet with the horse. I would say I have "Germanized": I sit more in the tack, I have learned to ride faster. I think taking from both systems has really helped me. Show wise it is very different. Here in Europe you only take 2-3 horses to a show, and I think it is nice to be able to focus like that. And the shows here in Europe have a lot of history, too – I really like shows that have that and the crowds really make it that much better."
Surely noted as a serious competitor in any class, Chloe would like to improve on the speed. "I really want to become a faster rider," she laughs. "Slicker around the corners – some riders just take seconds off here and there so smooth – like Marcus Ehning! He barely moves and it is magic. I would love to be able to do that and improve my riding in that way," she continues.
Mentally the 21-year-old seems tough – falling off in Helsinki, getting on the next horse and placing in the World Cup maybe proof of just that. "The more pressure you give me, the better I'll do," Chloe tells. "If it is just a class that doesn't count for anything, I normally mess up terribly," she laughs.
"I come from a very competitive family! My uncle does the four-in-hand, my grandmother has thoroughbred racehorses, my 78-year-old grandfather runs Iron Mans… we are a very competitive family," she explains on the origins of her mental strength. "I have also learned from Lucy Davis," Chloe goes on. "I lived with her for a while. She told me that I have half an hour after I come out of the ring; even if I had a terrible round and am upset, I have half an hour for being upset, crying, yelling, whatever – but after that, I have to forget about it. Because in our sport, you can have another round very soon and you have to learn from your mistakes but also move on. If you go to the next class with an upset mind, it is not going to work well. And it doesn't help walking around being mad," Chloe says.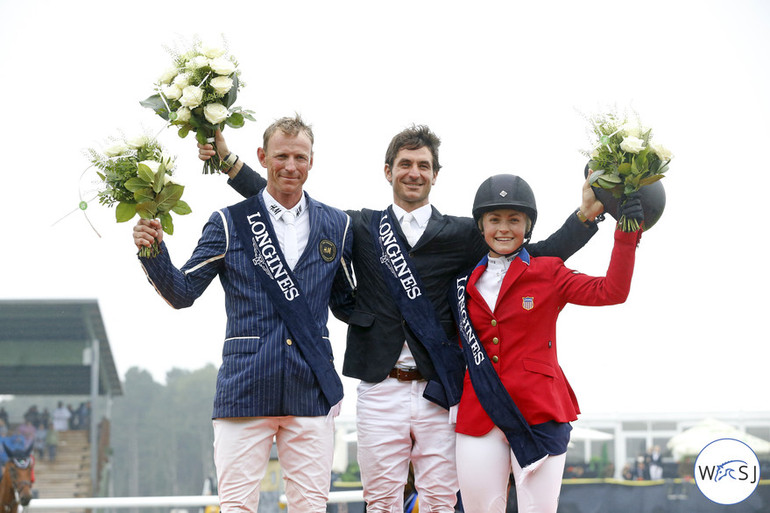 "You need to pick the shows where you want to do well," Chloe tells about what she learned from Markus Beerbaum. Here on the podium in the CSIO5* Grand Prix of Falsterbo with Peder Fredricson and Steve Guerdat.
"I think the biggest thing I have learned from Markus would be the program. A lot of times you would want to take a horse into every class, and win every time. And it might be easy to win the 1.40 the first day, but I have learned from Markus that a time fault or a fence down on the first day is often best to help you prepare for the Grand Prix. Or going to a show and just training the whole weekend can help you get ready for the week after. You need to pick the shows where you want to do well," Chloe tells.
"I have a lot of respect for Meredith Michaels-Beerbaum," Chloe tells about the people she looks up to. "Seeing Meredith train up close and personal the past few years has given me a new appreciation for her being the only woman ever to be number one in the world. And she is a petite woman which gives me confidence as a smaller girl that we can take on the men in the sport," she says. "I also have a lot of respect for my uncle Chester, I have learned a lot from him and he does a great job stressing the importance of building a strong team."
And Chloe's team? "I have my main groom Sigrun Land who's been with me for two years. I would not be able to do all this without Markus, Sigrun, and the long list of people who support me. My parents and brother are a part of my team, too, helping me get to these places," she says. "My grandmother Weber is a huge part of my success," she adds. "At the moment I have six horses. We start at 8 in the morning at home, even if you only have one or two to ride. And we normally ride until lunch, and from twelve to two we close the barn and give the horses a lunch break. But we are not at home so often and that is also what I love about this sport – we are always on the move."
And wherever in the world she is, it is the horses that Chloe loves the most about our sport. "I just enjoy horses. I think the partnership you create with them is like nothing else. I also think the people I have met, there are such nice people in this sport that are always willing to help you and being able to learn from them, that is a great part of it all, too," she says. But where do you find Chloe when she is not in the saddle? "At school or at the gym or talking about horses – it consumes my life at the moment," she smiles.
---
Text © World of Showjumping by Nanna Nieminen // Pictures © Jenny Abrahamsson and Nanna Nieminen
No reproduction without permission