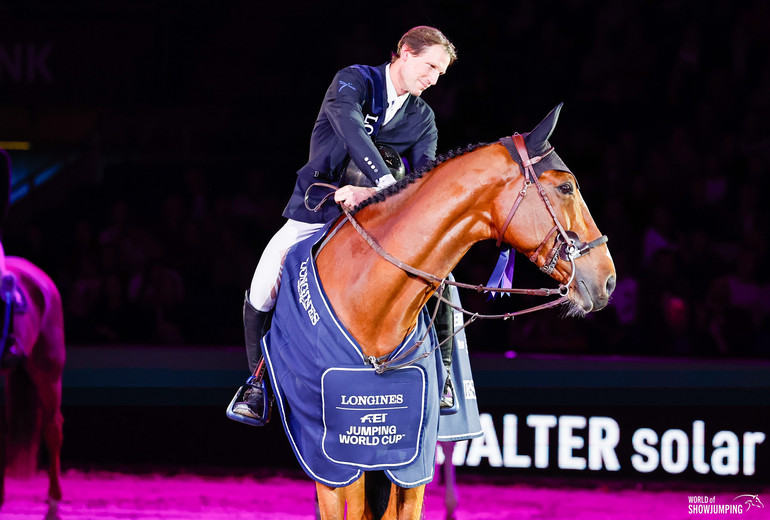 Kevin Staut and Beau de Laubry Z, winners of the 2023 Longines FEI Jumping World Cup™ of Stuttgart. Photo © Jenny Abrahamsson for World of Showjumping.
Edited press release from FEI written by Louise Parkes
---
On a day of fabulous sport and wild celebrations, Kevin Staut and Beau de Laubry Z (Bisquet Balou vd Mispelaere x Nabab de Reve) won the fifth leg of the Longines FEI Jumping World Cup™ 2023/2024 Western European League series in Stuttgart, Germany.
The home crowd may have been hoping that one of their own would take the top step of the podium, but they roared with delight when the Frenchman set the eight-horse jump-off alight with a sensational round from his 10-year-old gelding that simply couldn't be beaten.
Young British star Harry Charles finished a very close second with Casquo Blue (Chacco-Blue x Carthago Z), while Staut's compatriot Francois Boudant slotted into third with Brazyl du Mezel (Haloubet de Gorze x Apache d'Adriers), and best of the nine German contenders was Hans-Dieter Dreher who lined up in fourth with Elysium (VDL Zirocco Blue x Coronado).
For Staut, who turned 43 last week, this was one very special victory. He arrived in Stuttgart on a Wild Card and it worked out like a dream.
"I'm really happy - can you believe it's 11 years since I won here last! This is a really fantastic show, the organisers are thinking about the sport first and that's what makes it so special! You can feel the atmosphere in that arena - it's totally crazy, the crowd are really, really nice with everyone, and of course they are hoping for a German victory but they also are all horsemen and horsewomen and what they want is to see great sport!"
That's exactly what they got today.
Top Dutch course designer Louis Konickx created the 13-fence first-round track that included five fences standing at a full 1.60m with a time-allowed of 69 seconds, and it took some riding. There was a tricky turn to the triple combination at fence four and absolute accuracy required to negotiate the pink-topped vertical at eight to the following oxer at nine and a sharp right bend to a narrow vertical at fence 10. For several however the game was already up when the oxer at fence two hit the floor.
"It was difficult, just eight clears and the time-allowed was tight so it motivated the riders to run a little bit against the clock already in the first round," Staut explained.
Boudant set the pace in the jump-off when clear in 42.08 seconds and neither Dreher nor fellow-German Kendra Brinkop threatened that despite great clears. Staut's round flowed seamlessly however, the 2009 individual European champion and 2016 Olympic team gold medallist never losing momentum and racing through the timers in 41.78 seconds to really put it up to the remaining three.
Sweden's Amanda Landeblad and For Killy (Otangelo x For Pleasure) returned a nine-fault result but reigning European champions, Switzerland's Steve Guerdat and Dynamix de Belheme (Snaike de Blondel x Cornet Obolensky), looked set to oust the French leader as they wound their way around the snaking eight-fence challenge. However the penultimate oxer and the final vertical didn't come up quite right, and time in the air over the last cost valuable fractions of seconds that saw them cross the line in 42.99 which would only be good enough for fifth place in the final analysis.
The real threat to Staut came from Britain's Charles and his 13-year-old gelding who set off like they were on fire when last to go.
"I didn't quite think I could catch Kevin, Casquo isn't the fastest horse but when you have a crowd like this behind you then you give it everything and the horse gave it everything as well. It was so close, but honestly it feels like a win anyway!" said the popular 24-year-old after breaking the beam in 41.92, just 0.14 seconds off Staut's winning time, to secure runner-up spot.
The spectators loved every moment of it, and all the riders were talking about the tremendous atmosphere in the Hanns-Martin-Schleyer Halle this weekend. "This is the best crowd I've ever jumped in front of!" Charles said this evening.
He enjoyed a really successful show over the last few days. "I came here last year for the first time and didn't have the luckiest week and I made a promise to myself I'd come back next year. This is a show I always wanted to perform well at, and on Friday to become the German Master was a pretty cool title! I would have loved to have won the World Cup today but maybe I'll come back next year and try again!" the British rider added.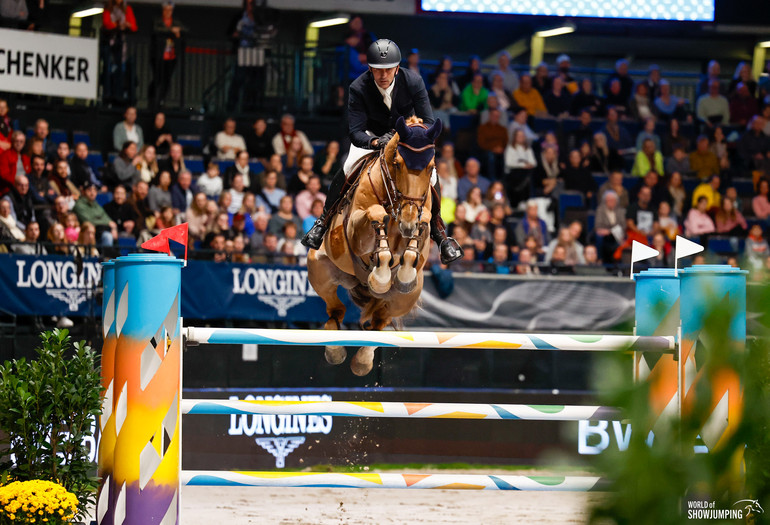 The third place went to Francois Xavier Boudant and Brazyl du Mezel. Photo © Jenny Abrahamsson for World of Showjumping.
Staut said it was his turn to the last fence that clinched it for him today.
"I had a good left turn at the wall (fence 3) and then Henk (Nooren, French Chef d'Equipe) told me I had to turn inside if possible to the vertical (last fence) - but let's see how you jump the oxer (second-last). If you jump that well then you are in the trajectory to take the last because the other horses are really fast and mine would not be the fastest - but he was so great today!" the winning rider said.
He talked about where he is in his career right now. "It's difficult at the moment, I'm trying to rebuild the horses I can have and I can ride, it's take a long time but for sure when you have this kind of victory it gives an extra boost for everyone," he pointed out.
He has only been partnered with Beau de Laubry Z for the last year. "He was supposed to be a dealing horse but Henk took him in his view next year for the Olympics so he's really motivated that we are doing a great job on him. He's got him at home sometimes to do flatwork, he is at every practice I am doing to try to help me. The horse is really sensitive and a bit stiff, but we are working a lot and this is a horse with such a big, big heart and he is such a clever one. I'm really lucky the owners decided to keep him until the end of next year, they secured him for me to ride so it's a great, great pleasure," he explained.
Staut's initial impression of Beau de Laubry wasn't flattering, but the bay gelding has surely turned that around.
"Before I got him he was just jumping 1.40m, 1.45m and honestly when they were showing me the video I didn't want to try him because he was really special! And then they were telling me they would bring him to my place and I could try him anyway. I wasn't motivated at all but the feeling when I got on him was really great, so we made the deal."
"Sometimes the stories come from nowhere - this horse was really not on target to be a superstar, but he's trying to do his best and now he is there - and he's amazing," the delighted Frenchman said.
So what are his plans for the rest of the season, with a view to the Longines final 2024 in Riyadh (KSA) next April? He has long been an avid supporter of the much-loved and prestigious series.
"At the moment I have a few points, something like 33 - not like I'm counting," he said with a laugh today. He's currently lying fifth on the Western European League leaderboard. His highest-placed finish at the 11 Jumping World Cup finals in which he has competed was third with the great Silvana HDC (Corland x Widor) in Gothenburg (SWE) ten years ago.
"I'm going to Madrid (ESP) next week and to London (GBR, in December). I really love the World Cup tour, and every time I try my best," he pointed out.