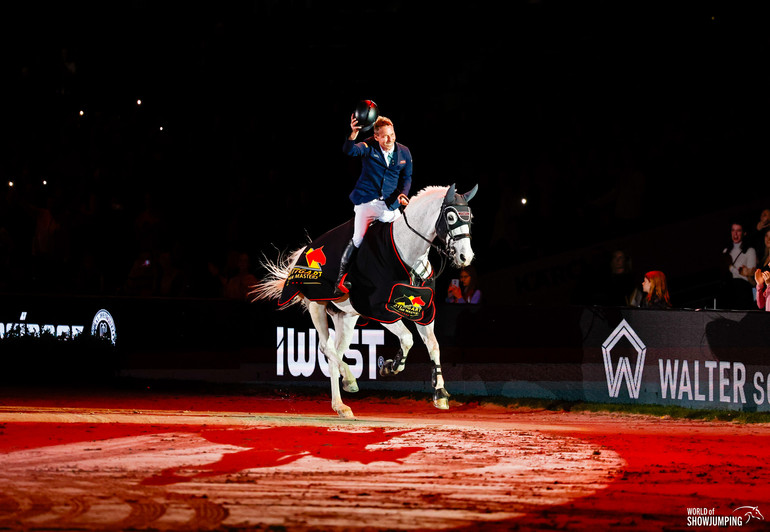 Hans-Dieter Dreher and Cous Cous, best in the CSI5*-W 1.55m Prize of in.Stuttgart. Photo © Jenny Abrahamsson for World of Showjumping.
Text © World of Showjumping
---
Germany's Hans-Dieter Dreher and the 11-year-old Cous Cous (Cachas x Lasino, bred by Norbert Carl Schmalbach) won Saturday night's CSI5*-W 1.55m Prize of in.Stuttgart – counting for Longines Ranking Group C – at the 2023-edition of Stuttgart German Masters.
Jumped over two rounds, the eight best horse-and-rider-combinations from round one continued on to the decisive second round, where Dreher and Cous Cous were the fastest pair when stopping the clock on 36.83.
"I have had a great weekend so far," Dreher told World of Showjumping after his victory. "There has only been one class where I have not been placed. Winning today was really cool. I did not get the best start to my second round, but could make it up quite well. To the last jump I took some risk, and luckily it worked out. Cous Cous is such a great horse, he is very careful and fights with me."
Jos Verlooy (BEL) and FTS Killossery Konfusion (SIEC Livello x Cruising, bred by F & L Glynn) took the runner-up spot in 37.17 seconds, while Steve Guerdat (SUI) and Double Jeu d'Honvault (Kannan x Cook du Midour, bred by Henri-Pierre Delplace) placed third in 38.25. Loewie Joppen (NED) and Osiris FZ (Dallas x Acodetto, bred by Az. Agr. Franca Zanetti) finished fourth in 39.36, followed by Marie Schulze Topphoff (GER) aboard Villimey V. Gaste (Van Helsing x Quality, bred by Herbert Günther) in fifth in 41.13.
Earlier during the day, Germany's Kendra Claricia Brinkop and Nector vd Bisschop (Echo van'T Spieveld x Darco, bred by Tom De Craene) won the CSI5*-W 1.45m Prize of Allianz in Baden-Württenberg and dias Gebäudemanagement – counting for Longines Ranking Group D – ahead of Omer Karaevli (TUR) and Livingstone van het Peggershof (Ogano Sitte x Thunder vd Zuuthoeve, bred by Cinfra Bvba) in second and Mario Stevens (GER) aboard Botakara OLD (Balou du Rouet x Espri, bred by Erich Stevens) in third.