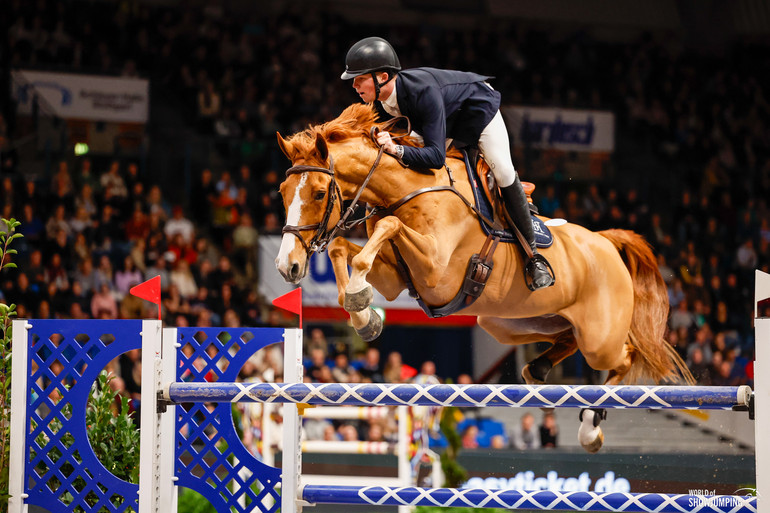 Harry Charles and Billabong du Roumois, winners of the CSI5* 1.55m Prize of iWEST at the Stuttgart German Masters. Photo © Jenny Abrahamsson for World of Showjumping.
Text © World of Showjumping
---
Great Britain's Harry Charles and his 12-year-old Billabong du Roumois (Mylord Carthago x Papillon Rouge, bred by Philippe Berthol) won Friday's CSI5*-W 1.55m Prize of iWEST at the 2023-edition of Stuttgart German Masters.
Counting for the Longines Ranking Group D, the 1.55m class was the second qualifier for Friday night's CSI5* 1.55m Stuttgart German Masters. With a time of 59.30, Charles and Billabong du Roumois took the win ahead of the host nation's Philipp Schulze Topphoff (GER) and Carla NRW (Comme Il Faut x Potsdam NRW, bred by Schulze Isfort and Karl Heinz) in second in 61.77.
"I am just so happy with this horse," Charles told World of Showjumping after his victory at the Hanns-Martin-Schleyer Halle in Stuttgart. "We have come a long way since I got him, I really had to learn a lot about him and he had to learn a lot about me. For it to be coming together so well, is so rewarding – even more so than winning the class itself. He is definitely the fastest horse I have ever ridden, probably with a little help from Julien [Epaillard, the previous rider of Billabong du Roumois]. I actually could not believe how much faster he was tonight. I am really looking forward to the rest of the indoor season with him, I think he is going to do some really exciting things. I am really proud of him; today was a great day."
Kevin Jochems (NED) and Flying Jackie (Nabab de Reve x Voltaire Pref, bred by J.J. Ansems and G.W. Ansems-Mooy) placed third in 62.95, while Hans-Dieter Dreher (GER) and Cous Cous 3 (Cachas x Lasino, bred by Norbert Carl Schmalbach) finished fourth in 63.38 and Francois Xavier Boudant (FRA) aboard Brazyl du Mezel (Haloubet de Gorze x Apache d'Adriers, bred by Lucien Hecht) fifth in 63.79.