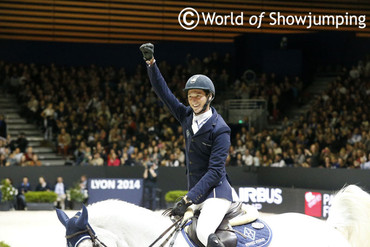 "I knew I could have no mistakes and that I had to be clear," Daniel said after his win. Photo (c) Jenny Abrahamsson.
Daniel Deusser on the question of whether he was nervous or not as he went into the 'Lion's cave' today; "Absolutely. When I went into the second round today, I knew I could have no mistakes and that I had to be clear. Then he touched number one straight away, but luckily I got my concentration back afterwards and my horse tried very hard today. I am happy that it worked out in the end."
Daniel on his winning partner Cornet D'Amour; "I have had him for 1 ½ years already, he is a super partner for me in the sport. He is very easy if you ride inside or outside – his advantage is that he has a very good technique. I have the possibility to add strides or to leave strides out on him, and in the end he always tries to be really careful. I think all that together helps him to be a top horse, especially during a championship like this."
Daniel Deusser on the question if he was surprised to win; "I didn't ride the first World Cup qualifiers last year, I started in Verona – got on down in the jump-off and earned a few points but until Mechelen it really looked like I couldn't get enough points. Because of my win in Mechelen I continued and tried to ride a few more World Cups at the beginning of the season. Of course if you would have told me before Mechelen that I would win the final I would not believe it – but because of the great form of my horse and because of the win in Mechelen I did believe in it in the end. I know I have a very good horse and I would have the chance here and that is why I continued on."
Ludger on ending second; "I am really, really, really happy. I was called in as reserve, and a week ago I knew that we were coming – but my horses were planned to show outdoors so I took them here without any training or shows indoors. So to be here on the podium today and to be second, it is almost hard to believe – I am really, really happy. The whole week could not have been better. I would also like to say well done to Daniel, because when you see the three legs and the way he did the performances with his horse all the way through, and then with the pressure, to see him perform like that I must say my hair goes up – I have no problem being second today!"
Scott Brash on his performance; "It's fantastic to be here at my first World Cup Final, and on the podium. I am happy to be number three, and I had a mistake the first day – but I think my horse jumped fantastic all week so I am happy to be here. Daniel rode fantastic today, so I am just happy to be sitting here."
Brash on the final and its format; "I think it is not that much different to the other championships, it is just the points basis – but it is basically the same as the European Championships in a way. Basically only the most consistent horses and riders can win the competition, and I think we saw that today. The only one who I think was unfortunate was Marcus Ehning – he jumped fantastic all week."