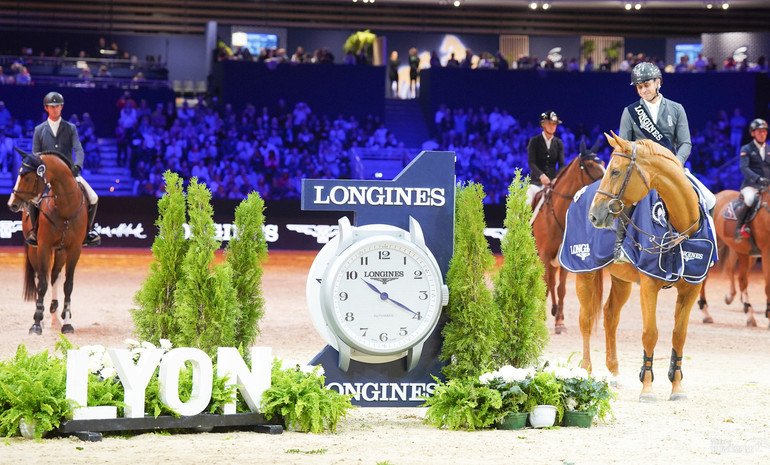 Julien Epaillard and Dubai du Cedre, winners of the CSI5*-W 1.60m Longines Grand Prix at the 2023-edition of Longines Equita Lyon. Photo © Nanna Nieminen for World of Showjumping.
Text © World of Showjumping
---
Julien Epaillard (FRA) and Dubai du Cedre (Baloubet du Rouet x Diamant de Semilly, bred by Sylvain Pitois & Perrine Cateline) won Friday's CSI5*-W 1.60m Longines Grand Prix at the 2023-edition of Longines Equita Lyon.
Thirteen horse-and-rider-combinations cleared the first-round track set by France's very own Gregory Bodo and his assistant course designer Santiago Varela (ESP). "Even though I was in the beginning of the class, I had enough information about the course," Epaillard said about his ride in the first round. "Dubai started off a bit nervous, but finished relaxed; she jumped super. I did one more stride to the triple combination."
As the third pair out in the jump-off, Epaillard and Dubai du Cedre stopped the clock on 36.14 – a time that those to follow could not beat. "For the jump-off, my plan was to take a little bit of a risk but not do anything crazy – and today it was enough," the Frenchman said.
"She was good already in Barcelona," Epaillard continued to speak about his 10-year-old mare that he won individual bronze with at the 2023 FEI Jumping European Championships in Milan in September. "She has changed a lot now, and gained invaluable experience. I think she has really stepped up a level. At my first indoor show in St. Lo, I was not sure how she would be after the outdoor season, but she jumped super and won the big class there on the second day. I know her much better now, we have really moved onto a next level in our partnership."
"It is impossible to do better than last year, this is for sure," Epaillard, who won all three main classes – the Longines Grand Prix, Hermes Masters and the Longines FEI World Cup – at the 2022-edition of Longines Equita Lyon, said. "But this was a good first day, and hopefully means well for the rest of the show."
Mark McAuley (IRL) and GRS Lady Amaro (Amaretto Darco x Over The River, bred by Denis Hickey) got the closest to the winning pair, slotting into the runner-up spot with a time of 36.78. Steve Guerdat (SUI) and the wonderful Dynamix du Belheme (Snaike de Blondel x Cornet Obolensky, bred by Frederic Aimez) – reigning European Champions – placed third in 37.64.
The top was really a battle of the best, as reigning Olympic Champion Ben Maher (GBR) and his 9-year-old Point Break (Action-Breaker x Balou du Rouet, bred by Nya Äppelvikens Ridskola AB) finished fourth behind Guerdat, followed by Jana Wargers (GER) aboard Dorette (Dollar du Murier x Fighting Alpha 3, bred by Stefan Leue) in fifth.