Gregory Wathelet and Bond Jamesbond de Hay, winners of the Longines FEI Jumping World Cup™ 2023/2024 Western European League in Lyon, France today. Photo © FEI/Leanjo de Koster.
Edited press release from FEI written by Louise Parkes
---
Gregory Wathelet stormed to victory with Bond Jamesbond de Hay (Diamant de Semilly x Kannan) at the third leg of the Longines FEI Jumping World Cup™ 2023/2024 Western European League in Lyon, France today.
All eyes were on Julien Epaillard and his 10-year-old mare Dubai du Cedre (Baloubet du Rouet x Diamant de Semilly), one of five French partnerships to make the cut into the second-round jump-off, after their win in Friday's hotly-contested Longines Grand Prix. But they had to yield to the mighty stride of Wathelet's stallion who snatched it away with a breathtaking run to post Belgium's first-ever victory in the history of the World Cup class at the hugely popular French fixture.
From a starting field of 40 that included six of the top 10 riders in the world a total of 14 found the key to Gregory Bodo's first-round track, and it was leading U-25 rider, Great Britain's Harry Charles, who set the pace when clear with Romeo 88 (Contact van de Heffinck x Orlando) in 35.34 seconds over the new seven-fence jump-off course. Belgium's Pieter Devos followed with a great round from the young mare Jarina J (Cicero Z van Paemel x Harley) in 36.76 but reigning Olympic Champion Ben Maher shaved almost a second off Charles' target when fourth to go with Dallas Vegas Batilly (Cap Kennedy x l'Arc de Triomphe Bois Margot) who broke the beam in 34.59 to temporarily take the lead.
Next in was first of the home runners, Rio 2016 Olympic team gold medallist Penelope Leprevost, who had already left the first element of the turquoise double on the floor before the grey gelding Bingo del Tondou (Vigo D'Arsouilles STX x Querlybet Hero) stopped at the last, unshipping both his rider and his bridle. His quick-thinking groom ran into the ring and had him in a head-collar within seconds however, and together they left the arena with nothing more than a look of sheer surprise on Bingo's face.
That turn to the last would be the critical one of the day.
Megane Moissonnier followed with a clear from the 14-year-old Cordial (Casall x Chicago Z) in 38.07 seconds but, two horses later, her compatriot Epaillard set a whole new standard. He was defending the title he won last year at this event, and partnering the horse that carried him to individual bronze at this summer's FEI Jumping European Championship in Milan (ITA) he looked to have put the competition to bed when scorching through the finish in 33.10 seconds.
He then had to sit back and watch five more take their turn, world number four Switzerland's Martin Fuchs hitting that first element of the double with Commissar Pezi (Commissario x Lord Pezi) and his compatriot Simon Delestre making it all the way to the very last with Dexter Fontenis Z (Diarado x Voltaire) only to leave that on the floor. And then Wathelet set out, galloping well before he even got to the start-line and never taking a pull the whole way around, Bond Jamesbond de Hay crossing the finish fractionally quicker in 32.93 to the sound of the spectators screaming with delight. When the final two Frenchmen faulted, Wathelet's victory was secured.
"My horse doesn't have much experience with jump-offs but I felt I had something to play with today, taking out one stride between (fences) 1 to 2 and at the last fence too. In the end it worked out and I am very happy and proud of him!" Gregory Wathelet said.
"I am getting to know him more and more, and he is showing so much scope and quality on the fences. I did not think he was that agile when I started riding him, so I am very happy with how things are developing," added the double Olympian who was a team bronze medallist at the Tokyo 2020 Games.
Epaillard may have had to settle for runner-up spot but he was still more than pleased with his brilliant 10-year-old mare who earned him that European individual bronze. "She has had an amazing year and is getting more and more reliable. She was already very good in Barcelona (Longines FEI Jumping Nations Cup™ 2023 Final), and it has been a great weekend here," said the French star.
He has the Longines FEI Jumping World Cup™ Final 2023 in Riyadh (KSA) in his sights and has made a clear plan for how he's going to get there. "Donatello will go to Verona (ITA), next week, then Madrid and La Coruna (ESP) and I will go to London (GBR) with a new horse," he explained.
Played out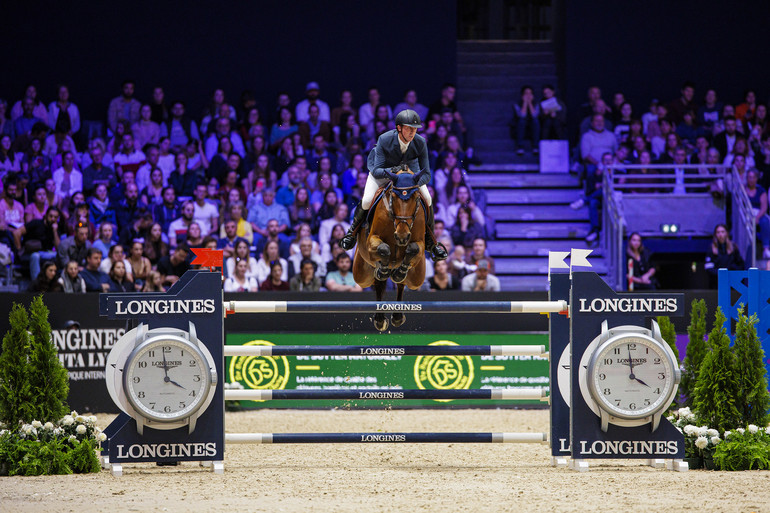 Ben Maher and Dallas Vegas Batilly; third in the Longines FEI Jumping World Cup 2023/24 in Lyon. Photo © FEI/Leanjo de Koster.
Britain's Maher and Charles slotted into third and fourth places, and Maher reflected on how his jump-off round played out.
"It would always be nice to have a second go!" he said. "I planned to do a stride less between the first and second fence but had to change the plan because it didn't ride as smooth as I wanted. I am very happy and tried my best. I knew Julien is always very fast, but today Gregory rode the perfect round," he added.
Maher also has his winter season mapped out. "I am going to Verona, and Dallas will then have a break before Geneva (SUI, in December). I had a long break at the beginning of the year so my horses have not been over-jumped, so I am looking forward to doing more indoor shows this winter," he said.
He continued, "I don't really plan to chase the rankings. Being in the top ten gives you some advantages so I look after that a little and I am very lucky at the moment with my horses. It would be nice to get to number one again, but I will not put any pressure on my horses for that, it's not my main objective."
Meanwhile today's winner Wathelet confirmed that London (GBR) in December will be his next stop in the Western European League. "I was not able to get a spot there before, so will go to London and then Mechelen (BEL). I hope to get as many points as possible before the end of the year. I have two or three horses who can jump the World Cup, so the goal is clearly to try to qualify for the Final," he explained.
And he acknowledged the contribution of the spectators in Lyon who always create an incredible buzz no matter who wins. "The public in Lyon are amazing and they make a fantastic atmosphere! We do our sport for moments like this!" he said.
With Ireland's Richard Howley still heading the Western European League leaderboard after his back-to-back successes in Oslo (NOR) and Helsinki (FIN) the series now moves on to Verona (ITA) next weekend.