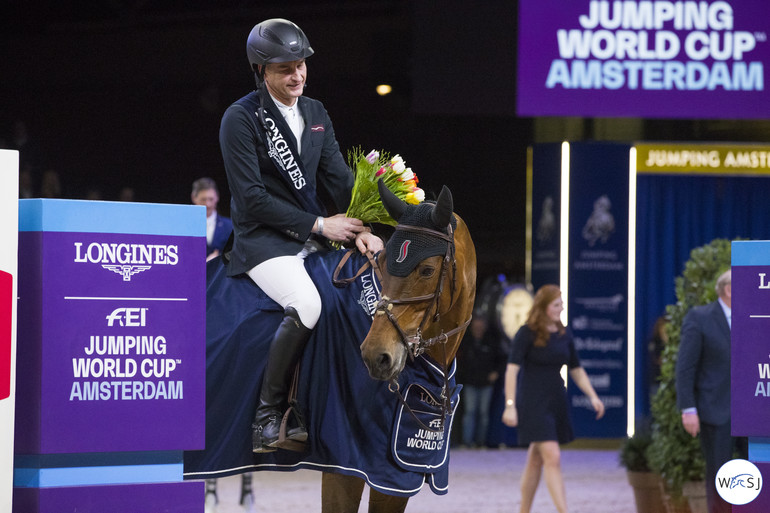 Marc Houtzager and Sterrehof's Dante won the Longines FEI Jumping World Cup presented by RAI Amsterdam. Photo © Jenny Abrahamsson for World of Showjumping.
Text © World of Showjumping
---
Sunday's CSI5*-W 1.60m Longines FEI Jumping World Cup presented by RAI Amsterdam, the 12th leg in the Western European League 2019/2020, saw a popular home win at Jumping Amsterdam as Marc Houtzager (NED) on the 12-year-old KWPN mare Sterrehof's Dante (Canturano x Phin Phin) raced to the victory.
A total of nine pairs out of the 40 horse-and-rider combinations that started in the first round cleared the demanding track set by Louis Konickx (NED) and Quintin Maertens (NED). The vertical-oxer-vertical triple combination at fence ten caused a lot of headache for the riders, as did the oxer-vertical double at fence four.
As number three to go in the first round, Jeroen Dubbeldam (NED) and the 12-year-old gelding Oak Grove's Carlyle (Casall x Corrado) set the first clear of the class – and the RAI exploded in applause. It took until starter number 18 – Pieter Clemens (BEL) on the 11-year-old gelding Quintini (Quintender 2 x Cassini II) – before another clear was seen and a jump-off secured. Harrie Smolders (NED) on Monaco (Cassini II x Contender), Marcus Ehning (GER) on Calanda (Calido I x Chasseur), Maikel van der Vleuten (NED) on Beauville Z (Bustique x Jumpy des Fontaines), Robert Whitaker (GBR) on Catwalk IV (Colman x Corleone), Daniel Deusser (GER) on Jasmien vd Bisschop (Larino x Chin Chin), Marc Houtzager (NED) on Sterrehof's Dante and Niels Bruynseels (BEL) on Gancia de Muze (Malito de Reve x Nimmerdor) also jumped clear and joined the deciding jump-off.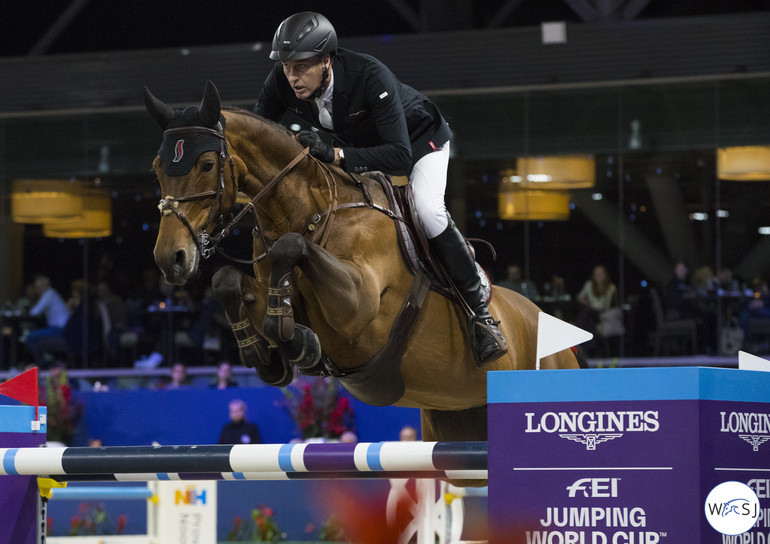 Marc Houtzager and Sterrehof's Dante on the way to victory in Amsterdam. Photo © Jenny Abrahamsson for World of Showjumping.
First to go in the jump-off, Dubbeldam set the time to beat to 40.12 seconds but was immediately pushed down from the pole position by Clemens who shaved over four seconds off on the leading time – setting the new standard to 35.18.
Smolders and the 12-year-old mare Monaco were the third pair to go in the jump-off, and delighted the home crowds when taking over the lead with a time of 35.03 seconds – putting all the pressure on the riders left to come. Second last to go, Marc Houtzagers set Sterrehof's Dante to another gear – cruising through the course and pushing Smolders down to second when the clocks stopped on 34.05. Last to go, Niels Bruynseels and the 14-year-old mare Gancia de Muze's time of 35.33 seconds secured them the fourth spot between Clemens in third and Ehning in fifth.
"I am really happy, today I gave everything," the winner told the press afterwards. "I knew after seeing all the really fast riders go before me, that I had to risk it in the jump-off if I wanted to win. My mare jumped fantastic, even though the turn to the double was really risky. Sometimes jump-offs ride like your plan, and today was just my day," Houtzager continued.
"For us riders it is important that the crowds are behind us and it really makes a difference," Houtzager commented on the special atmosphere Jumping Amsterdam is known for.
Houtzager has been supported by Stoeterij Sterrehof for the past fifteen years, and he was happy to have them with him in Amsterdam today. "My sponsors don't come to shows every day, so it was nice to get results like this when they were here. Without sponsors like them, doing this sport is not possible," he continued.
Houtzager also thanked the rest of his team, especially his long-time groom Madeleine Broek who received the Cavalor FEI Groom of the Year award in 2019. "My groom is the best in the world," Houtzager smiled. "A success like this is of course a team effort, the whole team around every rider is important and we are really happy to have these people behind us. It is a hard job, they take such good care of the horses, seven days a week."
Just like Houtzager, second placed Harrie Smolders praised the atmosphere at Jumping Amsterdam. "The biggest things we have seen this afternoon were the crowd, the atmosphere, the course designing, all this pulls us to another level," he said. "We feel it on our horses, the support from the crowd helps our horses do things that we might not believe they are able to and that is what makes this event special."
Third placed Pieter Clemens now has his eyes set on the World Cup Final in Las Vegas. "I think we sit down tomorrow and make a plan, it is a dream to ride a World Cup Final," he said. "I am really happy, my horse gave everything today. I am thankful for all the help from Jos (Lansink) and Frank (Schuttert). When you have a good team standing behind you, that helps a lot, it gives you trust."
With only two legs left in the Western European League, Steve Guerdat (SUI) is in the lead on 80 points, followed by Marcus Ehning in rank two on 73 points and Pieter Devos (BEL) in rank three on 70 points.