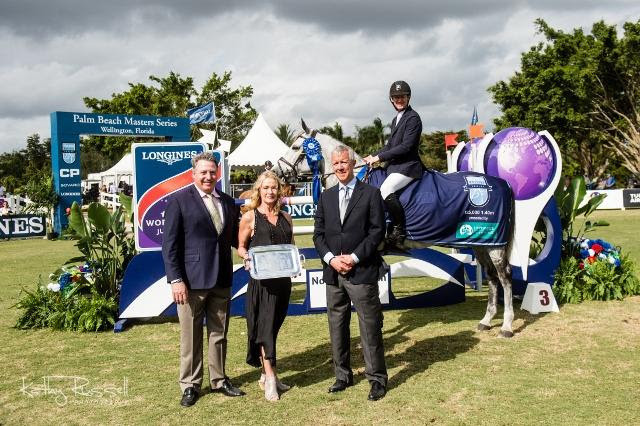 McLain Ward and Cerise won Section A of $25,000 Upperville Colt and Horse Show 1.40m Class. Photo (c) Kathy Russell Photography.
Deeridge Farms once again played host to world-class show jumping competition on Saturday at the CP Palm Beach Masters CSI3*-W, Presented by Sovaro® (PBM). The feature in the Grand Prix ring was the $25,000 Upperville Colt and Horse Show 1.40m, which was split into two sections due to the significant number of entries. Two-time Olympic team gold medalist McLain Ward won Section A, his third victory in as many days at the PBM, and USEF veteran Molly Ashe-Cawley captured the victory in Section B.
In Section A, ten horses out of the 47 starters made it to the immediate jump-off, with five going double clear. Taylor Land captured the early lead in the speed round on Liroy 30, owned by Jay and Kim Land, in a time of 37.049 seconds. Two-time Swiss Olympian, Beat Mandli, took over the top spot going double clear in 36.817 on Dibatsja, owned by Grant Road Partners, LLC. Ward, who rode near the end of the lineup, cleared the Alan Wade-designed course more than two seconds faster than Mandli to seize the lead on Cerise in a time of 34.703 seconds.
"We had a plan, but I didn't have the chance to walk or see many go because I was riding another horse. I'm an over preparer by nature, so I felt a little disorganized, but sometimes that's better. You just trust your instincts and go with it. I didn't see the slow options, so we just took all the fast options and she performed beautifully," said Ward. "This was a new mount for me from Sagamore Farm. I've only been riding her for two weeks. She's a very careful mare. She tries very hard and she's very genuine in her character. It's a pleasure to ride her."
In Section B, nine horse-and-rider combinations jumped the speed round with seven going double clear in the field of 51 entries. Molly Ashe-Cawley took the early lead on Picobello Choppin PC, owned by Louisburg Farm, in a clear jump-off time of 35.487 seconds and challenged the remainder of the field to catch them.
Many tried and failed, however Georgina Bloomberg came very close on Paola 233, owned by Gotham Enterprizes, LLC, going double clear in 35.848 seconds for the runner-up spot. Ilan Bluman and Eliana finished third with their double clear in 37.920 seconds.
---
Source: Press release from Palm Beach Masters Series // Picture © Kathy Russell Photography