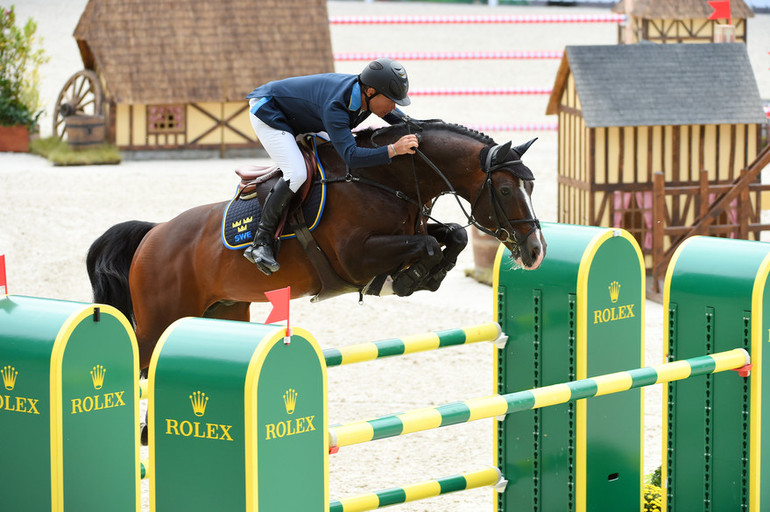 Casall Ask will perform his last rounds after the GCT jump-off on 27 May 2017 (5:30 p.m.) in Hamburg. And we would greatly appreciate it if you found time to be part of Casall's farewell crowd.
At now 18 years, Casall Ask has reached an age where Rolf and the Holsteiner Verband have decided it is time to say goodbye – even though he is still sound and fit as a fiddle. So Casall will perform his last rounds after the GCT jump-off on 27 May 2017 (5:30 p.m.) in Hamburg. And we would greatly appreciate it if you found time to be part of Casall's farewell crowd.
As foal, Casall Ask was discovered by Fiete Mehrens and Detlef Reimer Hennings at the stable of Wilfried Thomann in Drelsdorf in the district of north Friesland. Two years later, the young colt was presented at the Holsteiner 2001 stallion grading pre-selection. During the first free jumping, young Casall caught the eye of Norbert Boley. "As I had already done a lot of good business with Reimer Hennings sen, I asked Fiete Mehrens and Reimer Hennings if they would consider selling the two-year-old colt to the Verband", Norbert Boley, now and then in charge of the Holsteiner stallion keeping, recollects the situation. The owners gave their ok under the precondition that he would agree on the price which was quite substantial for a two-year-old. So Norbert Boley consulted with then board members Breido Graf zu Rantzau and Hans-Werner Ritters. With Casall able to convince these two experienced horsemen as well, he was purchased by the Holsteiner Verband.
"The stallion grading went smoothly in the beginning. The colt put up a very good presentation in-hand and fulfilled all expectations", says Norbert Boley. But then came the Neumünster free jumping phase. "In the end, he did only a single jump really up to his previous standard and quality. And I was secretly afraid he might be just another expensive gelding. Fortunately the grading committee had not forgotten his convincing performance at the pre-selection and he was stallion graded. Casall had cleared his first big hurdle." He passed stallion performance testing with "quite good results" and was scheduled to start serious training at the age of five. But then the Holsteiner Verband executives, first and foremost Norbert Boley, really had to rack their brains over the stallion. "Even though he had a very good rider, Gunnar Röer, he did not develop in the way we had expected and hoped for. After some time the question arose what to do with this stallion we were all having such high hopes for."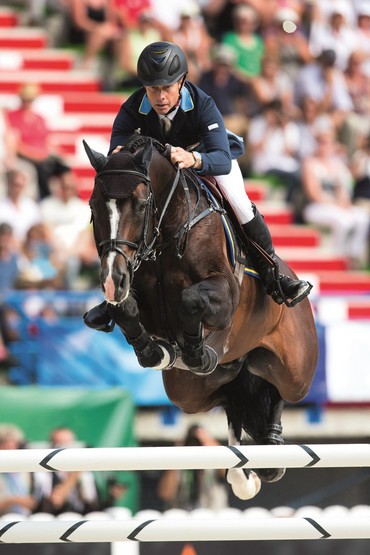 Rolf-Göran Bengtsson had "the right feel for Casall right from the start".
At this point, at the end of Casall's fifth year of age, the rider to steer him to all this unforgettable successes took to this saddle for the first time: Rolf-Göran Bengtsson. "Breido had suggested it", Boley said. It was mostly a matter of appraisal, an assessment test, as the Swede's opinion and experience has always been of great importance to the Holsteiner Verband. Rolf-Göran Bengtsson had "the right feel for Casall right from the start". Moreover, he also said that he would like to ride him and Casall and Bengtsson have been a team ever since. Calsall's groom, Celia Rijntjes, who has been taking care of the stallion since his very first day at the Breitenburg stable, belongs to this team as well.
Everybody knows the rest of this story, starting with winning the Holsteiner State Championship in 2005 and a bronze medal at the National Championship, followed by the first international placing at Wiesbaden in 2006. In 2006, Casall was also given his first suffix, "la Silla", through a sponsorship contract governing the sport horse use of the stallion now called Casall la Silla. This used to be his name until Rolf-Göran Bengtsson started co-operating with the Danish stud farm, Stutteri Ask.
Winning the grand prixs at Aarhus and Falsterbo two years later was the great breakthrough. Since then Casall and Rolf-Göran Bengtsson have been a factor front and centre in nearly all major jumping competitions all over the world: Hamburg, Monte Carlo, Lyon, s'Hertogenbosch, Doha, Chantilly, Basel, London, Rom, Valkenswaard, and Paris, to name only a few examples. Having competed in 39 Global Champions Tour competitions, he won 9 of them. Only 3 times he did not make it to the second round. On the whole, the Global Champions Tour has provided successful ground for the Holsteiner who has been celebrating many of his major successes bearing the Ask suffix. Having already taken 2nd place in the GCT overall ranking in 2014 and 3rd place in 2015, the combination hit it big in 2016 by not only wining the final Doha leg but also the overall ranking of the GCT, thus outperforming the best show jumpers in the world. And one shall not forget to mention the team bronze medal at the Herning Europeans and fourth place individually at the Caen World Championships. The list of results achieved by Casall and Rolf-Göran Bengtsson could be continued indefinitely. But there is one thing to keep in mind: not only has Casall proved himself on the international sport scene for more than 10 years, but also his offspring are demonstrating their ability, not infrequently competing against their sire in GCT competitions. Now, fit as a fiddle at 18, this world class horse is retired from the international sport scene which has been his stage for eleven years – a bittersweet farewell. And even though he is no longer competing himself, he will not be forgotten thanks to his numerous offspring well on their way in following in their sire's foot-steps as breeding and sport horses.
---
During the German Jumping and Dressage Derby held in Klein Flottbek, eight foals by Casall will be auctioned off on Thursday, 25 May 2017 at 5:15 pm. Maybe one of these promising Holsteiner foals will follow in Casall's big footsteps.
Click her for all relevant information about the auction foals.
---