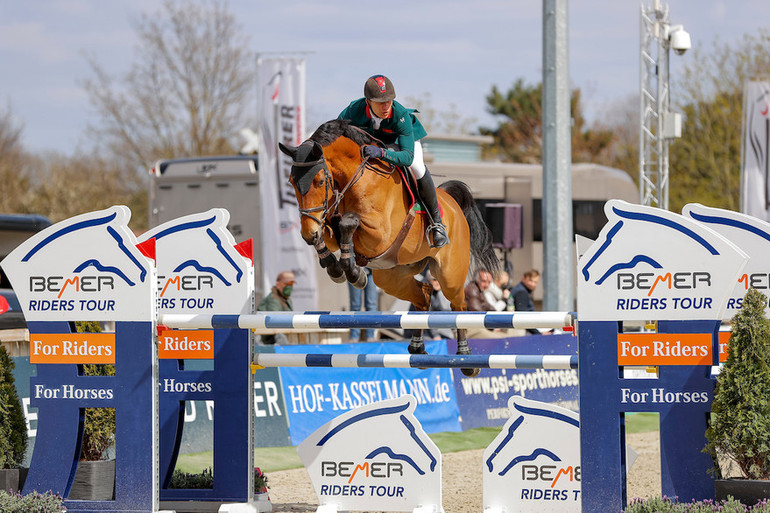 Samy Colman and Davino Q will miss out on the Olympic Games. Photo © www.sportfotos-lafrentz.de/Stefan Lafrentz.
The Royal Moroccan Equestrian Federation has announced that Samy Colman will miss out on the Olympic Games in Tokyo, after testing positive to Covid-19. Colman was selected for the Moroccan team with the 13-year-old gelding Davino Q (Vingino x Monaco).
To his social media channels, Colman shared the following statement yesterday: "It's not without emotions that I today announce that I unfortunately won't take part of the trip to the Tokyo Olympics... I tested positive to Covid a few days ago and although I'm in great shape, I could not go to Japan in due course. I do not hide my bitterness from you, the desire to make my dream come true was so big. It's hard news to take, but I'm still smiling as I look to the future. After a fall, you must always know how to get up. We will do everything to come back stronger than ever."
The three remaining members on the Moroccan team are Ali Al Ahrach and USA de Riverland (Diamant de Semilly x Muguet du Manoir), El Ghali Boukaa and Ugolino du Clos (L'Arc de Triomphe x Roi des Elfes) as well as Abdelkebir Ouaddar and Istanbul v.h. Ooeivaarshof (Casall x Calido I). Ali Al Ahrach's Golden Lady (Cassini Gold x San Patrignano Mister) is the reserve horse.