Text © World of Showjumping
---
The 2022-edition of Saut Hermès concluded on Sunday with the €400,000 CSI5* 1.60m Grand Prix Hermès that ended with a fairy-tale victory for Kevin Staut and Cheppetta.
After a two-year absence, Saut Hermès returned to Paris for its 2022-edition and while the breath-taking Grand Palais is under renovation, the event took place at the Grand Palais Éphémère with the Eiffel Tower as a backdrop. There will be two more editions coming at this venue before Saut Hermès returns to Grand Palais in 2025.
For Sunday's Grand Prix, Spanish mastermind Santiago Varela had built a tough course that saw 12 out of the 48 horse-and-rider combinations clear the first-round track to join the deciding jump-off. The first one to set a clear was starter number eight, Martin Fuchs (SUI) on Chaplin (Verdi TN x Concorde). Willem Greve (NED) on Grandorado TN (Eldorado vd Zeshoek x Carolus II), Christian Ahlmann (GER) on Dominator 2000 Z (Diamant de Semilly x Cassini I), the current world number one Peder Fredricson (SWE) on Hansson WL (Hip Hop x Iowa) and his compatriot Angelica Augustsson Zanotelli (SWE) on Kalinka van de Nachtegaele (Epleaser van'T Heike x Cicero Z) also jumped clear, as did Marcus Ehning (GER) on Calanda 42 (Calido I x Chasseur I), Christian Kukuk (GER) on Checker 47 (Comme Il Faut x Come On) and Kevin Staut (FRA) on Cheppetta (Chepetto x Cash). To the joy of the French crowds, Julien Gonin (FRA) on Valou du Lys (Calvaro FC x Galoubet A) and Julien Anquetin (FRA) on Blood Diamond du Pont (Diamant de Semilly x Arpege Pierreville) also produced clear rounds, making it three for the hosts in the jump-off. With José Maria Larocca (ARG) on Finn Lente (Gaillard de la Pomme x Colandro) and the current world number two Henrik von Eckermann (SWE) on King Edward (Edward 28 x Feo) also leaving the fences intact, the battle for the coveted title of the Grand Prix Hermès was to be settled between twelve horse-and-rider combinations in the jump-off.
Sweden's Peder Fredricson, current world number one, on Hansson WL, was the first to set a clear in the jump-off and took the lead with a time of 36.22 seconds. However, the crowds at Grand Palais Éphémère were in for a treat as Kevin Staut and Cheppetta crossed the finish line in 35.50, pushing Fredricson down to second. As the last one out in the jump-off, Olympic team gold medallists Henrik von Eckermann and the incredible King Edward jumped clear stopping the clock on 36.05 with the Swede having to settle for runner-up position – leaving Staut to celebrate a five-star Grand Prix victory on home soil.
"I am pleased for my team," Staut said after his victory. "In a rider's life, there are ups and downs and this is obviously an up and I hope it will boost my team. It all came together today, and I am very pleased. With Henrik and King Edward coming after me, I really did not think that I would win – I was sure I would be second. Maybe if King Edward did not jump so high, he would have been faster," Staut joked. "I have not won a five-star Grand Prix for quite a while, and if I would have to explain why, we would sit here for a long time. I am used to having ups and downs, and it gets easier to manage when you have had a few of them: The first time you get a down it is the biggest shock ever but then you get back up."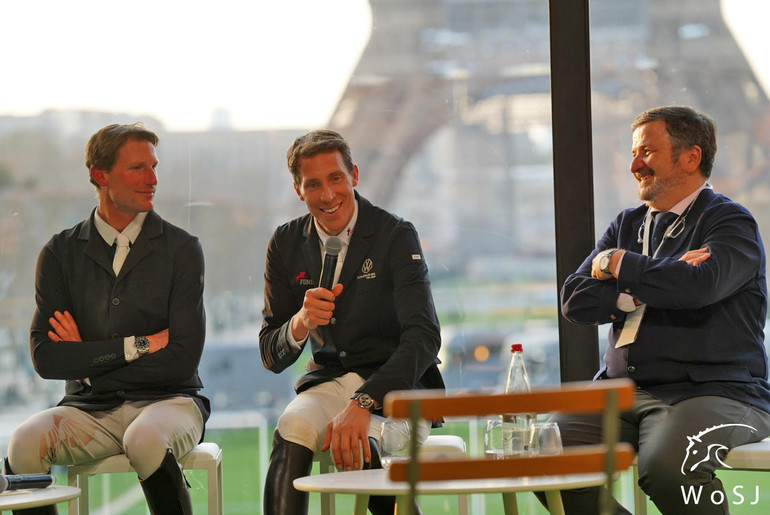 "I am very happy for Kevin, he deserved this win. Kevin is a fantastic horseman. Also, I a big fan of Santiago Varela. I told him today already before I rode that I thought he did a great job because it is easy to say that afterwards if you have done well," Von Eckermann said. Photo © Nanna Nieminen for WoSJ.
"Chepetta was already successful with her previous rider, but the French owners Virginie and Frank wanted to find a way to give her back to a French rider, with a view on the biggest championships," Staut said about his horse. "When I got her, I did not have a good feeling. Then we discovered that she had a big problem with her eye and it took a year to fix it. She went back to Virginie's place and we started from scratch with her: She started showing with Virginie's rider Laura in 1.20m competitions eight months ago and then I took her back at the end of last year. In the beginning of this year, she won a three-star Grand Prix in Vilamoura. I know her quality is fantastic, she is one of the best horses that I could ride and now she feels completely different than the first times I rode her. Now, she will have a break, but I have one of the best horses in my stables, so maybe I will try to get back to championship level with her."
"I just did not get going," second placed Von Eckermann said. "I am really disappointed with my own riding, I did not get it right in the jump-off. My horse jumps amazing, he is a genius of a horse, and a few weeks ago I missed out on the first place as well when I did not ride good enough. I started good, but to the last fence I had to hold for the eight strides, when I should have gone for the seven instead. However, I am very happy for Kevin, he deserved this win. Kevin is a fantastic horseman. Also, I a big fan of Santiago Varela. I told him today already before I rode that I thought he did a great job because it is easy to say that afterwards if you have done well. It is not an easy job Santiago has, and once again, he did great – thank you for that and thank you to the organisers for this fantastic event."
Peder Fredricson on Hansson WL had to settle for the third place, while José Maria Larocca on Finn Lente placed fourth after a clear round in the jump-off. One down in a time of 33.88 seconds left Switzerland's Martin Fuchs on Chaplin to fifth.