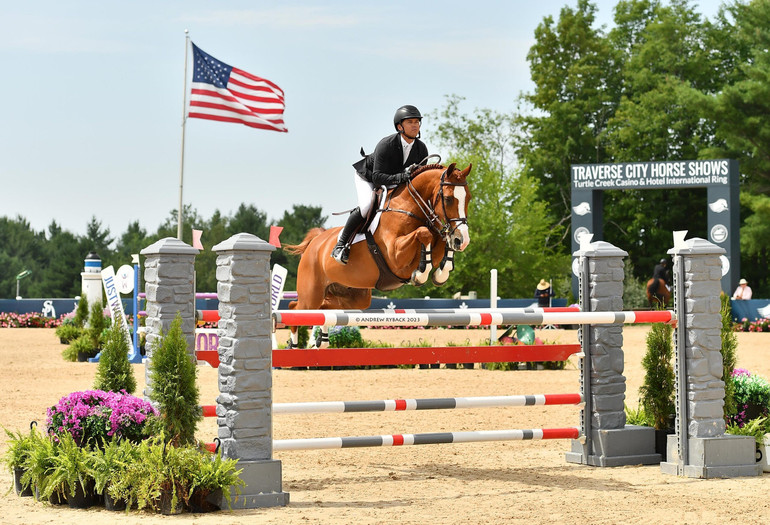 Kent Farrington and Creedance, winners of the $38,700 CSI3* Speed Stake at GLEF IV. Photo © Andrew Ryback Photography.
Edited press release from Traverse City Horse Show
---
Kent Farrington (USA) and Creedance (Lord Z x Notaris) took two second-place finishes during the third week of the Great Lakes Equestrian Festival, and to kick off GLEF IV, they made sure they came home with the win. Out of 28 international entries, the seasoned duo took top honors in the $38,700 CSI3* Speed Stake, adding yet another win to the horse's impressive resume.
"I've had him for almost 10 years," Farrington – currently ranked 8th in the world – said of the 16-year-old Dutch Warmblood gelding. "He's been a phenomenal horse. He was quite difficult in the beginning, and in the end I think that's what really made him special."
Farrington, up against seasoned professionals and up-and-coming young riders, had the benefit of knowing his mount better than most in the class. He used that to his advantage, speeding to a time of 59.40 seconds over Andy Christiansen's (ECU) course. At the time, Erynn Ballard (CAN) led the way with Ilan Ferder's Game Over (Ukato x Lord Calando), and ultimately placed second. Karl Cook (USA) and Caracole De La Roque (Zandor Z x Kannan), owned by Signe Otsby, claimed third place.
"He has a strong character and a really strong fighting desire," Farrington continued of what he believes makes Creedance special. "That's what made him a winner his whole career. For his small size, he's won multiple five-star grand prixs and jumped some of the biggest shows in the world. He's 16 now and he's still winning and he's still the same character he was when he was seven. Nothing's really changed."
The key to bringing Creedance along and achieving a high level of success, according to Farrington, has been, "Just patience. He took a lot of time and he was very hyper-aware of everything going on around the shows. I think with developing horses the most important thing, especially the ones that have a lot of quality, is patience."